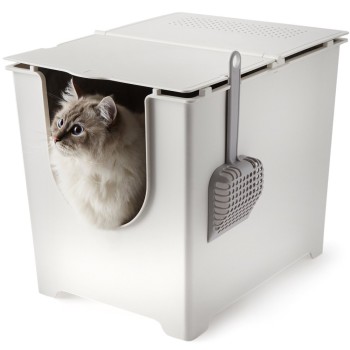 (4.6/5) Modko Flip Litter Box is a front entry cat litter box made from rigid plastic and high walls that is designed specially for cats that experience litter box "accidents" frequently.
The unit is enclosed but it features a double-hinged magnetic lid that can be half opened or fully opened according to your cat's preference.
FEATURES
Modko Flip Litter box bottom is seamless and water-tight
It comes with 2 recycled coated paperboard liners
With a liner band to keep the liner in place
Hanging scoop with a flat front edge and angled basket
Large space inside the litter box for larger cats
Double-hinged magnetic lid can be positioned in closed, half open, fully open or removed if you want
Easy to clean, foldable lid allows you to get easy access to the bottom for quick scooping
Free Shipping and 30-Day Guarantee (full refund less shipping fees)
DIMENSIONS
Full Dimension: 16.75" tall x 20.5" deep x 15" wide
Opening: 8" wide x 10" high
Distance from the bottom opening to the floor: 7 inches
Front panel (the entry side): 16 1/2" high x 14" wide (the top lid sticks out a little)
WHAT COMES WITH THE UNIT
√ Modko Litter Box base & Lid
√ Flip litter scoop
√ Tension band
√ 2 paperboard liners
HOW IT WORKS
Modko Flip litter box features a front entry and a flip double-hinged magnetic lid that can be fully closed, half opened, fully opened or removed. It comes with two recycled paperboard liners with a coating to make them watertight and scratch resistant.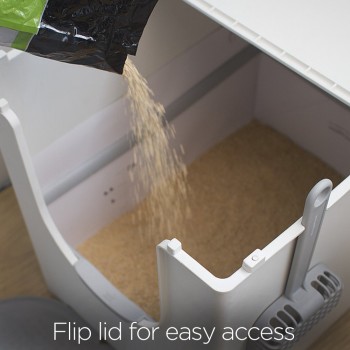 The liners have a full line indicator that indicates how much litter to use with one or two cats. You place the liner and then hold it in place with a stiff plastic removable frame that comes with the unit.
The idea of the paperboard liners is the convenience of just replacing old litter by lifting out the liner and toss it away instead of scraping the litter box. After you remove the liner and you can wipe down the inside. The bottom of the litter box is seamless, which makes it water-tight and easier to clean.
The unit comes with a plastic scoop that you can hang on the side of the litter box.
VIDEO OF MODKO FLIP LITTER BOX
PROS
Clean looking design that blends with any décor
High walls for cats that don't squat when doing their business
Seamless litter box with water-tight bottom
Suitable for small spaces and corners
3 positions for the lid: closed, half open and full open
Lid can be fully removed
Easy to scoop and clean with foldable flip lid
Plastic does not retain urine odor
Disposable liners make it easier to dispose dirty litter
It comes with it's own scoop and it can be hang on the side of the litter box
Cats adopt front entry litter boxes a little easier than top entry types
CONS
If a cat urinates on walls the tension band gets sprayed
Liners get soaked (but they can still be removed without ripping)
Tension band does not stay tightly in place and some litter or urine gets into the bottom
Cats that are scratchers may rip the liner when it gets humid
You have to buy liners (but there is an option of not using liners)
The size is not small but is not very large either
TIPS
Make sure to fill the litter to the full line of the paperboard liner, this way the liner won't get soaking wet.
You can replace the paperboard liners by buying the Modkat tarp liner. It's durable, reusable and much more resistant to scratching.
You can use the Modko Flip littter box without liners as well.
Modko flip litter box does not prevent litter tracking so get a very good litter mat to place under the unit. One of the best in the market is the Cat Litter Trapper EZ Clean, check it out.
CONCLUSION
Modko Flip litter box is a good option because if features with high walls that contains urine with male cats that spray.
The point of the paperboard liners is keeping any liquid from touching the bottom of the litter box but it seems like this goal does not get 100% accomplished, because urine gets on the tension band and leaks into the bottom of the unit. Several customers prefer buying the tarp liner that comes with the top entry litter box Modkat, instead of using paperboard liners.
Modko Flip litter box is deeper from back-to-front than the Modkat so it can be used for large cats as well, depending on the adaptability.
√ Modko Flip litter box is suitable for:
Cats that spray and don't like top entry litter boxes
For a cat that pees high (using the Modkat tarp liner)
If you want to stop urine mess outside the litter box
If you want to put the litter box in living areas where it's going to be seen
x Not recommended
For elderly cats that can't step in and out of the opening
Cats with dissabilities
Using it with liners if your cat is a persistant digger or if it urinates a lot
Very large cats