I have reviewed a lot of automatic and regular litter boxes in the past 8 years and there is always a common problem, the odor they create. That's why the Pidan Snow Mountain litter box got my attention. There is not much information currently about technology applied to materials of which the litter boxes are made. The Pidan Snow Mountain (just as the Pidan House Igloo) is made with ionic technology that blocks the formation of bacteria inside the material. But does this work? This review will help you decide if this unit works for you and your cat.
Interesting features of the Snow Mountain Cat Box
The technology applied to the materials is branded IONPURE® and was developed in Japan.
The antibacterial property is not like triclosan, this one is safe and eco-friendly
Slight taper shape of walls contains most of the kicked litter
Engineered designed lower entry with the exact height to provide the cat easy access. The entry also features vertical lines that remove excess litter from the cat's paws.
The litter box consists of a top part and bottom tray, the top part covers completely the bottom tray, helping to reduce leaking (not totally though).
The unit is very simple to detach for cleaning
The litter capacity of this box is 13 pounds (6 kg) but it's recommended to use 6.61 pounds (3 kg)
It comes in two colors: white and gray
Dimensions & weight
Dimensions in inches: 11.81" high x 17.71" wide diameter
Dimensions in cm: 30 cm H x 45 cm W diameter
Unit weight (without litter): 3.35 pounds (1.52 kg).
Material: Polypropylene Resin
How to clean the Pidan Snow Mountain litter box
If you want to do a deep cleaning of your litter box, you can do it with 3 steps:
1.- Level the cat litter surface
2.- Lift the sand basin cover
3.- Grab the sand basin base and empty it for deep cleaning of the base. In case you use disposable trays just replace them.
To scoop the Pidan Mountain litter box, simply lift the sand basin cover and scoop as a regular litter box.
Tips to make it easier to clean
It's recommended to use XL size liners in case you don't use disposable trays. Liners will always be a second layer of barrier in case your kitty aims high when doing its business.
Use about 2.5 inches of cat litter which is the amount recommended for litter boxes. This way will be easier to scoop and will provide enough depth for the urine not to sit too much at the bottom.
First, wipe clean the base with a paper towel. According to PetMD a good way to disinfect the litter box without using toxic chemicals is using a solution of white vinegar and hot water. Mix the vinegar and water with equal parts and let the parts soak in this solution for a few minutes. Then rinse the top and base thoroughly and dry them with a paper towel. Another trick is using hydrogen peroxide when washing the unit.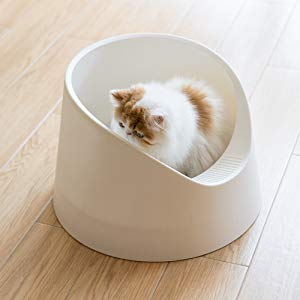 What I liked the most about Pidan Mountain litter box:
Aesthetic and stylish design
Good option if you want to get rid of the typical rectangular shaped litter box
Well built, durable
The smart design of pedal entrance with vertical inward lines makes the cat litter fall back into the box
Slightly taper tall walls keeps litter from going outside when the cat digs
Easy to clean, the top part can be easily detached and wash the base in the sink or bathtub
Lower entry allows easy access for cats, but not too low so your cat won't stick its butt towards the entry or will let a lot of litter going onto the floor.
An open litter box that provides cats privacy, due to high sides
Good control of odor with the antibacterial IONPURE pp resin
The drawbacks of this litter box:
The litter box is not very roomy
The seam of top and base may let urine leak to the outside if you have a high spraying cat, better if used with liners
It doesn't include a scoop (you need to purchase it separately).
My verdict:
The manufacturer states that this litter box can be used for cats up to 14 pounds (6.5 kg), but in reality, if you want your cat has room enough to turn around and maneuver this litter box should be used with cats weighing up to 10 pounds as maximum. Larger cats that don't mind narrower areas may use this box as well but most likely you will need to clean the walls and entry more often. Also, a larger cat may find the litter box a little claustrophobic.
The top and bottom parts attach together tightly but this won't be seamless so if your cat sprays high you may want to use a good liner or look for a seamless litter box. The Pidan Snow Mountain litter box does a good job containing a good part of the cat litter from going outside though.
I recommend this unit if you have a single small to average-sized cat that doesn't spray high and you need a stylish litter box to blend with your decor.