Star rating: 3.1 | Pet Safe Simply Clean Continuous-Clean Litter Box it is an innovative automatic self-cleaning litter box that works continuously to clean your cat litter box through a ringed litter bowl in a continuous motion that rotates slowly to complete one rotation in an hour. This continuous cleaning process reduces odor and it works better with premium clumping litter.
Petsafe Simply Clean Continuous-Clean does not need special supplies to work and you can collect the waste in any bag. It is easy to clean by just grabbing the bagged waste from the container to dispose of it. This automatic litter box is suitable for cats up to 12 lbs. It is not recommended to use the unit with kittens under 6 months or cats with any physical limitation.
This unit uses a low voltage with an AC/DC adapter (included) and an 8' cord that plugs into the wall just like a cell phone charger.
FEATURES
Easy to clean
Reduces odor and odor-causing bacteria
Easy to set up and operate
Quiet when rotating
It uses a DC/AC power adapter
No special bags are needed. It works with recycled shopping bags (no bags included)
It works with premium clumping litter
It reduces the scooping task significantly.
The device is in continuous motion cleaning the litter area
Bowl completes one rotation in an hour
For Indoor use only
Suitable for cats up to 10 pounds (cats up to 15 lbs can adapt)
Suitable for kittens older than 6 months age.
Works with up to 2 cats (better results are with a single cat).
Dimensions: 19″ x 26″ x 10″
Pan size: 10 inches from center to sides
Item weight: 13.5 lbs
Power: Low voltage AC/DC adapter
Requirements to install: Leveled surface and electric outlet
30 days money-back guarantee
Warranty: One year (limited).
THE ITEM INCLUDES:
√  The main Litter Box unit
√ AC adapter
√ User's guide
HOW IT WORKS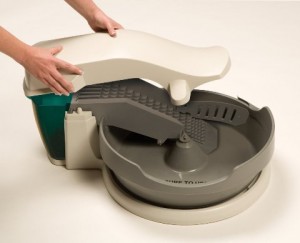 The PetSafe Simply Clean Continuous-Clean system is innovative. After your cat uses the litter box, the system with its continuous rotation around a conveyor belt acts as an "escalator" where the waste is sifted through and moves up to fall into a waste container to be disposed of later.
To clean it, simply pull out the collection bucket and toss the cat's waste in the trash or you can line the bucket with small trash bags or grocery bags in which case you just take out the bag, tie it and toss it, then replace it with a new one in the container. It is very simple. The good thing about the PetSafe Simply Clean is that it doesn't require special branded supplies to operate.
The best result with the Pet Safe Simply Clean is accomplished by using a very good premium clumping litter. The litter box rotates slowly (it moves a small bit about every minute) and as said above, it takes an hour to complete a full rotation.
SAFETY MECHANISM
The Petsafe Simply Clean doesn't require a special safety mechanism because the rotation is so slow that doesn't represent a risk to the cat.
FREQUENCY OF DISPOSING WASTE
You will need to empty the waste bucket about every other day with one cat.
CLEANING & FREQUENCY
It's recommended to clean the bowl 3 times per month or when needed, depending on the use. To clean it, you need to disassemble the unit and wash only the non-electric components.
PETSAFE SIMPLY CLEAN MOTION, ACTUAL SPEED
Or you can check this video on Amazon to see how the unit rotates with a better vision from the top unit.
VIDEO OF CLEANING PROCESS (30 MINUTES SPED UP OVER 1 MINUTE, LID WAS TAKEN OFF)
</>
USEFUL TIPS WHEN USING PETSAFE LITTER BOX:
The transition from the old litter box to the Pet Safe litter box is similar to other systems. Simply put some waste from the old litter box to the new one or set the old litter box next to the Pet Safe Simply Clean for a while until your cat gets familiar with the new unit and takes it. Another option is to maintain the old litter box dirty so the Simply Clean is more attractive for your cat and use it unplugged on the beginning to allow your cat to get adapted to it first. After some days, plug it in.
Make sure not to put too much litter in because it will end up on the floor.
It is a good idea to buy the best litter mat for your cat, especially if your furry friend is a big-time-digger. Another option is to tape a folder around the ring so this will stop the kicked litter from ending up on the floor.
Make sure the waste container fits the unit snugly; otherwise because of safety reasons the system will shut down power even if it's plugged in, keeping it from rotating and consequently accumulating the waste on the litter area.
MAINTENANCE TIPS TO INCREASE THE UNIT'S  LIFETIME
As its name says, the Pet Safe Simply Clean Continuous-Clean litter box is in continuous and slow rotation all day 24/7, so it's highly recommended to buy a timer so you can set a number of rotation-cleaning cycles, for example, 2 rotations by day (2 hours cleaning cycle). This way you make sure the motor won't scare your cat because of being rotating all day and you will increase the lifetime of the motor as well.
It is crucial for the good performance of this unit to use Premium clumping litter. Using a dusty litter that does not clump well will destroy this device.
It is highly recommended to periodically disassemble and clean the whole unit. By doing this you make sure the gear will keep working properly without litter on it. It is a good idea to lubricate the tray rollers with WD40 as well.
Important: When cleaning the unit do not expose the electrical components to water or cleaning solutions.
PROS AND CONS OF PETSAFE SIMPLY CLEAN
Discover the good things and also the things that are not so appealing about the PetSafe Simply Clean Automatic liter box:
PROS
Simple to set up and operate
It cleans efficiently the litter box
It does not need any special supplies to work. It uses any disposable small bag.
Very reliable if following the instructions
Continuous rotation keeps the litter box area clean
Fewer odors than other systems
Convenient disposal
It saves on litter
Quiet in comparison to other systems
It has a low price in comparison to other automatic systems.
CONS
It is not silent; constant rotation creates continuous little noise (although quiet in comparison to other systems)
It doesn't have a full indicator
The conveyor cover comes up with small touch. (Solution is to tape it).
Litter guards are too shallow.
After some time the tray gear starts making squeaking noises (see tips to fix this).
It does not have a dome or hood to complement the unit.
Not 100% disassembling. The conveyor's arm is not detachable.
CONCLUSION
It is a great concept and it works as advertised. When it works it works great but after some time of use the gear starts making squeaking noises and after that, it is time to disassemble, clean, and lubricate the unit.
The PetSafe Simply Clean Continuous-Clean litter box is an excellent automatic litter box if you apply some little personal modifications to adapt it to your cat's personality and behavior. You must get a premium quality litter that clumps well. It doesn't seem to work well with big cats that urinate a lot. If you maintain this unit properly you will have an automatic litter box that really does the job for you, even though this product does not last a long time.
For all these reasons and based on current customers reviews,
√ I recommend this unit under these conditions:
If you have a kitty older than 6 months or an adult cat weighing less than 12 lbs.
To be used with one cat (a small cat as said above).
To be used sporadically, on weekends, or for short periods of time.
x I don't recommend this unit:
For big cats weighing over 12 lbs. (5.5 kg).
Cats that urinate a lot or with frequent stomach issues.
For a multiple-cat household.
If you want a maintenance-free system.
If you want a built-to-last unit.