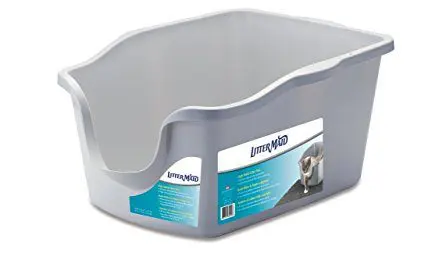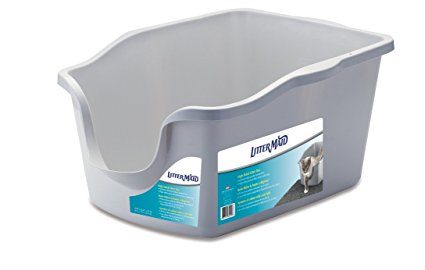 UPDATE: This litter box is currently unavailable.
If you have a cat that likes to dig too much or urinates over the litter box, the LitterMaid High Sided Litter Pan helps to contain part of that mess with its high walls of 11 inches tall on sides and back.
This litter box is made of antimicrobial plastic that reduces the bacteria grown into the plastic preventing odors.
The inside of the litter box is easy to clean, with no odd-shaped corners and a lower front entry making the scooping a lot easier.
FEATURES
High sides help to contain litter spillage or urine
Antimicrobial product protection
Easy to clean
Litter Box Dimensions: 19.5" L x 16.8" W x 11" H (with handles)
Inside dimensions on top: 17.5" L x 13″ W (approx.)
The lowest point of entry from floor: 5 inches
Front side height (sides of entry): 9.5 inches
Color: Light Grey
Shipping weight: 1.8 lbs
MATERIAL & CONSTRUCTION
LitterMaid High-sided litter pan is made from a treated plastic to avoid bacteria buildup. This means the plastic has been injected with an anti-microbial substance prior to being molded which gives it this antibacterial characteristic.
The construction makes this litter box easy to clean since its walls are smooth and the bottom is a little more textured to make it stronger against scratching. The inside of the litter box is free of ridges or grooves to make it more scoop-friendly.
PROS
Plastic with antimicrobial protection
High walls help to contain the cat's urine or feces and kicked litter
Less litter around, less vacuum cleaning
Lower entry helps cats to enter the box easily, good for elderly or disable cats
The front is deep enough to hold at least 4 inches of litter
Grey color blends just right and doesn't show the litter dust up the sides
Inside is easy to clean
CONS
Cats can still dig or kick litter towards the entry and spill litter outside
The stickers outside of the litter box are really hard to remove.
The inside dimension is smaller than the outside so it's not big enough for large cats
Dimensions of this product sometimes vary
TIPS & TRICKS

√ A good product to remove the stickers is the WD-40 Spray that works well with any type of glue.
√ Another tip to remove the stickers is to have a lot of patience and carefully pick off a tiny corner and slowly pull, making sure to see the adhesive on the sticker at all times while pulling. This takes about 20 minutes to completely remove without leaving glue residues.
√ To deal with possible litter going out through the entry, get a mat and place it right outside the entryway. All that litter will go there, you just grab the mat and dump the residue litter right back in the box.
CONCLUSION
LitterMaid High Sided Litter Pan is a good solution for high cat peers that don't like covered litter boxes. The lower entry is a good advantage for elderly cats, kittens, or disabled pets, but this could be a "con" if the cat decides to urinate against the entry or to cover against that direction as well.
Also, if you have a tall cat this may not be your solution since the walls are 11 inches and may not be tall enough for your tall cat.
BOTTOM LINE
√ LitterMaid High Sided Litter Box is suitable:
For kittens
For small to average-sized cats
Heavy diggers only if you use a litter catching system outside the entry
∼ This litter pan is recommended with reservations for:
A cat that urinates high if it doesn't tend to aim towards the entry
Vigorous diggers (if they dig against the entry)
x LitterMaid litter pan may not be suitable:
Large tall cats
If you don't want to deal with hard-to-remove stickers