Cat Food Reviews: Top Healthiest Dry Cat Foods
What's the best cat food?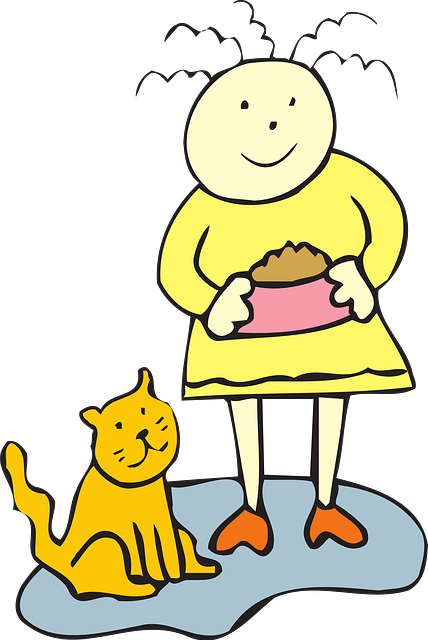 Maybe you are expecting to find here some brands that you have read in other reviews, but this is not the case. And I am going to tell you why….
The best cat food is not necessary the winner of the year award or the most expensive brand. Usually these brands known as "healthy" belong to big companies and "pet food" is just a business line between so many others they have. They usually use by-products from other production processes to use in pet foods.
The best cat food is the one made by companies which business is just pet food and they have specialized only in that, working to get the best formula for cat's needs. These formulas won't normally contain by-products.
It's important to mention that all companies producing pet food have to establish formulas to meet the requirements of Food and Drug Administration, (FDA) and the Association of American Feed Control Officials (AAFCO).
What about "Premium" cat food that I saw in other reviews?
"Premium" labeled food is mostly based on corn or wheat within the first 5 ingredients which is not the best for your cat. This food will label "MEAT MEAL" as the 1st ingredient which means the meat has been weighed only after water has been extracted. "Meat meal" is highly concentrated protein but lacks of crude proteins and water.
The ideal is a formula with "meat meal" as a 2nd ingredient since cats don't eat naturally meat extract, they need a crude source of proteins. However, "meat meal" has to be part of the ingredients because it makes your cat feel satisfied with less amount of food.
What is the best type of cat food then?
It is recommendable to feed your pet Super Premium types of foods. This means they are "meat based" and also more nutritious and good balanced, including a package of "vitamins and minerals" that has been designed to be more thoroughly absorbed by your pet's body.
What to absolutely avoid in the main 5 ingredients:
Proteins from corn ("corn gluten meal" "corn meal")
Proteins from soy ("soybean meal", "soy flour", "soy meal")
Grains such as wheat, white rice. They are high in gluten.
Rye. It is very harsh to digest and pets don't like it.
When 3 of first 5 ingredients are grains
Potatoes (except sweet potatoes). They are high-glycemic, causing peaks in sugar blood.
Tapioca, is high-glycemic.
Artificial preservatives and colorants
What you can do to make your cat healthy and happy
The best you can do for your cat is:
1) Get the best dry and wet food possible, according to your cat needs.
2) Give him/her the right intake.
3) Keep him/her hydrated as much as you can.
4) Play with your pet in a daily basis.
5) Keep a nice environment with hiding areas, bedding and toys.
6) A stress-free home.
The first step is giving your cat the best dry and wet food possible.
To help you in choosing a good dry cat food as follows you will find a list with the best cat foods which are all meat based.
They are also classified according to the main 5 ingredients. Some cat owners don't want any carbohydrates in the main 5 ingredients while other people don't mind it as long as the cat food is: 1) meat based, 2) with high percentage in crude proteins 3) with low or medium glycemic grains/carbs. Besides, some people cannot afford very expensive formulas.
MEAT BASED CAT FOODS WITHOUT GRAINS/CARBS IN MAIN 5 INGREDIENTS:
Orijen Cat and Kitten (Low glycemic carbohydrates)
The Orijen formula is made with local ingredients, free-run chicken, turkey, with whole eggs and locally caught fish.
All meats used in Orijen formula are fresh, free of preservatives and never frozen.
Orijen recipe is full in proteins (80%) and gives cats a very natural food as they would get in nature.
The formula is also grain-free and contains very few amounts of carbohydrates that are low glycemic.
First 5 ingredients: Boneless chicken, chicken meal, chicken liver, whole herring, boneless turkey. Full review
Wellness CORE Original Formula Fish & Fowl Adult Cats and Kittens
Wellness CORE grain free formula provides your cat a good source of high quality and low-in-ash meats in its first 5 ingredients to satisfy the carnivore diet of your cat.
Wellness CORE formula is free of grains or fillers to ensure a proper nutrition for your cat, free of the unwanted carbohydrates that contribute with obesity and diabetes in pets. Also, this formula is gluten-free.
This formula offers good fats, such as salmon oil and flax seed which helps to maintain a healthy skin in your cat and to improve its coat.
This recipe does not contain meat by-products, wheat, soy, corn, artificial colors, flavors or preservatives.
First 5 ingredients: Deboned turkey, deboned chicken, chicken meal, whitefish meal, herring meal. Full review.
Acana Pacifica Cats & Kittens Fish Formula
Acana Pacifica Regional formula is a dry cat food which contains natural ingredients locally grown in Canada. The recipe includes wild caught fish as herring, flounder and pacific hake from North Vancouver Island coast.
Acana Pacifica formula is grain and potato free and it has exclusively fish on the main 5 ingredients with low glycemic formula to reduce excess of carbs in your cat diet, reducing obesity and avoiding peaks in blood sugar levels.
The formula also includes fruits and vegetables delivered fresh and whole from locally grown from sun-drenched orchards and black prairie soils.
First 5 ingredients: Boneless herring, herring meal, pollock meal, boneless flounder, boneless Pacific hake. Full Review
Nutrience Natural Fish & Duck Formula (Low glycemic carbohydrates)
Nutrience Natural Ocean Fish & Duck is an excellent dry food recipe because it is meat based in the 5 main ingredients of its formula. This cat food achieves a good balance of proteins such as fish and duck, healthy fats, and low glycemic carbohydrates.
Good alternative if you want to feed your cat with dry food and at the same time to obtain a healthy recipe for your pet, with 5 main ingredients based on proteins from fish and duck.
Nutrience is a good formula for cats with stomach sensitivities as well.
First 5 ingredients: Deboned haddock, deboned cod, deboned flounder, deboned pollock, menhaden fish meal. Full review
MEAT BASED CAT FOODS WITH GRAINS/CARBS IN MAIN 5 INGREDIENTS:
Fromm Four Star Game Bird Recipe
Fromm Grain Free Game Bird recipe gives your cat a tasty entree of duck, chicken, turkey, quail and pheasant, adding real Wisconsin cheese to the formula. Fresh fruits and vegetables give your cat a good source of vitamins and help your cat's digestion.
This formula helps to reduce most food-related allergies. The chicory root extract enhances digestion functions and avoids worms. Taurine supports the health of your cat's eyes and heart.
Fromm cat food is made in small batches, which helps to produce a cat food with consistency and quality. The Game Bird formula is balanced and recommended for cats of all ages.
First 5 ingredients: Duck, Duck Meal, Pea Protein, Turkey, Dried Whole Egg. Full Review
Chicken Soup For The Soul Dry Cat Food
Chicken Soup for the Soul Adult Cat has been formulated to meet your cat's nutritional needs, providing good sources of crude and concentrated protein, vitamins and minerals, antioxidants, fatty acids, botanicals and more.
The recipe is tasty so if you have a picky cat with a very strict taste, this is the cat food for you. Your pet will be eating tasty food and at the same time will be getting high nutrition.
Chicken Soup For The Soul contains good quality ingredients and the grain incorporated in the formula it is a very healthy nutritional grain. This is a very good example of a cat food with an excellent value for money.
First 5 ingredients: Chicken, chicken meal, cracked pearled barley, chicken fat (preserved with mixed tocopherols), turkey meal. Full Review
Evanger's Pheasant & Whitefish Formula
Evanger's Pheasant and Whitefish is made with high quality ingredients and offers a mix of proteins coming from pheasant, whitefish and duck. This cat food is free of by-products and it does not contain cheap fillers such as corn, wheat or soy.
Evanger's Pheasant and Whitefish contains high levels of animal and vegetable proteins, good sources of energy, vegetables and fruits for easy digestion. Also, the recipe includes a good source of omega-3 and taurine to support your cat's heart and eyes health.
Evanger's Pheasant and Whitefish is very tasty, so it will be easy for your cat to adopt to this new cat food in his/her diet.
First 5 ingredients: Pheasant, Whitefish, Sweet Potatoes, Canola Oil (preserved with mixed tocopherols),  Peas. Full Review
Halo has formula with natural ingredients free of artificial colors, flavors or preservatives.
They use fresh meat in the recipe and a complete package of vitamins and minerals designed to be easily absorbed by your cat's body. They don't use by-products and either corn, wheat or wheat gluten.
The formula "Spot's Stew Cat Grain-Free Chicken" contains good sources of proteins and sources of energy, plus good natural flavor with vegetable broth.
First 5 ingredients: Chicken, Eggs, Pea Protein, Vegetable Broth, Chicken Fat. Full Review
Wysong Uretic Feline Formula has been specially formulated to improve cats urinary tract system, including healthy and fresh proteins, guarantying a minimum of 36% proteins and 16% fat, satisfying the carnivore cat's diet.
This recipe contains important micronutrients and nutraceuticals, probiotics, prebiotics, omega-3, antioxidants and more.
The formula does not exceed healthy amounts of minerals and it contains a natural source of methionine, a very important essential amino-acid to improve urinary functions.
First 5 ingredients: Chicken, Chicken Meal, Fish Meal, Turkey Meal, Peas. Full Review
Precise Holistic uses high nutritional standards for your pet. This brand (Wild at Heart River Line Salmon formula) has been recommended by experts to treat itchy skin or ear problems produced by Candida Albicans and "Leaky Gut Syndrome" in cats (Nzymes).
They don't use by-products in the formula and it contains real meat as primary ingredient, 32% of crude meat and 20% crude fat, which is very important in natural cat diet.
This formula has vitamins and minerals package easily to be absorbed by your cat's body.
First 5 ingredients: Chicken, Chicken Meal, Ground Brown Rice, Oatmeal, Chicken Fat. Full review
This is not just "another organic food" for pets. Natural Planet Organics is certified by Oregon Tilth Certified Organic (OTCO), an internationally recognized symbol of organic integrity (this certification exceeds the United States Department of Agriculture USDA organic standards).
This formula doesn't have by-products an it has organic crude meat as primary ingredient.
If you want your cat to eat completely organic and healthy food, this is the product for you.
First 5 ingredients: Organic chicken, chicken meal, organic yellow peas, organic flax seed, organic barley. Full review
Note: Orijen, Precise and Natural Planet Organics have been recommended by DC Ranch Animal Hospital, Arizona and recommended to treat some allergies in pets by Nzymes, Corporation dedicated to the health and welfare of people and pets all over the world.
Important Points to Consider About Grain in Cat Foods and Grain-Free Cat Foods
A grain-free dry cat food does not mean is healthier than a cat food which contains grains.
Some grain-free cat foods use starch such as tapioca or potatoes in the main 5 ingredients and that means they have as much carbohydrates as the food which contain quality grain sources (and sometimes even more).
For example, some cat foods contain grains such as peas, oats or barley in the first 5 ingredients, while a grain-free cat food might contain sweet potatoes and potatoes or tapioca in the main 5 ingredients, which means the grain-free recipe has as much carbs as the recipe containing grains.
Finally: Does the "perfect cat food" exist? 
There is not a "perfect cat food" because there are so many factors involved when it comes to nutritional needs for cats. The best cat food will depend whether the cat is indoor or outdoors, age, medical conditions, it will even depend on the breed and genes.
Some cats do very bad with dry foods containing any grain while other cats live until a very old age eating foods with grains with no problem. The important point here is to choose a meat based dry cat food with no by-products or fillers such as corn or soy, wheat, white rice, artificial flavors or colorants, etc.
Also, you need to find: 1) a good balance between dry and wet food, 2) a price that fits in your budget, and 3) a cat food that will make your cat healthy and happy. Most likely you will need to go through the trial-and-error method to find the best dry cat food for your cat.
Sometimes, even with an excellent cat food, cats still get diseases. Cats, as people, get sick and you need to try to do your best to keep your cat healthy but nothing can be guaranteed, even stress can get your cat sick to the point of serious illness (Ohio State studies).
Tips How to Change your Cat Food:
First Day:
First meal: 3/4 old food with 1/4 new food Second meal: 2/3 old food with 1/3 new food
Second Day:
First meal: 1/2 old food with 1/2 new food Second meal: 1/3 old food with 2/3 new food
Third Day:
All new food