Cat Food Reviews: Top Healthiest Dry Cat Foods
What's the best cat food?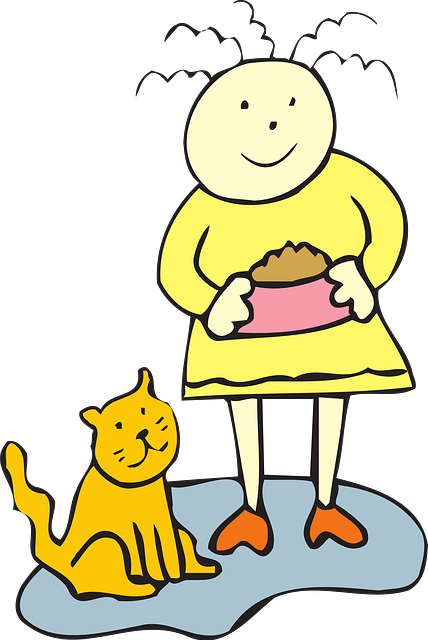 Maybe you are expecting to find here some brands that you have read in other reviews, but this is not the case. And I am going to tell you why….
The best cat food is not necessary the winner of the year award or the most expensive brand. Usually these brands known as "healthy" belong to big companies and "pet food" is just a business line between so many others they have. They usually use by-products from other production processes to use in pet foods.
The best cat food is the one made by companies which business is just pet food and they have specialized only in that, working to get the best formula for cat's needs. These formulas won't normally contain by-products.
What about "Premium" cat food that I saw in other reviews?
"Premium" labeled food is mostly based on corn or wheat which is not the best for your cat. This food will label "MEAT MEAL" as the primary ingredient which means the meat has been weighed only after water has been extracted.
The ideal is a formula with "meat meal" as a secondary ingredient since cats don't eat naturally meat extract, they need a crude source of proteins. However, "meat meal" has to be part of the ingredients because it makes your cat feel satisfied with less amount of food, it is "concentrated protein" .
What is the best type of cat food then?
It is recommendable to feed your pet Holistic or Super Premium types of foods. This means they are "meat based" and also more nutritious and good balanced, with a higher quality of proteins than "meat meal" and including a package of "vitamins and minerals" that has been designed to be more thoroughly absorbed by your pet's body.
Also, you have to avoid the food that contains grains in the main 5 ingredients.
Note: It's important to mention that all companies producing pet food have to establish formulas to meet the requirements of Food and Drug Administration, (FDA) and the Association of American Feed Control Officials (AAFCO).
However, some brands go a step further and these ones compose our list:
The Orijen formula is made with local ingredients, free-run chicken, turkey, with whole eggs and local caught fish.
All meats used in Orijen formula are fresh, free of preservatives and never frozen.
Orijen recipe is full in proteins (80%) and gives to cats a very natural food as they would get it in the nature.
The formula is also grain-free and contains very few amounts of carbohydrates. Full review.
Halo has formula with natural ingredients free of artificial colors, flavors or preservatives.
They use fresh meat in the recipe and a complete package of vitamins and minerals designed to be easily absorbed by your cat's body. They don't use by-products and either corn, wheat or wheat gluten.
Our top Halo cat foods are "Sensitive Cat-Seafood Medley" and "Spot's Stew Cat Grain-Free Chicken" recipe. Full Review.
Precise Holistic is an excellent cat food. This particular brand is very health-safe for your pet and with high nutritional standards.
They don't use by-products in the formula and it contains real meat as primary ingredient, 32% of crude meat and 20% crude fat, which is very important in natural cat diet.
This formula has vitamins and minerals package easily to be absorbed by your cat's body. Full review.
PureVita Natural and Holistic Pet Foods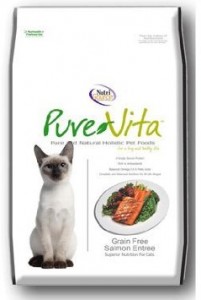 This is the best cat food for cats that love to eat fish. This particular formula contains 31% of crude salmon and 18% of crude fat.
All other brands you will see the label "salmon meal" as the first ingredient on the list which means crude salmon is not the primary ingredient. PureVita contains balanced Omega 3 and 6 and  no whole corn.
This formula it is naturally preserved (no artificial preservatives), it has protected Vitamin C and natural antioxidants to be absorbed easily for your cat. Full review.
This is not just "another organic food" for pets. Natural Planet Organics is certified by Oregon Tilth Certified Organic (OTCO), an internationally recognized symbol of organic integrity (this certification exceeds the United States Department of Agriculture USDA organic standards).
This formula doesn't have by-products an it has organic crude meat as primary ingredient.
If you want your cat to eat completely organic and healthy food, this is the product for you. Full review.
Note: Precise, Pure Vita and Natural Planet Organics have been recommended by DC Ranch Animal Hospital, Arizona and by Nzymes, Corporation dedicated to the health and welfare of people and pets all over the world.
Tips How to Change your Cat Food:
First Day:
First meal: 3/4 old food with 1/4 new food Second meal: 2/3 old food with 1/3 new food
Second Day:
First meal: 1/2 old food with 1/2 new food Second meal: 1/3 old food with 2/3 new food
Third Day:
All new food