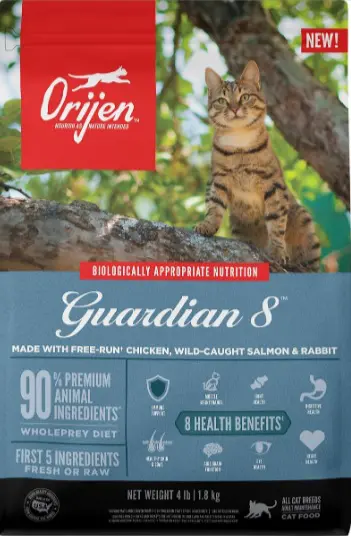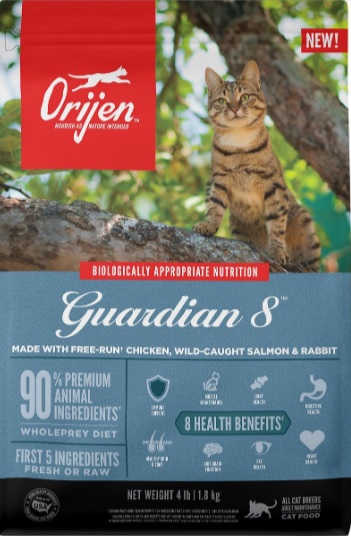 I haven't done a cat food review for a while and my inspiration came when one of my readers asked me about this formula so I decided to analyze it and give you my personal opinion about it. As usual, I'll start with the recipe's features and then the main ingredients analysis, pros & cons, and my personal conclusion.
Main Features of Orijen Guardian 8
Grain-free, gluten-free formula
The main 5 ingredients are animal proteins (poultry and fish).
2/3 of animal ingredients are fresh and raw, the other 1/3 consists of meat meals and dehydrated meats.
Safe preservation of meats by refrigeration and freezing.
Meats and fish are whole, containing all parts of the animal.
Meats and veggies are locally sourced*
Health benefits: Strengthens the immune system, muscle maintenance, aims digestion, supports joints, and aids skin and coat, eyes, heart, and brain functions.
Fatty acid Omega 3, EPA, and DHA are obtained from wild-caught pollock oil.
Contains under 20% carbohydrates
Made in the USA
Formula suitable for adult cats
*Vitamins B1 and B6 are produced in the USA using raw materials sourced from China. Any vitamin whose components are sourced abroad must comply with human-grade requirements, and they undergo intensive testing to ensure purity.
Ingredients of Orijen Guardian 8:
Chicken, Salmon, Turkey, Whole Herring, Whole Mackerel, Chicken Liver, Turkey Giblets (Liver, Heart, Gizzard), Eggs, Dehydrated Chicken, Dehydrated Turkey, Dehydrated Sardine, Dehydrated Chicken Liver, Dehydrated Egg, Whole Red Lentils, Whole Pinto Beans, Rabbit, Pollock Oil, Whole Green Lentils, Whole Chickpeas, Whole Peas, Whole Navy Beans, Pea Starch, Ground Miscanthus Grass, Natural Chicken Flavor, Chicken Fat, Chicken Hearts, Whole Cranberries, Choline Chloride, Dried Kelp, Mixed Tocopherols (Preservative), Whole Pumpkin, Whole Butternut Squash, Collard Greens, Whole Apples, Whole Pears, Zinc Proteinate, Vitamin E Supplement, Dried Chicory Root, Hydrolyzed Yeast, Dried Brewers Yeast, Thiamine Mononitrate, Riboflavin, Niacin, Calcium Pantothenate, Pyridoxine Hydrochloride, Folic Acid, Vitamin B12 Supplement, Copper Proteinate, Turmeric, Sarsaparilla Root, Althea Root, Rosehips, Juniper Berries, Rosemary Extract, Citric Acid (Preservative), Dried Lactobacillus Acidophilus Fermentation Product, Dried Bifidobacterium Animalis Fermentation Product, Dried Lactobacillus Casei Fermentation Product.
Guaranteed Analysis
Crude Protein 40.0% min – Crude Fat 18.0% min – Crude Fiber 4.0% max – Moisture 10.0% max – Arginine 2.3% min – DHA (docosahexaenoic acid) 0.35% min – EPA (eicosapentaenoic acid) 0.35% min – Calcium 1.4% min – Phosphorus 1.1% min – Magnesium 0.1% min – Vitamin A 25,000 IU/kg min – Taurine 0.1% min – Omega-6 Fatty Acids 3% min – Omega-3 Fatty Acids 1.2% min – Total Microorganisms 1 Million CFU/lb (Lactobacillus acidophilus, Bifidobacterium animalis, Lactobacillus casei).
Analysis of First 5 Ingredients of Orijen Guardian 8 Cat Food
Chicken (2 stars): Chicken meat loses water weight after the cooking process. After cooked the proportion in the formula is much less, it's a better ingredient in canned food.
Salmon (1 star): Good source of protein and fatty acids but can add mercury to the cat's diet. 1 star
Turkey (2 stars): Turkey meat is heavy in water weight and after being cooked it adds less protein to the formula.
Whole Herring (5 stars): Good alternative of protein for cats, whole means it contains bones, fins, and gills, eyes, etc. It adds good fatty acids to the cat's diet.
Whole Mackerel (5 stars): Coldwater fish that is high in fatty acids, Omega-3 and Omega-6. Whole means it contains all parts of fish.
What are the Pros & Cons Of Orijen Guardian 8?
The list I made after analyzing this cat food formula:
PROS
Grain-free means the cat eats what it's supposed to eat, proteins. Grains cause spikes in the blood sugar in cats.
A high percentage of proteins in the formula 40% min (could be a "con" if a cat eats too much of this formula).
Whole meats emulate the wild cat's diet.
Ingredients are locally sourced, this ensures freshness.
CONS
Three of the main five ingredients are fish. Too much fish in a formula could create food allergies.
The Phosphorus and Calcium informed are minimum, we don't know the actual percentage of these minerals as maximum.
Final Thoughts
If we look at this formula in terms of animal proteins, crude fats, fatty acids, and vitamins, this is good cat food. One thing to consider is that this recipe is very high in proteins and should be considered as a dietary complement to wet food. However, the issue I find is the type of protein. For example, chicken and turkey should be added to the formula as "chicken meal" and "turkey meal" to make them more predominant in the recipe. Instead, fish represent 3 of 5 main ingredients.
I am also thinking that the percentage of phosphorus listed on the Guaranteed Analysis should represent the maximum and not the minimum level, especially food that contains salmon (high in phosphorus) as the second ingredient on the list. It's well known that too much fish could cause UTD, especially in male cats due to the phosphorus content. I mention this because I believe the actual content of phosphorus could be higher as the level informed is a minimum. According to the guaranteed analysis percentages informed, the ratio of Calcium/Phosphorus is 1.27 which is a good balance. The actual ratio of Ca and P is very important. According to the research of Colorado State University and the University of California, a low Calcium to Phosphorus ratio (Ca:P) that is equal or less than 1 is associated with kidney damage in cats.
Finally, fish is an ingredient that could develop food allergies in cats. According to a study of 53 allergic-to-food cats, it was determined that fish was the third cause of food allergy in cats, only behind beef and dairy. Lastly, fish adds dangerous levels of mercury to the cat's diet.
Bottom Line
In terms of ingredients' freshness, protein levels, fat content, fatty acids, and vitamins, I can't say this formula is low quality. If we analyze the ingredients individually we find that some fish are a good source of protein, but when you make this ingredient the main source of protein in cat foods the result could differ. Personally, I wouldn't pick this formula due to all the previous reasons exposed regarding high fish content in cat foods.