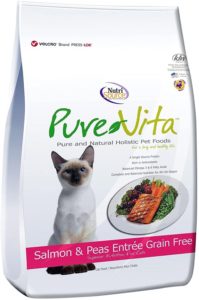 Pure Vita tastes in the laboratory at every stage of the production chain. As each product is produced, samples are taken for testing by the in-factory laboratory. As a double-check of food quality, periodically samples of finished products are sent to outside laboratories for analysis to confirm that the product meets the guaranteed analysis stated on the package.
Formula
This formula contains balanced omega 3 & 6.
No whole corn.
Food naturally preserved with mixed tocopherols (a source of vitamin E).
Protected vitamin C
Natural antioxidants.
Contains Sel-Plex, which is an organic selenium approved by AAFCO.
Pure Vita has the "4 Life System" formula, composed by De-Odorase, Nupro, Bioplex and Bio-Mos.
De-Odorase: University investigations have reported that De-Odorase can promote a 30% to 50% reduction of gases released from animal feces.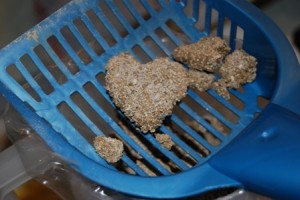 Cats are carnivores with a high protein diet of animal origin. Protein is excreted through urea in urine so cat depositions produce a high amount of ammonia. Decomposition of animal feces by bacterial activity produces ammonia and other nocuous gases.
De-Odorase eliminates overall fecal odor and also the strong ammonia odor. This way when De-Odorase is included in your cat's diet, its litter box will have a reduced ammonia odor.
Nupro: This is a functional protein from yeast and contains highly concentrated levels of essential nutrients which are important in young animals' diets.
Young animals experience many stresses in the early stages of life. NuPro is rich in Nucleotides, Glutamic acid for palatability, Inositol, and Amino acids, and peptides.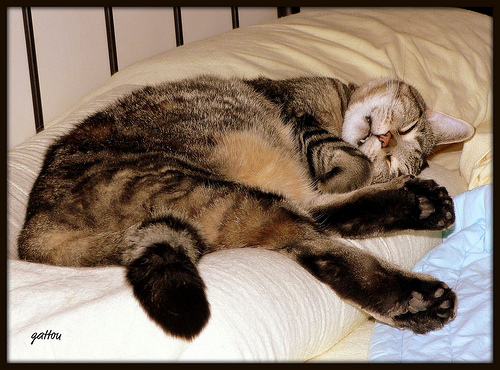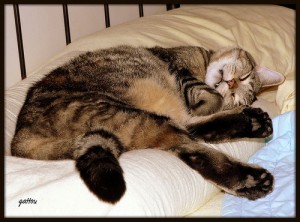 Bioplex: Bioplex organic trace important minerals nutrition in a form as close to nature as possible keeping these minerals as close to nature's plant forms as manufacturing processes allow.
With this technology, these minerals are in the same types of compounds found in nature, so they are easily absorbed and more highly retained by your pet, creating good tissue reserves to support immune function and overall animal health.
Bio-mos: Original natural formula to prevent intestinal health issues. It promotes good bacteria and improves the immunity system in your pet. This formula is derived from the cell wall of a select strain of yeast.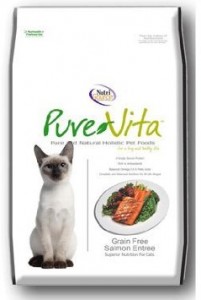 Pure Vita Grain Free Salmon Dry Cat Food Review
This is fish-cat-lovers food. This particular formula contains 31% of crude salmon and 18% of crude fat. All other brands you will see the label "salmon meal" as the first ingredient on the list which means crude salmon is not the primary ingredient.
Ingredients:
Salmon, salmon meal, pea protein, pea starch, sunflower oil, flax seeds, pea flour, natural salmon flavor, sunflower meal, alfalfa, peas, yeast extract, tomato pomace, dried brewers yeast, phosphoric acid, potassium chloride, calcium carbonate, salt, DL methionine, choline chloride, carrots, minerals (iron proteinate, zinc proteinate, copper proteinate, manganese proteinate, cobalt proteinate), taurine, cranberries, apricots, cherries, minerals (ferrous sulfate, zinc sulfate, zinc oxide, copper sulfate, manganous oxide, sodium selenite, calcium iodate, cobalt carbonate), turmeric, dried chicory root, vitamins (vitamin A acetate, vitamin D3 supplement, vitamin E supplement, niacin, d-calcium pantothenate, thiamine mononitrate, riboflavin supplement, pyridoxine hydrochloride, folic acid, biotin, vitamin B12 supplement), ascorbic acid (source of vitamin C), inositol, yucca schidigera extract, rosemary extract, yeast culture (Saccharomyces cerevisiae), dried Lactobacillus acidophilus fermentation product, dried Enterococcus faecium fermentation product, dried Aspergillus niger fermentation product, dried Bacillus subtillis fermentation product.
Guaranteed Analysis:
SCrude Protein (Min) 31.0% 310g/kg; Crude Fat (Min) 18.0% 180g/kg; Crude Fiber (Max) 4.0% 40g/kg; Moisture (Max) 10.0% 100g/kg; Linoleic Acid (Omega 6 Fatty Acid) (Min) 7.0% 70g/kg; *Omega 3 Fatty Acids (Min) 0.9% 9g/kg; Taurine (Min) 0.18 % 1.8 g/kg; Magnesium (Min) 0.08 % 0.8 g/kg; Zinc (Min) 150 mg/kg; Vitamin E (Min) 120 IU/kg
*Ascorbic Acid (source of vitamin C) (Min) 90 mg/kg
*Total Microorganisms (Min) 100 million CFU/lb **
Pure Vita Grain Free Turkey Stew Canned Food Review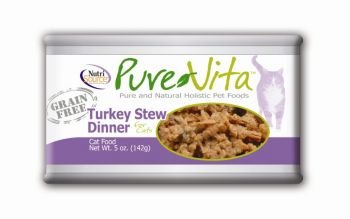 With 5 Oz. this cat canned food contains 9% in crude turkey meat and 5,5% crude fat.
The particularity of this canned food is that it's grain free. As described above, this formula contains omegas 3 and 6, natural antioxidants, naturally preserved, protected vitamin C, minerals easily digestible for your pet, good bacteria to protect your cat's immune system.
Ingredients:
Turkey, Turkey Broth, Potato Starch, Tomato Paste, Guar Gum, Calcium Sulfate, Taurine, Salt, Potassium Chloride, Choline Chloride, Betaine, Iron Proteinate, Zinc Proteinate, Niacin, Vitamin E Supplement, Manganese Proteinate, Copper Proteinate, Sodium Selenite, Thiamine Mononitrate, Vitamin A Supplement, Biotin, Calcium Pantothenate, Pyridoxine Hydrochloride, Riboflavin Supplement, Vitamin B-12 Supplement, Ethylenediamine Dihydriodide, Vitamin D3 Supplement, Folic Acid.
Guaranteed Analysis:
Crude Protein (Min.) 9.0% 90g/kg; Crude Fat (Min.) 5.5% 55g/kg; Crude Fiber (Max.) 1.5% 15g/kg; Moisture (Max.) 82.0% 820g/kg; Ash (Max.) 1.9% 19g/kg; Magnesium (Max.) 0.025% .25g/kg; Taurine (Max.) 0.1% 1g/kg
What are the pros and cons of Pure Vita Grain Dry and canned food?
PROS DRY FOOD
No by-products
Balanced fatty acids (Omegas 3 and 6)
Probiotics support digestion and the immune system.
Vitamins and minerals that are easy to be absorbed by your cat.
Functional protein Nupro protects your cat from different stresses.
De-Odorase reduces ammonia odor in your cat's depositions.
CONS DRY FOOD
Pea protein is 3rd ingredient, though peas are an excellent source of protein/carbohydrates/fiber.

Salmon and salmon meal add mercury to the diet (though, Pure Vita Salmon uses wild-caught salmon and not farmed salmon which means its levels of mercury are considered very low).
Fish may help to develop urinary crystals in cats with tendency and in cats that don't drink enough water.
Availability on stores.
PROS CANNED FOOD
Defined first ingredient (turkey)
It doesn't contain carrageenan
CONS CANNED FOOD
Max ash percent is high (1.9%)
Tomato paste is not a good ingredient for canned preparations.
CONCLUSION
Pure Vita Salmon Dry food provides mercury to the cat's diet. i believe that fish-based dry foods could cause urinary issues in cats, especially males. If your cat has candida/yeast problems, the Pure Vita "Chicken and Brown Rice" formula is recommended.
x This cat food is not suitable:
To be used as the only source of food for your cat, without wet food
For cats with sensitive stomachs (sensitivity to tomato pomace).
For cats with a tendency to develop urinary tract disease
If your cat does not like to drink much water
Pure Vita Turkey Canned Food
This formula could be used for transition periods but I don't recommend it since it contains tomato paste which doesn't go well as an ingredient in canned preparations.
IMPORTANT: Dry cat foods and especially fish-based cat foods require that cats drink a lot of water to reduce the risk of urinary issues.