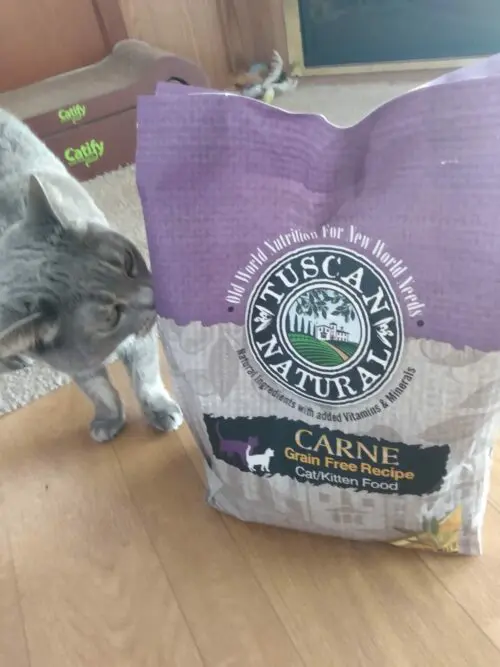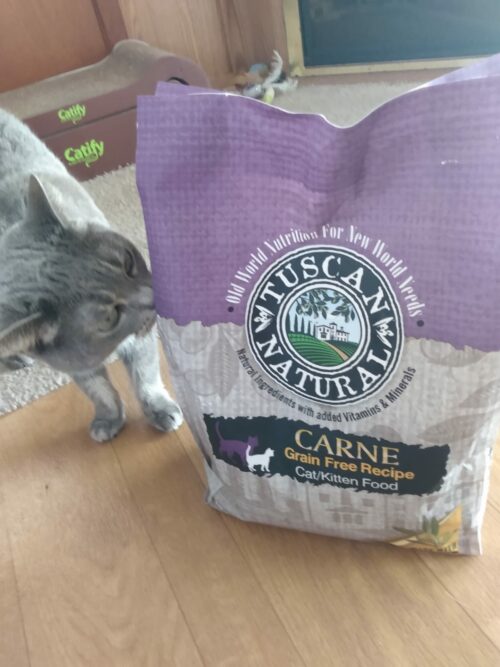 I have always made reviews of high-quality cat foods to help people to find healthy formulas to feed their pets. Though I have never considered the price of these brands in my analysis. After I read some comments about people not being able to afford some brands that cost between US$35 and US$45 I found a formula that is not cheap, but it has a reasonable price. That's why I am making a review of Tuscan Natural Carne Grain-Free Dry cat food. I bought a bag for my cat Sophie to try and came up with my conclusions that I share with you.
Key Features of Tuscan Natural Carne Cat Food
Grain-free formula, no grains, corn, wheat, or soy.
No artificial colors, flavors, or preservatives are added to the food. It's all-natural.
Tuscan provides a high-protein diet. The first 4 ingredients are meats (no fish, no eggs in the first 5 ingredients)
Made with sustainably-farmed fruits and vegetables.
For all life stages
Humanely-raised chicken and turkey (requirement that chickens and turkeys be non-caged birds with room to move, stretch, and receive sunlight).
With vitamins and minerals, prebiotics, and probiotics.
With omega-3 and omega-6 fatty acids for healthy skin and a shiny coat.
Kibble contains extra virgin olive oil for a shiny coat and soft skin.
Made in the USA
The formula includes the following meats/fish variety:
» Chicken: Meal, meat.
» Herring: Meal.
» Turkey: Meal, meat.
Ingredients of Tuscan Natural
Chicken Meal, Chicken, Turkey Meal, Turkey, Peas, Chicken Fat (Preserved with Mixed Tocopherols), Herring Meal, Olive Oil (Preserved with Mixed Tocopherols), Potatoes, Pea Fiber, Natural Flavor, Flaxseed, Apples, Carrots, Cranberries, Herring Oil, Tomatoes, Pumpkin, Dried Chickory Root, Dehydrated Alfalfa Meal, DL-Methionine, Vitamin E Supplement, Calcium Carbonate, Choline Chloride, Vitamin A Supplement, Vitamin D-3 Supplement, Niacin Supplement, d-Calcium Pantothenate, Vitamin B-12 Supplement, Riboflavin Supplement, Pyridoxine Hydrochloride, Thiamine Mononitrate, Biotin, Folic Acid, Zinc Proteinate, Copper Proteinate, Manganese Proteinate, Ascorbic Acid, Dried Lactobacillus Acidophilus Fermentation Product, Dried Lactobacillus Casei Fermentation Product, Dried Lactobacillus Plantarum Fermentation Product, Dried Enterococcus Faecium Fermentation Product.
Caloric Content
3,903 kcal/kg 514 kcal/cup
Guaranteed Analysis of Tuscan Cat Food
Crude Protein 40% min – Crude Fat 22% min – Crude Fiber 3.0% max – Moisture 11% max – Vitamin E 300 IU/kg min – Omega-6 Fatty Acids 4.0% min – Omega-3 Fatty Acids 0.40% min – Taurine 0.20% min – Docosahexaenoic (DHA) 0.10% min – Eicosapentaenoic Acid (EPA) 0.10% min.
Analysis of the First 5 Ingredients of Tuscan Natural Carne Cat Food
Chicken meal (5 stars): A concentrated form of protein, chicken meal is chicken meat cooked to high temperature and pulverized.
Chicken (2 stars): Chicken is a good source of protein for cats, but the raw chicken ingredient has been weighed before the cooking process, this means cooked chicken weighs less after it's cooked and the water in the muscle meats has been extracted. So after the chicken is cooked, this ingredient may not be the second on the list in terms of weight.
Turkey Meal (4 stars): Turkey is a good source of protein for cats, the meal is obtained after cooking the meat to a high temperature, and then it's pulverized. A little less tasty than chicken.
Turkey (2 stars): This is raw turkey meat weighed before the cooking process. After being cooked the real percentage of weight and protein is less, so the actual position on the list according to its weight may be less.
Peas (5 stars): A good option to add fiber, protein, and carbs to the cat's diet keeping a low glycemic index.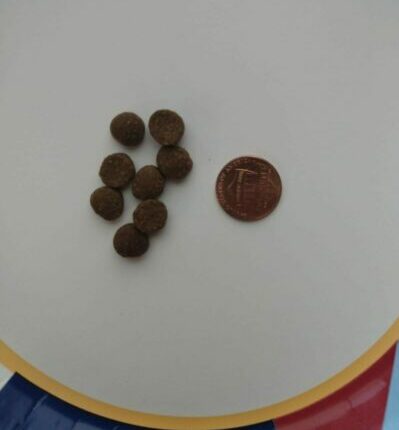 My cat's transition from Wellness to Tuscan Natural
What are the Pros & Cons of Tuscan Natural Carne Cat Food?
Here's the list of the best points of this formula and the aspects that you may not want for your cat in certain cases (explained in my bottom line).
PROS
Grain-free, no corn, rice, soy, or wheat.
High protein level (40%)
Meat used is humanely-raised and herring is wild-caught.
Doesn't contain salt
Higher level of moisture (11%) regarding most dry cat foods.
The ingredient of extra virgin oil gives the kibble a unique taste that cats love (my cat Sophie loved it).
A good percentage of carbohydrates of 18.17% (approximately) on an as-fed basis.
Circular kibble fits most felines' jaws (my cat prefers this kibble. it's larger and it's easier for her to chew)
Low ash content of 6.35%
CONS
Cats can't convert flaxseed oil efficiently to DHA and EPA. A very high dose of flaxseed oil is needed to make a difference. Fish oil is much better.
Herring meal (and any fish meal) provides a poor source of fatty acids because the oil is pressed out of the fish during the cooking process.
Phosphorous content is a little high, 1.37% Phosphorus on an as-fed basis. Though, this phosphorous comes from highly digestible poultry so cats can get rid of it naturally with appropriate water consumption.
My Conclusion about this cat dry food formula
Tuscan Natural Carne grain-free cat food provides a high-protein diet for your feline. The main ingredients are all meats that have been humanely raised. The carbs are well controlled if feeding your pet the right amount according to the instructions (½ cup per day).
I was feeding my cat with Wellness Core Grain Free Turkey & Duck, and once I started mixing both foods to introduce the Tuscan brand slowly, she only started eating the new food, Tuscan Natural Carne, leaving the Wellness kibble uneaten. Tuscan is more crunchy and she loves it because the kibble is larger and it's easier for her to chew her food. The previous kibble was very small and fell out her mouth sometimes as she was eating.
The amount of Omega-3 (DHA) in this formula complies with a maintenance diet. The reason for this is that flaxseed oil can't be converted efficiently into DHA and EPA by cats (the best anti-inflammatory fatty acids). If you want to prevent inflammatory activity in your cat's body in the long term you need to supplement with fish oil (this is ideal to do with all cats as a preventive measurement). Make sure not to buy Omega-3 capsules containing dioxin-like-PCBs toxins that are harmful to your pet (source). Get supplements from a good brand that is specifically formulated for cats, such as Nordic Natural for cats.
The phosphorous content is a little high and that's why it's important for you to always feed your cat a mixed diet of dry and wet food, and provide your cat with a source of fresh water at all times.
Bottom Line
Tuscan Natural Carne is a good formula with healthy ingredients that provides excellent value for money and I recommend it. The fact that this formula doesn't use salt says a lot. It means it doesn't use ingredients that could spoil during storage. It also means your cat won't have to drink so much water and less dehydration. Though, if you want to feed your cat this formula in the long term (over a year) I suggest supplementing with fish oil for the best nutrition for your cat. On the other hand, I wouldn't recommend Tuscan Natural Carne for felines with a current inflammatory condition, or elderly cats if in both cases they are not being supplemented with Omega-3. As a final recommendation, always feed your cat wet food as well, to provide your feline with the hydration he needs on his diet. You can get Tuscan Carne with fast shipping and 35% off on your first Autoship order on Chewy ⇒ here.