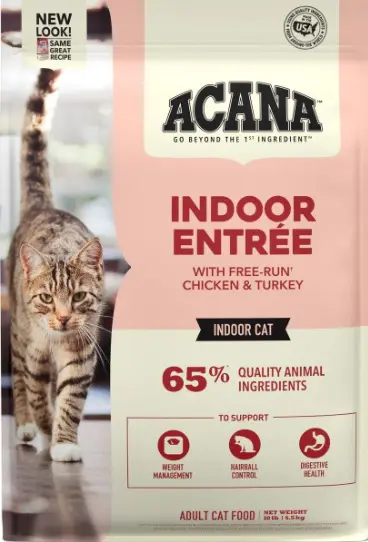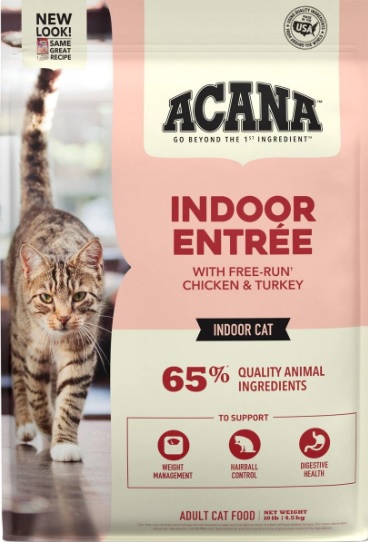 In 2020 Acana improved several of its cat food recipes. That's why I recommended some of the Acana formulas in my cat food reviews article. But I wanted to review a cat food made exclusively for indoor cats that don't have much activity. So here's my review of Acana Indoor Entree Adult Dry Cat Food.
Key Features of Acana Indoor Entree
No artificial colors, flavors, or preservatives are added to the recipe.
65% of all uncooked ingredients come from small prey animals, like chicken, turkey, rabbit, and herring.
35% of fresh vegetables, fruit, and botanicals, plus vitamins, minerals, probiotics, and natural preservatives to complete a healthy nutritional formula.
Acana ensures the safety and high quality in every single batch through a track-and-trace system.
Ingredients sourced from a trusted network of farmers, local and abroad if needed.
Fiber helps cats to have better digestibility to fight constipation.
Good balance of proteins and fats.
L-carnitine present in the formula helps to keep a healthy weight in cats.
EPA, DHA, and taurine support eye and heart health.
Made in the USA
With essential fatty acids for healthy skin and coat.
The formula includes the following meats/fish variety:
» Chicken: Deboned meat, meal, cartilage, liver, heart.
» Herring: Meal, whole herring.
» Turkey: Deboned meat.
» Rabbit: Deboned meat.
Ingredients of Acana Indoor Entree
Deboned Chicken, Chicken Meal, Herring Meal, Oatmeal, Whole Peas, Chicken Fat, Ground Miscanthus Grass, Deboned Turkey, Whole Green Lentils, Whole Chickpeas, Whole Herring, Natural Chicken Flavor, Lentil Fiber, Deboned Rabbit, Chicken Cartilage, Chicken Liver, Chicken Heart, Whole Cranberries, Dried Kelp, Choline Chloride, Zinc Proteinate, Mixed Tocopherols (Preservative), Vitamin E Supplement, Taurine, Vitamin D3 Supplement, Vitamin A Acetate, L-carnitine, Dl-Methionine, Copper Proteinate, Niacin, Thiamine Mononitrate, Riboflavin, Calcium Pantothenate, Pyridoxine Hydrochloride, Folic Acid, Vitamin B12 Supplement, Biotin, Ascorbic Acid (Vitamin C), Citric Acid (Preservative), Rosemary Extract, Dried Lactobacillus Acidophilus Fermentation Product, Dried Bifidobacterium Animalis Fermentation Product, Dried Lactobacillus Casei Fermentation Product.
Guaranteed Analysis of Acana Indoor
Crude protein 36% min – Crude fat 14% min – Crude fiber 6% max – Moisture 10% max – Dietary Starch 18% max – Sugars 1.2% max – EPA (eicosapentaenoic acid) 0.1% min – DHA (docosahexaenoic acid) 0.2% min – Calcium 1.4% min – Phosphorus 1% min – Magnesium 0.1% min – Taurine 0.1% min – Omega-3 fatty acids* 0.5% min – Omega-6 fatty acids* 2.0% min – Total Microorganisms* 100 Million CFU/lb
Caloric content: 3630 kcal/kg, 414 kcal/cup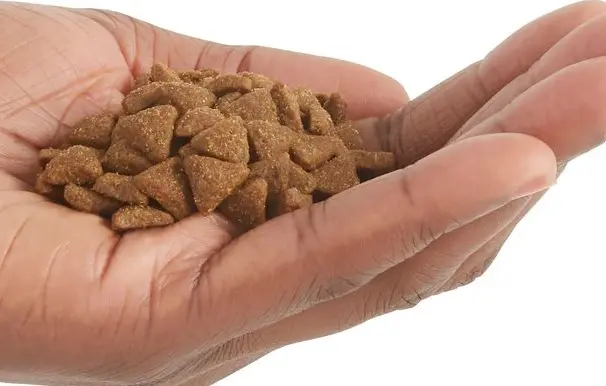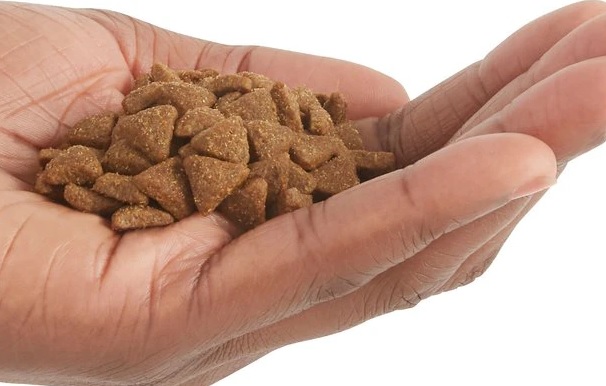 Analysis of the First 5 Ingredients of Acana Indoor Entree
Deboned Chicken: This ingredient is heavier before the cooking process due to the water content present in the meat. After is cooked, the proportion is much less. 3 stars.
Chicken Meal: Pure form of protein from chicken since the water has been removed. This ingredient represents 100% of its proportion in the formula. 5 stars.
Herring Meal: Very good source of protein but low in fatty acids because the fish oil is lost during the cooking process.
Oatmeal: Flour made with oat groats. It contains fiber and nutrients that helps the cat's colon health and balances the body's PH. 5 stars.
Whole Peas: Peas are a good vegetable source of protein, carbs and fiber. 5 stars.
What are the Pros & Cons of Acana Entree Adult Dry Cat Food?
PROS
Formula high in proteins (36% guaranteed analysis).
Chicken, turkey, rabbit, and herring are small prey animals, close to the natural cat diet.
Ingredients of oatmeal and ground Miscanthus Grass are excellent to promote the cat's digestive system and colon health. Miscanthus Grass is proven scientifically to help create firm and healthy stools in pets (source).
A good balance of protein and fats prevents obesity in cats. Cat food formulas usually contain 18%-20% of fats and this formula contains 14%. Much better to keep a healthy weight.
The formula doesn't contain salt. This is good for indoor cats that don't drink much water.
Carnitine helps to burn fat, good to control the cat's weight.
Ingredients chicken heart, liver, and cartilage are close to the natural cat diet.
The formula is packed with vitamins, minerals, and essential fatty acids.
Calcium and Phosphorus are lower than the other Acana formulas. This is good because indoor cats that are less active require fewer minerals and this helps to reduce the chance of developing UTI.
CONS
This recipe is not grain free
Ash content is not mentioned in the guaranteed analysis
Herring ingredient could give this food a fishy smell
My Conclusion of Acana Entree
━Acana Indoor Entree Adult cat food features a list of healthy ingredients, and the formula provides all the nutrients cats need. The type of proteins are close to the cat's natural diet so this really helps. It's important to mention that chicken and fish could create allergies as they are common ingredients in cat foods. That's why it's important for you to give your cat a break from chicken and fish once in a while.
━Indoor cats are more sedentary and this may contribute to constipation (source). This formula provides a good source of fiber to help the cat's digestive system. With Acana Indoor Entree cats have healthier stools and if they commonly have diarrhea it may disappear.
━As this formula was created especially for indoor cats it features less minerals than Acana Grasslands and Acana Meadowlands. This helps indoor cats avoid any formation of stones or any other urinary issues.
Bottom Line
Acana Indoor Entree is a good formula for indoor cats and I recommend it. Make sure to feed your cat with the provided guidelines to ensure your feline friend won't gain any weight. Get Acana Indoor Entree in Chewy here with fast shipping and 35% Off on your first Autoship and 5% on repeat orders.