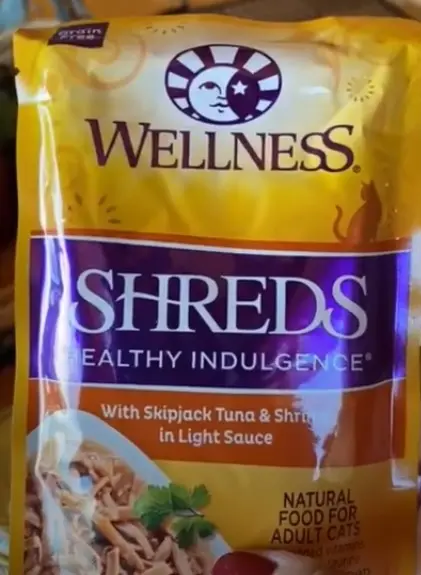 I desperately needed to find healthy wet cat food for my cat Sophie because she stopped eating her favorite wet food back in 2020. With some tips & tricks, I got her to eat her food again for about 8 months, but eventually, she stopped eating her wet food completely. Then I came across a good wet cat food— the Instinct Original Duck Pate recipe— and she liked it and ate it for about 6 months, and then she stopped eating it. That's when my journey started trying to get one healthy wet food that my cat likes and eats. I found Wellness Healthy Indulgence Shreds with Tuna & Shrimp formula, so this is my review.
Key Nutritional Features
100% grain-free formula, no corn, wheat, or soy.
Gluten-free
No artificial colors, flavors, or preservatives
Made with real skipjack tuna and shrimp
Tasty and abundant gravy makes it irresistible, even for the pickiest cat.
With vitamins and minerals that help to promote energy, healthy skin and shiny coat, better digestion, and immunity.
Good level of moisture that provides hydration, helping to prevent urinary health issues.
Wellness Healthy Indulgence Tuna & Shrimp Recipe Ingredients
Chicken Broth, Water Sufficient For Processing, Chicken, Potato Starch, Tuna, Shrimp, Chicken Liver, Eggs, Carrots, Natural Flavor, Salt, Tricalcium Phosphate, Guar Gum, Taurine, Vitamins [Vitamin E Supplement, Thiamine Hydrochloride, Niacin, Vitamin A Supplement, Pyridoxine Hydrochloride, d-Calcium Pantothenate, Riboflavin Supplement, Folic Acid, Vitamin D3 Supplement, Biotin, Vitamin B12 Supplement], Magnesium Sulfate, Potassium Chloride, Xanthan Gum, Cranberries, Blueberries, White Sweet Potatoes, Choline Chloride, Zinc Amino Acid Chelate, Iron Amino Acid Chelate, Manganese Amino Acid Chelate, Copper Amino Acid Chelate, Potassium Iodide, Sodium Selenite.
Caloric Content: 670 kcal/kg, 57 kcal/container
Guaranteed Analysis Wellness Healthy Indulgence Tuna & Shrimp
Crude protein 4.0% min – Crude fat 2.0% min – Crude fiber 1.0% max – Moisture 85.0% max – Ash 2.5% max – Magnesium 0.025% max – Taurine 0.01% min.
Analysis of First 7 Ingredients of Wellness Shreds Tuna Formula
I usually analyze the first 5 ingredients with dry cat foods, but in this case, I will extend this analysis to the first 7 ingredients. This is because the first ingredients on the list of wet cat foods consist mostly of broth or water which gives the food the moisture these recipes need.
Chicken broth (5 stars): Excellent ingredient to provide flavor. This ingredient in the first position is much better than plain water. Unlike this recipe, other wet food formulas process food with water as first ingredient.
Water sufficient for processing (1 star): Necessary ingredient to add moisture to the formula, but it doesn't provide proteins, only hydration as the main nutritional value.
Chicken (5 stars): Excellent source of protein in wet food.
Potato starch (2 stars): A filler in wet cat food.
Tuna (4 stars): Very good source of protein and fatty acids that provide Omega-3.
Shrimp (4 stars): Very good source of protein.
Chicken liver (3): Good source of iron that promotes red blood cell production. It provides great flavor as well.
Video Review of Wellness Shreds Tuna & Shrimp 
What are the Pros & Cons of Wellness Healthy Indulgence Tuna & Shrimp?
Here's a list of pros and cons so you can decide with good information if this wet food formula is suitable for your cat.
PROS
The fact that this formula is gluten-free, grain-free, and free of artificial colors, flavors or preservatives, makes this food a healthy option with fewer chances of developing food sensitivities, allergies, or even cancer.
Chicken, tuna, and shrimp are excellent sources of protein for cats.
The skipjack tuna has the lowest mercury content of all the commercial tuna varieties and it's a good source of Omega-3.
A moisture level of 85% is excellent to keep your cat hydrated and prevent urinary issues.
Excellent palatability, cats love the taste of this food.
Low phosphorous content of 0.19 g per pouch. Good for cats with kidney issues.
No harmful ingredients in the formula, such as Carrageenan, Dicalcium Phosphate, or Menadione Sodium Bisulfate (that are usually found in cat foods).
CONS
Water sufficient for processing could have been a vegetable broth instead.
Some cats may not like the meat shreds (if they are used to pates or similar).
This formula is not suitable for cats that only eat wet food (protein content is low).
My Final Thoughts
Wellness Healthy Indulgence Tuna & Shrimp is the answer I was looking for. The ironic thing is that my cat Sophie used to eat this same brand, but the variety of Turkey and Chicken that she stopped eating back in 2020. So I experimented with the tuna and shrimp variety and she loved it. I must recognize this is the first time I feed my cat a wet food containing fish and shrimp. I was against it, but I figured this is mostly chicken and tuna with a lot of moisture provided by the gravy and the final outcome is my cat eating her wet food to the point of licking her plate clean. Plus, she gets a nice source of proteins and Omega-3 and more hydration.
As a note, I feed my cat dry and wet food, so this is a complement to the dry food I feed her. For your reference, I made a review of Wellness Core Original Chicken & Turkey which is the dry food I feed my cat that provides the protein content Sophie needs. I feed her wet food to keep her more hydrated and for her to chew on wet meat, adding more vitamins and amino acids to her diet as well.
Bottom Line
I totally recommend Wellness Healthy Indulgence Tuna & Shrimp in Light Sauce. All in all the formula is healthy and tasty, providing a great source of hydration for your kitty. This food comes in a 3-Oz pouch in cases of 24. If your cat doesn't like shredded meat (you will know it if he or she doesn't eat the shreds and only licks the gravy) you can simply squeeze the pouch until the shreds kind of mix with the gravy and get smaller. I did this for my cat Sophie with excellent results. Go for it, I am confident your cat will love it. Get this formula on Chewy with free 1-3 day shipping, with 35% off for the first order on first Autoship, and with 5% off on repeat orders. With Autoship you have access to chat with a licensed Vet 7 days a week. You can cancel your Autoship anytime, with no fees. It works!
If your cat is on a diet and needs to eat only wet food, I don't suggest getting this formula since the protein content is low. This is mostly a wet food to complement dry cat food.