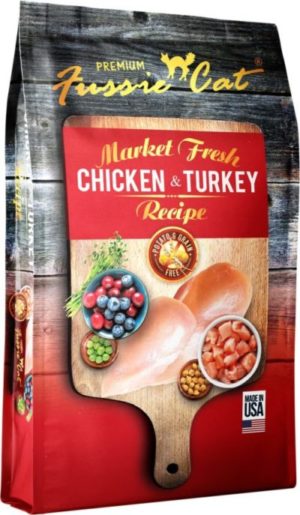 When you research dry cat food reviews you will notice that good quality formulas are expensive, and the cost of feeding two or more cats is even higher. Fussie Cat Market Fresh Chicken formula offers a good price and that's why I wanted to make a review of it. I wanted to see if this particular dry cat food is good to feed our feline friends. One thing I discovered is that this product is made in Perham, Minnesota, USA, with locally sourced ingredients.
Nutritional Features
Grain-free and potato-free
Made with farm-raised poultry
Three out of five first ingredients are animal proteins.
Good amount of protein 36%
Great flavor for picky eaters
The formula provides an excellent source of vitamin B12, riboflavin, and phosphorus.
No artificial ingredients
Non-GMO ingredients
Ingredients sourced in the USA.
The formula includes the following meats variety:
⇒ Chicken: Meat, meal, fat.
⇒ Turkey: Meal.
Fussie Cat Market Fresh Chicken & Turkey Ingredients:
Chicken, Chicken Meal, Peas, Turkey Meal, Pea Flour, Chickpeas, Chicken Fat (Preserved with Mixed Tocopherols and Citric Acid), Natural Flavors, Flax Seeds, Dicalcium Phosphate, Alfalfa Meal, Fructooligosaccharide, Minerals (Iron Proteinate, Zinc Proteinate, Copper Proteinate, Manganese Proteinate, Cobalt Proteinate), Potassium Chloride, Choline Chloride, Dl Methionine, Vitamins (Vitamin A Acetate, Vitamin D3 Supplement, Vitamin E Supplement, Niacin, D-Calcium Pantothenate, Thiamine Mononitrate, Riboflavin Supplement, Pyridoxine Hydrochloride, Folic Acid, Biotin, Vitamin B12 Supplement), Taurine, Blueberries, Cranberries, Lactic Acid, Kelp Meal, Calcium Iodate, Sodium Selenite, Rosemary Extract.
Guaranteed Analysis Fussie Cat Market Fresh Chicken & Turkey
Crude protein 36.0% min – Crude fat 16.0% min – Crude fiber 5.0% max – Carbohydrates 27.0% – Moisture 10.0% max – Calcium 1.0% min – Magnesium 0.10% – Ash 7.5% – Phosphorous 0.8% min – Omega-6 fatty acids 1.8% min – Omega-3 fatty acids 1.8% min.
More nutritional info:
—Phosphorous 1.6% max. Considering that other formulas have a minimum Phosphorous of 1.1% this is a good number. This means the maximum Phosphorous the cat might get with this formula is 1.6% and no more.
—Sodium level in the recipe is 0.35%. The AAFCO Officials recommend cat formulas to contain at least (minimum) 0.2% sodium for maintenance formula. This is a good number.
—This formula contains 415 calories per cup. If you feed your cat ½ cup per day (64g), you will be providing your feline 207.5 calories per day. Considering that cats should eat 24 to 35 calories a day per pound to maintain a healthy weight, this amount of calories per cup is good for an average size cat.
—Iodine content of approximately 3.34 mg/kg. on an as-fed basis. This level of iodine is balanced, most premium cat foods have levels between 2.9 mg/kg and 4.5 mg/kg fed basis. Take note that if you switch to different cat food, try to keep a similar iodine level between each. Drastic changes in iodine levels could create thyroid problems in cats. This usually happens if you feed your cat a low-in-iodine dry food and then you switch to a food containing a much higher level of this mineral.
—The target urine pH for this formula is 5.5. According to Veterinarian JoAnna Pendergrass, the normal pH range of cat urine is approximately 6.0 to 6.5. A target of 5.5 is lower than normal cat urine acidity. If your cat is prone to urinary tract diseases maybe this number is a little low.
Analysis of First 5 Ingredients of Fussie Cat Market Fresh Chicken & Turkey
[star rating="3″ numeric="yes"]Chicken: This ingredient is fresh meat that is weighed raw so it contains water weight that is eliminated after the chicken is cooked. This leads to an inferior actual percentage on the list of ingredients. 3 stars.
[star rating="5″ numeric="yes"]Chicken Meal: Excellent source of protein for cats. The water has been extracted and the percentage on the list is the actual weight in the formula. 5 stars.
[star rating="5″ numeric="yes"]Peas: Good source of vegetable protein, carbs, and fiber. 5 stars
[star rating="4″ numeric="yes"]Turkey meal: Concentrated source of protein. Turkey meat has been cooked to high temperature, dry and pulverized. 4 stars.
[star rating="3″ numeric="yes"]Pea flour: Highly digestible starch that provides a good source of energy and provides 12% of protein and 2.7% of crude fiber. 3 stars.
What are the Pros & Cons of Fussie Cat Chicken & Turkey Recipe?
I put together the good and the bad things I researched about this cat food so you can decide if it's good for your cat:
PROS
Grain-free and potato-free formula that is less likely to cause sugar peaks in the cat's blood.
Formula made and sourced in the USA (Minnesota) with local trusted ingredients.
Three of the first five ingredients are animal-sourced proteins.
The kibble is the size of a green pea, good for cats that can't chew tiny kibbles.
This cat food works very well with automatic cat feeding devices.
Balanced amount of calories that won't make indoor cats fat if feeding the recommended amount per day.
Good sodium level and iodine level. Balanced numbers that won't create drastic changes in the cat's nutrition.
CONS
The urine Ph target of 5.5 could be a little higher. The higher the number, the more acidic the cat urine. Ideal acidity is between 6.0 and 6.5.
Flaxseed is not the best source of Omega-3. Cat food formulas should have EPA and DHA direct sources of this fatty acid, such as fish oil. Flaxseed provides the ALA type fatty acid, which is not the best because it metabolizes in a different way providing fewer benefits in the cat's body (source: Harvard Health Publishing)
Final Thoughts
Fussie Cat Market Fresh Chicken & Turkey formula is a cat food that responds to a maintenance diet for an adult cat. This recipe contains mostly animal proteins in the main ingredients, which is good.
The urine Ph target of this cat food is 5.5 and the ideal is 6.0 to 6.5. Even though 5.5 is a normal number in cat foods, a higher number means more acidic cat urine, which protects cats from urinary issues. Regarding fatty acids, the omega-3 in the formula is ALA (Alpha-Linolenic Acid), which is not the best type. This is because the cat's body doesn't fully convert this Omega-3 into a proper amount of DHA (DocosaHexaenoic Acid), and EPA (EicosaPentaenoic Acid) which are the essential fatty acid that helps the cat's immune system.
Bottom Line
Fussie Cat Market Fresh Chicken & Turkey formula is a good formula if you need to feed your cat a low-priced option that doesn't contain grains or harmful ingredients such as artificial colorants, flavors, or high-glycemic. All in all, I would recommend this recipe if you need to feed your cat on a low budget, but considering a period of time of no more than a year. To get this formula, go to Chewy and save 30% on your first Autoship. Check it out —-> here.