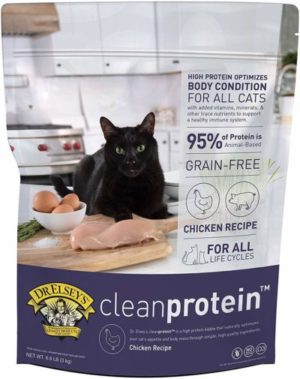 I haven't reviewed many cat foods lately, but I wanted to do a review of  Dr. Elsey's Cleanprotein Chicken cat food. It is so well positioned in the cat food reviews that I was curious about its ingredients and quality. I am always researching new cat foods for my kitty that could potentially improve her health and energy levels. I discovered interesting facts about Dr. Elsey's Chicken formula that I want to share with you. First, let's look at the ingredients of this dry food recipe.
Dr. Elsey's Cleanprotein Chicken Ingredients
Chicken, Dried Egg Product, Pork Protein Isolate, Gelatin, Chicken Fat (Preserved With Mixed Tocopherols), Flaxseed, Natural Flavor, Salmon Oil, Potassium Citrate, Calcium Carbonate, Fructooligosaccharide, Calcium Carbonate, Choline Chloride, Vitamins (Vitamin E Supplement, Niacin Supplement, D-Calcium Pantothenate, Vitamin A Acetate, Thiamine Mononitrate, Pyridoxine Hydrochloride, Riboflavin Supplement, Vitamin D3 Supplement, Biotin, Vitamin B12 Supplement, Folic Acid), Minerals (Ferrous Sulfate, Zinc Oxide, Calcium Carbonate, Manganous Oxide, Copper Sulfate, Iron Amino Acid Chelate, Manganese Amino Acid Chelate, Zinc Amino Acid Chelate, Copper Amino Acid Chelate, Sodium Selenite, Cobalt Carbonate, Ethylenediamine Dihydroiodide), Potassium Chloride, Mixed Tocopherols (Preservative), Taurine, Salt, Rosemary Extract.
Analysis of first 5 Ingredients of Dr. Elsey's Chicken
Chicken: 2 stars. When chicken meat is weighed it contains water mass (about 80%) that puts this ingredient as the first on the list due to its weight, but in reality, is less protein nutrition once it's cooked.
Dried Egg Product: 2 stars. This means shell-free dehydrated whole eggs. Eggs provide essential amino acids that are crucial for growth and muscles in the cat. However, in the industry of pet food, this ingredient is usually a waste product of the egg industry.
Pork Protein Isolate: 4 stars. This is a pure form of protein that provides more protein content with fewer calories. When a protein is purified is more digestible for cats. Pork is a fine protein for cats, however, to feed a cat on a daily basis it's better to choose a meat protein that comes from small preys.
Gelatin: 4 stars. Pure protein that is derived from collagen. It aids the cat's joints, tendons, and ligaments health. Good binding ingredient for high protein cat food. It helps for kibble durability.
Chicken Fat (Preserved With Mixed Tocopherols): 4 stars. This is a good source of energy for felines.
Caloric content & requirement for cats
Metabolizable energy: 4,030 kcal/kg, 554 kcal/cup
According to wsava.org the calorie requirement for a healthy adult cat that is not overweight is 28 calories per pound if it's a relatively active cat. However, the perfect calories content will depend on the cat's size and activity level. Dr. Elsey's Cleanprotein chicken cat food contains 554 calories per cup. This means you must feed your cat no more than ½ cup per day if you have an average-sized indoor cat (up to 11 pounds).
A side note: If you use a timed cat feeder, in order to feed your feline friend 2 or 3 times per day you must provide portions of 1/8 cup or less at a time.
Guaranteed Analysis
Crude protein 59.0% min – Crude fat 18.0% min – Crude fiber 4.0% max – Moisture 12.0% max – Eicosapentaenoic acid 0.06% min – Docosahexaenoic acid 0.06% min – Vitamin E 150 IU/kg min – Omega-3 fatty acids 0.9% min
Nutritional Content Dr Elsey's Cleanprotein Chicken
Protein (%) 62.60 – Fat (%) 19.46 – Fiber (%) 0.42 – Ash (%) 7.41 – Carbs (%) 4.69 – ME (kcal/kg) 4008.73 – Calcium (%) 1.67 – Phosphorus (%) 1.08 – Magnesium (%) 0.08 – Sodium (%) 0.58 – Potassium (%) 0.72
What I like about this formula
High protein cat food
The formula has low carbohydrate content, which reduces the risk of blood sugar peaks in cats.
This recipe contains pure forms of protein that are easily digested by cats.
Most of the formula comes from animal-based ingredients. This is excellent considering that cats are pure carnivores that need proteins, not carbs.
The formula is gluten-free, this helps to prevent allergies or inflammation in the cat's digestive system.
The ingredients have been carefully chosen to prevent bladder stones or crystals.
A good quality binder such as gelatin provides protein and helps with the cat's joints and ligaments. Other binders such as starches are bad fillers that promote obesity and diabetes.
Lack of fiber from vegetables is compensated by flaxseed as the 6th ingredient. This helps to prevent constipation.
Good ash level under 8%
Cats really like this food.
What I don't like about this cat food
The first ingredient Chicken doesn't really take most of the formula proportionally, due to being weighed with water mass weight.
The second ingredient, dried egg product, proportionally represents most of the formula after the cooking process. This means most of the formula is based on protein derived from dehydrated whole eggs. Even though eggs are a good source of protein for cats, they contain high cholesterol levels if eaten every day. Also, dehydrated eggs contain even more cholesterol than regular eggs. Cholesterol suffers oxidation during processing or during storage which causes toxicity. This could lead to high cholesterol levels in cats and inflammation due to the oxysterol derived from the oxidation process.
Conclusion
Dr. Elsey's Cleanprotein Chicken dry cat food has done a step in a good direction by providing clean sources of protein and a lack of cheap fillers to their formula. This cat food has a good protein level and low carb content which is appreciated for felines. Excess of carbs and fillers are the reason for cat obesity, diabetes, and diseases. Minerals are at a healthy level too. However, you need to feed your cat based on the guidelines, which is no more than ½ cup per day to keep your cat at a healthy weight and free of other diseases.
The downside of this formula is the high cholesterol content due to the main proportional ingredient being dried egg products. This causes inflammation over time due to the oxidation process of cholesterol that creates toxicity.
Bottom line
I think this is a good formula regarding low content of carbs and fillers, and high clean protein levels, but I suggest not feeding this cat food for a long period of time, only as a rotational food to lower the carb intake of your kitty for a couple of months or so. If you feed your cat for a short period of time I recommend this food. If they had put chicken, turkey, or rabbit meal as the second ingredient it would have been a much better recipe and I would've suggested feeding cats this food for a longer period of time. You can get this food with fast shipping in Chewy by visiting this link. Or you can get it on Amazon:
*This post contains affiliate links, and I will be compensated if you make a purchase after clicking on my links.