In this article, I won't talk about cats not adopting wet food in their diet or cats that stop eating food altogether. It's about cats that suddenly stop eating their favorite wet food. My cat Sophie's always eaten her dry and wet food every day with no problem since she was a kitten. However, for the past month, she's been eating her healthy dry food normally, but refusing to eat her favorite wet food and I have been wasting a lot of it every day. That's why I decided to investigate why she stopped eating her wet food and what to do about it.
The type of wet food I feed my cat
I feed my cat Wellness Healthy Indulgence wet food which comes in pouches with several varieties and flavors. In the beginning, I fed her the Morsels Chicken variety, and later I switched to the Gravies Chicken & Turkey variety which I have been feeding her for the last year.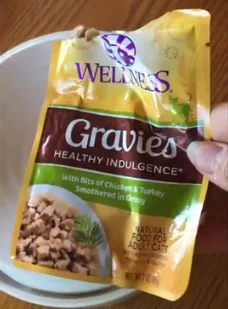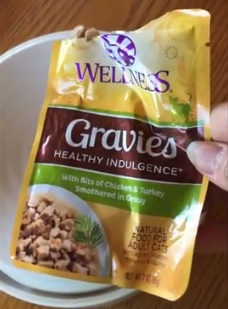 She has always loved her wet food and has eaten every single piece of it. But lately, she's been approaching the food, sniffing it, and walking away. This is very strange behavior but not unusual. Actually, I found a thread in the CatSite forum about this problem. I wanted to learn more about why cats do this and why my cat Sophie is doing it. Here's what I discovered:
Wet food changes once refrigerated, especially the gravy type
Cats in the wild eat their prey when is still warm so the temperature of the food is important. This hasn't changed and that's why cats don't like wet food when it's too cold. Not only that, the texture, consistency, and aroma of wet food change when is stored in the refrigerator.
I discovered that my cat refuses wet food once it's refrigerated but she eats it when the pouch has just been opened. Before refrigeration, the gravy is a nice tasty liquid with lots of chicken flavor that my cat loves to lick, which entices her to eat the whole meal. When I get the food out of the refrigerator the gravy becomes thick, not liquid at all. Also, the nice aroma of the wet food seems like it's gone once refrigerated. My cat sniffs the food and she doesn't seem to find it attractive and simply walks away.
Tip #1: Microwave the wet food for about 5 seconds, the consistency won't be thick and the aroma gets stronger.
Tip #2: Once you put the wet food in the bowl, store the rest (pouch or can) in a bowl with cold water. If the temperature is too hot, put one ice cube in the water. This will keep the wet food fresh without the need for refrigeration so it won't lose its texture or aroma. As long as the water temperature is below 70 degrees this trick will work. This tip applies also to any other type of canned food, such as pates or shredded.
Too long eating the same food
Just like humans, cats get bored eating the same food for too long. Cats need some change after a long period of time. Usually, a cat gets bored eating the same food for about a year. So if you've been feeding your cat the same food for over a year and he or she stops eating it, you may want to consider changing the brand or variety.
Sometimes not all batches are the same
Sometimes the same exact wet food has a different consistency (and maybe flavor) when switching to a different batch. If you happened to have opened a new batch of canned food or pouch and your cat refuses to eat it, you may want to consider this possibility. Try to get a new can or pouch of wet food and see if this is the case. Also, it could be that the formula's been changed and we don't even know it. This is more unusual but it happens. If you have several cats and they all stop eating their regular wet food, most likely the formula has changed.
Licking only the gravy, leaving the rest?
If your cat is only licking the gravy and not chewing on the morsels, it could be related to teeth issues. If you have this suspicion take your cat to a Vet for a checkup to discard this possible health issue.
Another possibility is the type of cat bowl or dish. Sometimes the cat can't eat the morsels or shreds because they slide as the cat is licking the food or when trying to bite the morsels. The solution is getting a bowl that stops the pieces of meat from sliding around or from spilling out of the bowl while the cat is eating. I was feeding my cat with the CatGuru bowl that comes with a nice base because she needed a wider bowl for whisker sensitivity. But it seems like she stopped eating the morsels and started licking her food instead. So I had to switch to the Yangbaga elevated cat bowl that I was using for water and it worked much better. Now she eats more morsels.
Make your cat miss her wet food for a few days
If your cat gets too spoiled with its everyday food, why not make him miss it a little bit? That's what I do with my cat Sophie sometimes. I let a couple of days go without giving her wet food (and sometimes up to 4 days) to make her miss it and desire it. Once that short period of time finishes and I put wet food in her bowl, she eats it with more desire than before. However, this trick doesn't always work.
Put its favorite cat treat in the middle of the wet food
This trick is a winner. If your cat doesn't feel appealed by his wet food anymore simply put his favorite treats in the middle of the wet food and wait. Your cat will first go for the treats but his following reaction will be eating the whole meal nonstop. You can put one, two, or three treats in its wet food, making sure to stick them inside the food, leaving the top exposed so your cat can smell them.
Enhance the flavor with a nice wet food topper
You can make your cat meal more delicious by adding a nice flavor to it. There are really good cat-wet food toppers such as the Purina Fancy Feast topper. The variety of Light Meat Tuna With a Scallop Topper is one of the best. The good news is that on Chewy you can find all sorts of delicious gravy toppers with fast shipping and 35% off on your first order for new customers, plus 5% off on repeat orders. Visit Chewy and shop all brands and types of toppers.
It's important to get your cat to eat wet food because it adds the moisture needed to its diet. Only drinking water isn't enough. So if your cat stopped eating its favorite wet food now you know how to start approaching this issue and solve it. Hopefully, everything will work great and your kitty will start gobbling its wet food again. Good luck!
Update, June 2022
Here I am after almost 2 years since I wrote this article. These tips & tricks helped me a lot at the time and my cat continued to eat her wet food but after almost a year she definitely stopped. After this, I tried Instinct Duck pate formula and she ate it for a while but suddenly she stopped eating this formula too! This is when a long journey started by trying to find tasty and healthy wet cat food for my cat to like and eat. I made some mistakes along the way by getting some brands that had a particular ingredient that was not healthy for cats (Menadione Sodium Bisulfite). Finally, I found a good formula that is healthy and that my cat loves and eats every time I put it on the plate. As I promised you in the comments section that as soon as I find a wet food that is healthy and that my cat likes, I would post it, so here it is. If you want to get this exact wet food formula on Chewy with 35% off on your first Autoship order visit this link. If you want to learn more about this formula, I made a Wellness Healthy Indulgence Tuna & Shrimp wet food review. This is the video of my journey trying to find a wet cat food for Sophie and the brands I tried along the way:
Update April 2023
After almost a year of cat Sophie eating Wellness Healthy Indulgence Shredded Tuna & Shrimp, I switched to a different flavor, of the same brand. So she now eats Wellness Healthy Indulgence Morsels Salmon & Tuna in Savory Sauce and she loves it. She eats all her food leaving the plate clean. She's been eating this formula for about 2 months and became a little obsessed with it.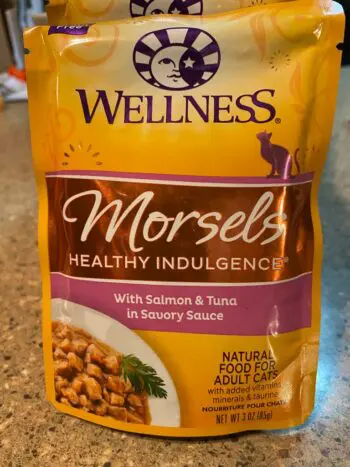 This formula also comes in pouches so no possible toxicity with the metal of cans. I found this brand (Wellness Healthy Indulgence) to be the only one my cat really loves, it's just a matter of switching between flavors after a while, but I am happy I found this formula, and this brand.
Watch my cat loving her food leaving her plate clean!
I hope this really helps you to finally finish your research on good wet cat food for your kitty. Good luck!