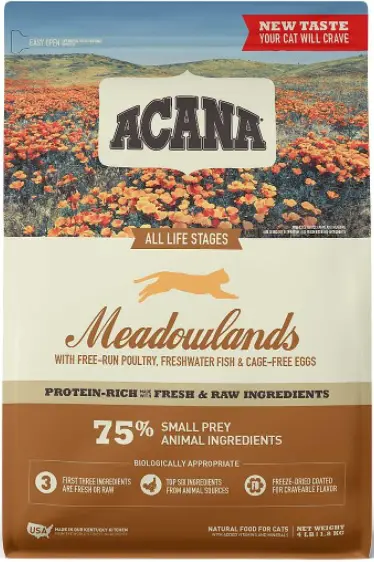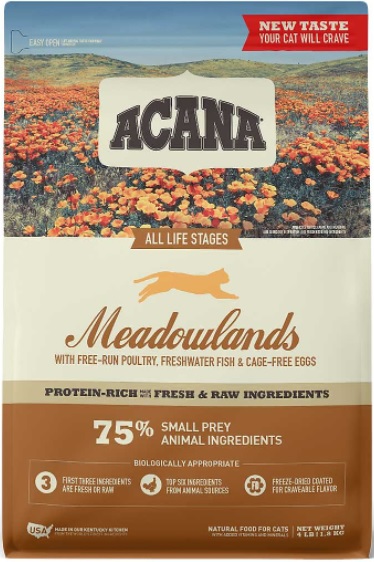 Acana Meadowlands has a new 2020 formula that changed some of the ingredients and the guaranteed analysis. The new recipe in comparison to the previous Acana Meadowlands 2016 formula contains more protein and also more minerals. I analyzed the two recipes and compared each ingredient one by one to discover if the new 2020 Acana Meadowlands did a step in the right direction. This is what I found out:
Nutritional Key Features
Acana Meadowlands is a grain-free formula
The top 6 ingredients are from free-run poultry and fresh-water fish.
Low-glycemic formula
75% of small animal ingredients (Percentage may change after the cooking process).
37.5% of animal ingredients are fresh or raw.
Maximum estimate of 25% carbohydrates from vegetables and fruits.
Locally grown meats, fresh fruits, and vegetables (USA).
Infused with freeze-dried chicken and turkey liver for a great flavor.
Provides all essential amino-acids that cats need to get from their food.
No artificial preservatives, colors, or flavors.
With probiotics to keep the cat's digestive flora balanced.
Limited synthetic supplements, only Choline, Zinc, and Copper have been added.
Omega-3 and Omega-6 support healthy skin and shiny coats.
The formula includes the following meats variety:
⇒ Chicken: Deboned meat, meal, liver, heart, cartilage (Kentucky farms).
⇒ Turkey: Deboned meat, meal, heart, liver & freeze-dried liver (Kentucky farms).
⇒ Catfish: Meal and crude
⇒ Pollock meal: Fresh from South Carolina farms.
⇒ Rainbow trout: Farmed from Western North Carolina.
Acana Meadowlands New USA 2020 Formula Ingredients:
Deboned Chicken, Deboned Turkey, Chicken Liver, Chicken Meal, Catfish Meal, Pollock Meal, Whole Red Lentils, Whole Pinto Beans, Chicken Fat, Pea Starch, Whole Green Lentils, Whole Chickpeas, Rainbow Trout, Eggs, Catfish, Pollock Oil, Natural Chicken Flavor, Chicken Heart, Lentil Fiber, Turkey Meal, Turkey Liver, Turkey Heart, Chicken Cartilage, Turkey Cartilage, Freeze-Dried Turkey Liver, Choline Chloride, Dried Kelp, Whole Cranberries, Whole Pumpkin, Collard Greens, Carrots, Apples, Zinc Proteinate, Vitamin E Supplement, Mixed Tocopherols (Preservative), Taurine, Vitamin D3 Supplement, Vitamin A Acetate, Niacin, Thiamine Mononitrate, Riboflavin, Calcium Pantothenate, Pyridoxine Hydrochloride, Folic Acid, Vitamin B12 Supplement, Biotin, Copper Proteinate, L-Carnitine, Dl-Methionine, Ascorbic Acid (Vitamin C), Chicory Root, Turmeric, Sarsaparilla Root, Althea Root, Rosehips, Juniper Berries, Citric Acid (Preservative), Rosemary Extract, Dried Lactobacillus Acidophilus Fermentation Product, Dried Bifidobacterium Animalis Fermentation Product, Dried Lactobacillus Casei Fermentation Product.
Guaranteed Analysis New Meadowlands Formula
Crude protein 36% min – Crude fat 18% min – Crude fiber 4% max – Moisture 10% max – Dietary starch 15% max – Sugars 1.2% max – EPA (Eicosapentaenoic acid) 0.1% min – DHA (Docosahexaenoic acid) 0.15% min – Calcium 1.6% min – Phosphorus 1.2% min – Magnesium 0.1% min – Taurine 0.1% min – Omega-3 Fatty acids* 0.6% min – Omega-6 fatty acids* 3.5% min – Total microorganisms* 100 Million CFU/lb
*Not recognized as an essential nutrient by the AAFCO Dog Food Nutrient Profiles.
Previous Acana Meadowlands 2016 Formula (discontinued):
Ingredients
Deboned chicken, deboned turkey, chicken giblets (liver, heart, kidney), chicken meal, catfish meal, turkey giblets (liver, heart, kidney), whole green peas, red lentils, pinto beans, pollock meal, chicken fat, chickpeas, green lentils, whole yellow peas, catfish, whole eggs, rainbow trout, herring oil, chicken liver, sun-cured alfalfa, natural chicken flavor, chicken cartilage, turkey cartilage, dried kelp, whole pumpkin, whole butternut squash, kale, spinach, mustard greens, collard greens, turnip greens, carrots, apples, pears, freeze-dried chicken liver, freeze-dried turkey liver, pumpkin seeds, sunflower seeds, choline chloride, zinc proteinate, copper proteinate, mixed tocopherols (preservative), chicory root, turmeric, sarsaparilla root, althea root, rosehips, juniper berries, dried lactobacillus acidophilus fermentation product, dried bifidobacterium animalis fermentation product, dried lactobacillus casei fermentation product.
Guaranteed Analysis 
Crude protein (min.) 35% – Crude fat (min.) 20% – Moisture (max.) 10% – Crude fiber (max.) 4% – Calcium (min.)1.0 % – Phosphorus (min.) 0.8% – Magnesium 0.1%. – Taurine (min) 0.1% – Omega-6 (min.) 3.5% – LA (min.) 2.4% – AA (min.) 0.1% – Omega 3 (min.) 0.7% – EPA (min.) 0.1% – DHA (min.) 0.15%
Changes In The Acana Meadowlands 2020 Formula vs 2016 Recipe
The changes are reflected in the ingredients and also the nutritional guaranteed analysis.
Changes in main ingredients:
It replaced chicken giblets with chicken liver. Chicken giblets ingredient included heart, kidney, and liver, but now the third ingredient is only chicken liver. Too much liver could cause an excess of Vitamin A which may lead to toxicity in long-term feeding. I don't like this change. Also, we must consider that the two first ingredients "deboned chicken" and "deboned turkey" are raw meats that are weighed before being cooked. This weight is heavier due to the water contained in the muscle meats. Once they are cooked the real weight in the recipe is much lower on the list. This means the percentage of the chicken liver in the formula is higher.
It replaced turkey giblets with pollock meal. Turkey giblets include heart, liver, and kidney which is closer to the cat's natural diet. Eliminating turkey liver from the list is a good decision since the recipe already includes chicken liver, but turkey heart and kidney could have been kept instead of replacing it with pollock meal. It's always better to include poultry* in cat food than fish. Even though fish provides essential fatty acids, it adds mercury to the cat's diet and may create cat addiction to fish. All in all, not a good change.
*(in the case of chicken, rotational feeding is advised to avoid allergies as well).
Changes in Guaranteed Analysis:
Proteins increased from 35% to 36%. A positive change.
Crude fat was reduced from 20% to 18%. Cats need about 20% to 24% fat in their diet so this was not a good change.
Calcium increase from 1.0% min. to 1.6% min. Calcium should be reduced to a lower level.
It reduced Omega-3 from 0.7% to 0.6%. Not good.
Increased the minimum Phosphorus from 0.8% to 1.2%.
Now it mentions starch content and sugars. Starch content of 15% is low, most commercial cat foods contain up to 35% starch on a dry matter basis (source). The sugar contained in the carbs of the recipe is low with 1.2% max.
Analysis of First 5 Ingredients of Acana Meadowlands
Deboned Chicken: It contains water in the muscles so it ranks higher before being cooked. 3 stars
Deboned Turkey: Deboned meat includes water weight so this ingredient is proportionally less once the meat is cooked. 2 stars
Chicken Liver: This is a natural source of iron which is an essential element for blood production. Liver provides great flavor, enhancing the food's palatability, but in excess can cause vitamin A toxicity in cats. 3 stars
Chicken Meal: Very good source of proteins for cats. As a note, cats need to eat diets free of chicken occasionally to avoid chicken addiction and allergy. 5 stars
Catfish Meal: Whitefish is a good source of protein and fatty acids, some oils are lost during the cooking process though. Although fish adds mercury to the cat's diet, catfish is a type of fish that contains the lowest. Also, too much fish could cause allergies (same with chicken). 4 stars
What are the Pros and Cons of Acana Meadowlands 2020 Recipe?
This is the list I made for you to chose based on the best qualities and downsides of this cat food:
PROS
Free of soy, corn, rice, wheat, tapioca, and potatoes, which creates obesity and diabetes.
A safe formula, free of artificial color, flavor, or preservatives.
High-in-protein formula of 36%
All main 6 ingredients are animal proteins, 3 of them being a highly concentrated source of proteins (chicken meal, catfish meal, pollock meal).
The first 6 ingredients are from local free-run poultry and freshwater fish (USA). Not meats from unknown foreign origins.
Freeze-dried chicken and turkey liver flavor enhancement make cats adopt this food easier.
The low glycemic formula keeps the cat's blood sugar at bay.
Provides all essential amino-acids cats need to outsource from their diet.
Limited synthetic supplements (Choline, Zinc, and Copper). Most vitamins and minerals in the recipe are from natural ingredients.
White meat-type fish with low mercury levels.
CONS
Chicken liver takes more proportion in the formula once the ingredients "deboned chicken" and "deboned turkey" are cooked and the water is extracted.
Phosphorus and calcium increased.
Total ash content in the formula is not listed.
Formula with 3 types of fish. It's better to have a formula with more poultry or other animal meats.
Conclusion
Acana Meadowlands 2020 recipe puts vitamin A as a main nutritional element since they listed chicken liver as the 3rd ingredient. This may not be good for cats in a long term feeding due to excess of this vitamin.
Also, the formula replaced turkey giblets with pollock meal. As I have stated numerous times, I am not a fan of fish for cat foods so this change was not good for me, but I appreciate they picked a white-meat, low-in-mercury fish. This formula contains 3 different types of fish in total: catfish, pollock, and rainbow trout. Acana could have included venison, lamb, or rabbit instead.
They also increased minerals such as Phosphorus and calcium. Cat foods need to keep mineral levels lower, not higher. Bad choice.
Bottom Line
All in all, Acana Meadowlands 2020 is still a very good formula for felines. However, the fact that chicken liver is the 3rd ingredient instead of chicken giblets, minerals were increased (risks of crystals or stones if not drinking enough water), and fish were replacing poultry, making this formula a little less desirable than the previous Acana Meadowlands 2016 recipe. If you liked this recipe, get it on Chewy and save 30% on your first Autoship. Check it out —-> here.