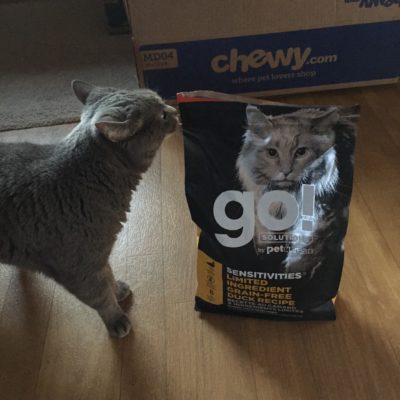 Editor's rating: 4.5 | Avg. Rating online:4.4
I have been feeding my cat with Petcurean Go Chicken & Turkey for a while. I don't like feeding my cat the same dry food for too long so every two or three months I switch to a different formula. One dry food I usually feed my cat during these rotational periods is Go Sensitivities Limited Ingredient Duck. This is a formula that my cat approves and that I have investigated enough to have confidence. However, I have never made a review of this so here it is.
I must mention that this recipe has maintained my cat lean, with a fairly shiny coat, no allergies, no vomiting or diarrhea either. But this review is a general approach considering some ingredients that could not be suitable for your feline friend. Also, I must mention that I complement this dry food with a high-in-protein wet food to feed my cat daily.
Go! SENSITIVITIES Duck Limited Ingredients:
De-Boned Duck, Duck Meal, Whole Dried Egg, Peas, Pea Flour, Tapioca, Lentils, Chickpeas, Chicken Fat (Preserved With Mixed Tocopherols), Flaxseed, Natural Flavour, Sodium Chloride, Choline Chloride, Calcium Carbonate, Dried Chicory Root, Phosphoric Acid, Potassium Chloride, Vitamins (Vitamin A Supplement, Vitamin D3 Supplement, Vitamin E Supplement, Niacin, L-Ascorbyl-2-Polyphosphate (A Source Of Vitamin C), Thiamine Mononitrate, D-Calcium Pantothenate, Riboflavin, Pyridoxine Hydrochloride, Beta-Carotene, Folic Acid, Biotin, Vitamin B12 Supplement), Minerals (Zinc Proteinate, Iron Proteinate, Copper Proteinate, Zinc Oxide, Manganese Proteinate, Copper Sulphate, Calcium Iodate, Ferrous Sulphate, Manganous Oxide, Sodium Selenite), Taurine, Dried Rosemary.
Guaranteed Analysis
Crude Protein 31.0% min – Crude Fat 15.0% min – Crude Fiber 3.5% max – Moisture 10.0% max – Ash 7.5% max – Magnesium 0.09% max – Omega-6 2.5% min – Omega-3 0.5% min.
Analysis of first 5 Ingredients of Go! Sensitivities Duck
De-boned duck: 4 stars. Duck is a good alternative protein to chicken. De-boned duck meat doesn't carry too Duck meal: 5 stars. Highly concentrated protein. Duck meal is duck meat cooked at high temperature and pulverized so no water is present when weighed.
Whole dried egg: 2 stars. Shell-free dehydrated whole eggs. This ingredient provides high protein content and contains 9 essential amino acids such as Lysine, methionine, tryptophan, valine, among others. Essential amino acids are very important for the basic functions of the cat's organs. The bad part is that dried eggs are usually a waste product from egg industry and it contains too much cholesterol.
Peas: 5 stars. Good source of vegetable protein, fiber, and carbs.
Pea flour: 3 stars. A carbohydrate alternative that is easily digestible for cats. Even though it's a good source of energy, it's always better to include animal fats instead.
Possible allergens in the formula
Caloric content & feeding recommendation
Metabolizable energy: 4,222 kcal/kg, 464 kcal/cup. For a regular-sized cat (between 10-13 lbs) that is not very active, the recommended portion is between 1/3 – ½ cup per day. For a more active cat, the suggested portion is between ½ – ¾ cup daily.
Type of kibble
The kibble size is small, with a round shape, and not very hard. My cat doesn't have issues chewing on this food. Also, if you use an automatic feeder, this food provides the feeder with good portion accuracy. See the picture below: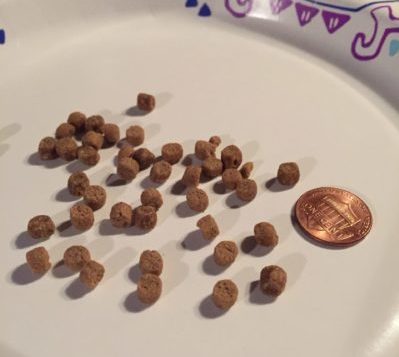 What I like about this formula
Grain & gluten-free
The first 3 ingredients are proteins, of which "duck meal" is a highly concentrated protein.
Peas are relatively low in the glycemic index, keeping the blood sugar levels at bay
Limited ingredients, with is made for cats with a sensitive digestive system
No chicken protein is present in the formula. Good for rotational feeding.
Helps with the kitty's bowel movements.
Duck meal made with real duck, not with by-product meat
No wheat, corn, or soy
Dried chicory root protects the cat's digestion and keeps the cat's weight at bay
Low ash content of 7.5% (guaranteed as maximum) prevents urinary issues.
Good balance of Omega-3 and Omega-6
What I don't like about this cat food
Low total protein content (31%) for young adult cats. It could be higher, at least 35%.
3.5% of crude fiber* is on the higher side. For healthy cats, the range required is 1.4% to 3.5%. If your cat suffers from hairballs 3.5% of crude fiber could be beneficial. The ideal percentage is 3%.
Dehydrated whole eggs contain too much cholesterol that may suffer oxidation over time.
Pea flour could have been replaced by animal fat as the 5th ingredient.
Tapioca, lentils, and chickpeas represent too many carbohydrates in the formula.
* Crude fiber is fermented by the gut bacteria present in the cat's intestine producing short-chain fatty acids, which provide the cat's intestines with the energy necessary to break down the nutrients. Too much fiber could produce less absorption of nutrients and also excess defecation.
My final thoughts
Go Sensitivities Limited Ingredients Duck is a formula that responds to the need of reducing chicken protein intake from a cat's diet. The recipe contains several carbohydrates but most of them are low glycemic, except tapioca. The good news is that it doesn't contain white potatoes, white rice, or grains which is definitely not good for cats.
The formula is low in ash and minerals which prevents urinary diseases. The ingredients are chosen to prevent inflammation in the cat's digestive system as well.
Bottom line
I recommend Go Sensitivities Limited Ingredient Duck as a rotational food to feed your cat a chicken-free diet. Duck is a very good alternative source of protein for cats and is easily digestible by felines. Even though this formula contains chicken fat, this is not chicken protein and it doesn't affect your intention of eliminating the chicken protein from your cat's diet. However, if your cat has been diagnosed with a chicken allergy, I don't recommend this cat food because chicken fat could still trigger an allergic reaction.
My recommendation is only under the following circumstances:
Your cat hasn't been diagnosed with a chicken allergy
You feed your cat a healthy high-in-protein wet food every day
You want rotational food to reduce the exposure of your cat to chicken protein.
Not as a long-term dry cat food to feed your feline (3 months maximum to then switch).
I match the above recommendations and I must say my cat does really good with this dry cat food. If you match these recommendations as well, you won't go wrong with Go Sensitivities Limited Ingredient.
I get my Go Sensitivities Duck dry food at Chewy. Their price can't be beaten and I get the food at my doorstep as fast as in 2 days! If you haven't bought from them yet you can access to 30% off on your first Auto ship, check it out. Or you can check its price on Amazon:
*This post contains affiliate links, and I will be compensated if you make a purchase after clicking on my links.