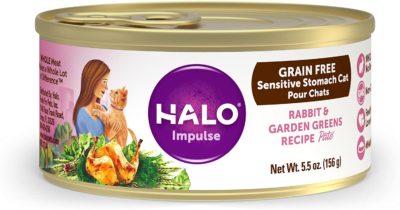 Looking for good canned food for your cat?
Halo Impulse Rabbit & Garden is one of the canned cat foods that I wanted to review a long time ago so I did. As we know, wet canned food is a complement to dry food, adding the hydration that cats need to their diet. It also provides a crude source of proteins, however, most of the proteins are obtained through dry food. I chose this brand because I was looking for alternative wet food, other than the one I currently feed my cat.
Let's check the ingredients of Halo Impulse Rabbit & Garden:
Ingredients
Rabbit, Chicken Broth, Chicken, Chicken Liver, Water, Dried Eggs, Dandelion Greens, Natural Flavors, Barley Grass, Agar-Agar, Tricalcium Phosphate, Parsley, Choline Chloride, Taurine, Salt, Calcium Carbonate, Potassium Chloride, Zinc Proteinate, Manganese Proteinate, Copper Proteinate, Magnesium Proteinate, Sodium Selenite, Calcium Iodate, Thiamine Mononitrate, Niacin Supplement, Vitamin E Supplement, Calcium Pantothenate, Pyridoxine Hydrochloride, Riboflavin Supplement, Biotin, Vitamin A Supplement, Vitamin B12 Supplement, Vitamin D2 Supplement, Folic Acid.
First Thoughts About The Ingredients
In the beginning, I was reluctant when I saw the ingredient "Barley Grass" but then I learned that barley grass is gluten-free because it's not really a grain.
Also, I liked the fact that Chicken Liver was the 4th ingredient and not the 3rd since I don't think too much liver is good for cats, it adds too much iron to their diet. A safe amount it's OK so being ingredient #4 on the list is a good thing.
I also appreciated that the second ingredient is Chicken Broth and not simply water. This makes sure my cat will love the flavor of this food, "humm yummy good stuff" she will think :-)
Guaranteed Analysis
Crude protein 10.0% min; Crude fat 6.5% min; Crude fiber 0.75% max; Moisture 78.0% max
ANALYSIS OF 5 FIRST INGREDIENTS
Rabbit: Good alternative meat source, cat's natural prey. 4 stars
Chicken Broth: excellent source of flavor and it's the best to use instead of plain water. 5 stars
Chicken: excellent source of protein (this ingredient is rated differently in dry food). 5 stars
Chicken Liver: provides a good source of iron, necessary for red blood cell production. Too much liver is toxic for cats. 3 stars
Water: It doesn't provide any nutrition, it helps to provide hydration. 2 stars
PROS
√ The recipe is free of artificial colors, flavors, or preservatives so your cat will taste the natural flavor.
√ The food provides added vitamins and minerals essential for cats' health.
√ The formula is grain-free and gluten-free which is the main guideline I follow with wet food and dry food.
√ Main proteins come from natural cat's prey, such as rabbits and chickens.
√ The chicken liver doesn't represent a big proportion in the formula, which I prefer.
√ It doesn't contain carrageenan
CONS
—6th ingredient is "dried eggs" which is a cheap source of protein (free of shell though).
—The consistency of this wet food is like a hard pate (a con only if your cat is used to eating soft juicy wet food)
FINAL THOUGHTS
Halo Impulse Rabbit is a good grain-free and gluten-free formula, adding 78% moisture to the cat's diet (that's excellent) and provides a natural source of protein for cats such as rabbits and chicken. Also, the formula has a very good taste that cats appreciate because it's been cooked with chicken broth instead of water.
If your cat likes to chew on wet food Halo Impulse Rabbit is the way to go, but if your feline friend is the "licker/lapper" type, maybe it won't get used to this food because as I said, this recipe is not the broth/gravy/gel type, it has a hard coarse texture. My cat didn't get used to it, she is the type that licks the gravy more than chewing on the food. All in all, this is very good wet cat food, mainly because it has 3 good sources of crude proteins, the ingredient "liver" is not the main protein and it provides the moisture cats need.