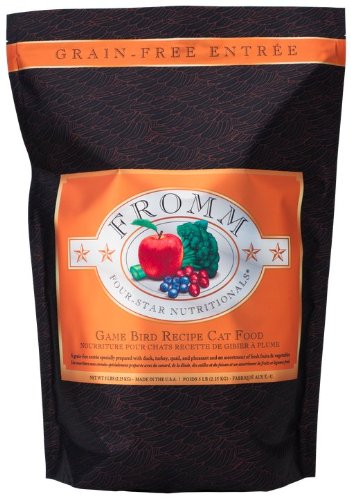 Fromm Four Star Game Bird Formula review
Fromm Grain Free Game Bird recipe is a mix of duck, turkey, chicken, quail and pheasant combined with cheese, sweet potatoes and fresh fruits and vegetables for a real fowl-filled feast. Fromm Grain Free Game Bird gives your cat all its favorite birds in one recipe.
Fromm cat food is prepared in small batches, ensuring consistency and quality. This formula is balanced and suitable for cats of all stages of life.
This formula is safe for your cat because it eliminates many food-related allergies. The chicory root extract supports healthy digestion and helps to reduce the formation of worms. The essential amino-acid taurine ensures the health of your cat's eyes, heart, teeth and fur.
Fromm Grain Free Grame Bird Recipe cat food is made in the USA and following the standards established by the AAFCO Cat Food Nutrient Profiles for All Life Stages.
KEY BENEFITS
35% of crude proteins
Grain-free recipe eliminates many food-related allergies
With real Wisconsin cheese
Taurine protects the cat's eyes and heart
Chicory root extract helps to reduce the risk of worms
Cat food made in the USA
NUTRITIONAL INFORMATION
INGREDIENTS
Duck, Duck Meal, Pea Protein, Turkey, Dried Whole Egg, Peas, Chicken Meal, Pea Flour, Dried Tomato Pomace, Potatoes, Chicken Broth, Turkey Liver, Quail, Sweet Potatoes, Salmon Oil, Chicken Fat, Chicken, Pea Fiber, Pheasant, Cheese, Flaxseed, Carrots, Broccoli, Cauliflower, Apples, Green Beans, Chicken Cartilage, Taurine, DL-Methionine, Potassium Chloride, Cranberries, Blueberries, Salt, Chicory Root Extract, Alfalfa Sprouts, Yucca Schidigera Extract, Sodium Selenite, Folic Acid, Parsley, Sorbic Acid (Natural Organic Preservative), Vitamins, Minerals, Probiotics.
GUARANTEED ANALYSIS
Crude Protein 35% MIN – Crude Fat 18% MIN – Crude Fiber 3.5% MAX – Moisture 10% MAX
CALORIC CONTENT
4,260kcal/kg – 1,937 kcal/lb – 4.26 kcal/g – 447 kcal/cup
TECHNICAL ANALYSIS
This technical analysis provides a better detailed information than the guaranteed analysis, however, this table does not intend to show absolute values.
GENERAL

 

As-Is Basis (%)

Dry Matter Basis (%)

Dry Matter Basis (grams/100 kcal)

Protein

35.87

38.60

8.98

Fat

18.67

20.09

4.67

Moisture

7.19

 

 

Fiber

3.21

3.45

0.80

Ash

6.43

6.92

1.61

Carbohydrates

28.63

30.81

7.17

Omega-3

0.65

0.70

0.16

Omega-6

3.14

3.38

0.79

Taurine

0.130

0.13

0.03

 

As-Is Basis (CFU/g)

Total Microorganisms

220,264 Min.
FEEDING GUIDELINES
Feeding recommendations are for general purposes and provide a good place to start, but measuring the right food intake depends on several factors such as age, indoor or outdoor, breed or metabolism and any other extra food given, such as treats or canned food. Also, the amount of food your cat needs may be modify in the following situations:
Kittens: 2 to 4 times more food. If your kitten is weighing less than 4 lbs or younger than 6 weeks, free feeding is recommended. Pregnant and nursing cats: 2 to 4 times more food. Spayed or neutered cats: Up to 25% less food.
ADULT MAINTENANCE

ADULT WEIGHT LOSS

Weight (lbs)

Cups p/ day*

Weight (lbs)

Cups p/ day*

5 – 7 lbs

1/3 to 3/8

5 – 7 lbs

1/4 to 1/3

10 – 12 lbs

1/2 to 5/8

10 – 12 lbs

3/8

14 – 16 lbs

2/3

14 – 16 lbs

1/2

18 – 20 lbs

3/4 to 7/8

18 – 20 lbs

5/8

22 – 24 lbs

7/8 to 1

22 – 24 lbs

2/3

26 – 28 lbs

1 to 1 1/8

26 – 28 lbs

3/4

30 lbs

1 1/8

30 lbs

7/8
ANALYSIS OF FIRST 5 INGREDIENTS OF FROMM GAME BIRD RECIPE:
(4.0/5) Duck: Good alternative protein source. It adds less water in weight than chicken.
(5.0/5) Duck Meal: Concentrated source of protein.
(4.0/5) Pea Protein: Good vegetable protein.
(2.0/5) Turkey: Does not offer high level of protein. It adds water in muscles, weighing more.
(3.0/5) Dried Whole Egg: Good source of protein. The egg yolk is the highest known source of Choline, essential to disperse cholesterol throughout the cat's system and support brain and liver functions. Whole eggs include shells but is not hard to digest when they are made a very fine powder.
What are the Pros and Cons of Fromm Game Bird Recipe?
The following Pros and Cons of this formula will help you to decide better if this is the dry cat food you need for your cat:
PROS
35% of crude proteins
Tasty mix of birds meat
Taurine supports eyes and heart's health
Chicory root extract helps cat's digestion and prevents worms
It helps to reduce vomiting
Healthy fatty acids support the cat's immune system and promotes a healthy skin and fur
Good for cats with sensitive stomach
Enticing scent and appearance
Irregularly shaped kibble is small enough for small mouths
Very tasty for cats
Non GMO ingredients
Meats are produced without hormones or antibiotics
Made in USA
CONS 
It does not inform the 11 essential aminoacids cats need in the food's nutritional analysis.
Pea protein is the third ingredient on the list. It could be a little further down on the list. Though, it's one of the best vegetable source of proteins.
Moisture of this food is low
Price
CONCLUSION
Fromm Game Bird Recipe is a good cat food with a tasty mix of birds. However, the third ingredient on the list it's pea protein which is a good source of vegetable protein but it could be further down on the list.
The main 5 first ingredients represent the most part of a dry cat food but in order to rate the actual quality of the proteins, I considered the first 3 ingredients and this cat food has an average rate of 4.3 stars. But I will take down 1/2 of a star because one of the ingredients it's a carbohydrate (pea) the average final rate it's 3.8 which is excellent for a cat dry food with carbs.
The formula is very good for active cats and a good choice for people who want to feed their cats a meat- based cat food but not a highly meat concentrated cat food.
Important: Dry cat foods are not sufficient for a healthy cat diet and they must be mixed with canned wet food and giving your cat plenty of water at all times.
BOTTOM LINE
Fromm Game Bird Recipe is recommended for outdoor cats or active indoor cats. Though this is a maintenance formula, it only informs 1 of 11 essential amino-acids cats need in the food's technical analysis (listed only Taurine). Also, be aware that this formula may make your cat gain some weight.
When I switched my cat from Petcurean Go to Fromm Game Bird she experienced a little weight gain and a less shiny coat as well. I didn't feed my cat this food for a long time. Gaining weight and less shiny coat are not good indicators.