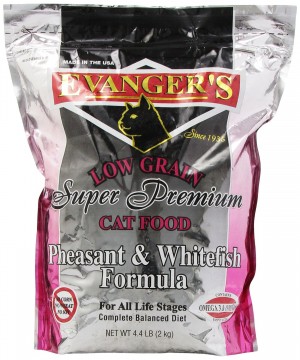 PRODUCT DESCRIPTION
Evanger's Pheasant and Whitefish it's a meat based and by products-free formula that gives your cat all the nutrients your pet needs to be healthy and happy. The recipe is free of corn, soy, wheat or artificial flavors or preservatives. Artificial flavors or preservatives are known to increase the risk of cancer in pets.
This formula contains a tasty mix of proteins such as pheasant, whitefish and duck and a healthy source of carbohydrates such as sweet potatoes and oatmeal.
Evanger's Pheasant and Whitefish offers your cat a healthy formula containing natural ingredients such as parsley, blueberries, cranberries and others. Ingredients are high quality on a human-grade level and they offer a great taste, which makes it easy for cats to adopt to this formula, even the most finicky cat.
This cat food offers excellent sources of proteins from whitefish and the duck-meal supports lean mass. The formula contains good fiber which improves digestion and the taurine supports the cat's heart and eye health. The recipe contains vitamins and minerals that are beneficial for your cat's health and wellness and it is specially formulated for cats of all life stages.
Evanger's Pheasant & Whitefish Dry Food is formulated to meet nutritional standards established by AAFCO nutrient profiles for all life stages.
KEY BENEFITS
No by-products
Multiple-meat based formula
Good mix of different novel proteins
Recipe is low in grains
All ingredients are fresh on a human-grade level of quality
Natural ingredients
It is nutritionally complete
Very tasty for picky eaters
Enticing shape
Evanger's meets nutrition levels established by AAFCO
INGREDIENTS
Pheasant, Whitefish, Sweet Potatoes, Canola Oil (preserved with mixed tocopherols), Peas, Duck, Oatmeal, Millet, Potato Protein, Flaxseed Meal, Natural Flavor, Carrots, Celery, Beets, Parsley, Lettuce, Watercress, Spinach, Dehydrated Alfalfa Meal, Dried Tomato Pomace, DL-Methionine, Potassium Chloride, Calcium Carbonate, Yucca Schidigera Extract, L-Lysine, Salt, Cranberries, Blueberries, Dried Apple Pomace, Taurine, Vitamin E Supplement, Niacin Supplement, Vegetable Oil (preserved with mixed tocopherols), Biotin, Thiamine Mononitrate, Pyridoxine Hydrocholoride, Vitamin A Acetate, Riboflavin Supplement, d-Calcium Pantothenate, Vitamin B12 Supplement, Citric Acid (natural preservative), Vitamin D2 Supplement, Folic Acid, Potassium Chloride, Ferrous Sulfate, Zinc Sulfate, Zinc Proteinate, Iron Proteinate, Zinc Oxide, Copper Sulfate, Manganese Sulfate, Manganese Proteinate, Copper Proteinate, Manganous Oxide, Sodium Selenite, Calcium Iodate.
GUARANTEED ANALYSIS
Crude Protein, not less than 33.00% – Crude Fiber, not more than 3.5% – Moisture, not more than 10.0% – Crude Fat, not less than 17.0%.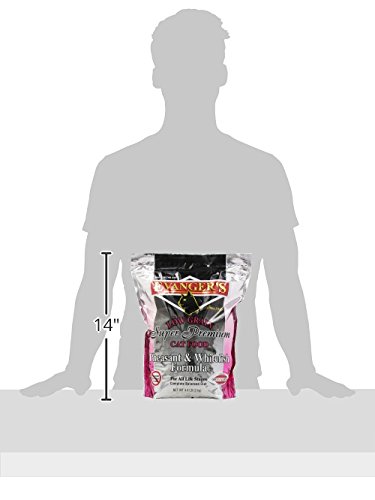 CALORIES
377 Kcals/100G, 392 Kcals/Cup
FEEDING GUIDELINES *
Cat Weight (lbs)             Daily Feeding Amount
5 to 10 lbs                     1/4 cup twice daily
11 to 15 lbs                   1/3 cup twice daily
* Feeding guidelines are for general reference. With kittens, pregnant or nursing cats the intake may need to be increased to approximately 2-3 times above the feeding guidelines. Old cats and inactive indoor cats need less food than daily feeding guidelines.
A healthy food intake will depend on your cat's activity, age, breed and general environment.
ANALYSIS OF FIRST 5 INGREDIENTS
(4.0/5) Pheasant: It gives superior levels of amino and essential fatty acids. Finely ground pheasant bones add excellent levels of calcium. 4 stars
(4.0/5) Whitefish: Good alternative to standard meats. 4 stars
(3.0/5) Sweet Potatoes: Very good alternative to regular potatoes because they have a lower glycemic index. Sweet potatoes add carbohydrates to increase energy levels in cats and they offer good nutrients. Sweet potatoes contain less sugar than beets. Incorporating carbohydrates to a cat's diet means the pet needs to increase its activity level. 3 stars
(5.0/5) Canola Oil (preserved with mixed tocopherols): Great source of good fatty acid for energy and healthy coat. Canola oil contains 10% omega-3 fatty acids and half the saturated fat found in other vegetable oils generally used in pet food. 5 stars
(5.0/5) Peas: Excellent source of protein/carbohydrates/fiber. 5 stars
PROS
No by-products
Very low in grains
Different sources of proteins
Formula easy to digest
Highly nutritional
Very tasty. Easily adopted by the most finicky cats
Good value for money
Natural and high quality ingredients
Omega-3 improves immune system, joints, heart, coat.
Taurine supports cat's heart and eyes.
It gives cats more energy
Cats eat less amount to feel satisfied
Better control of cat's weight
CONS
It informs some of the 11 essential aminoacids cats need in food's nutritional analysis.
Kibble is a little hard to chew for cats
Even though sweet potatoes are a better source of energy than regular potatoes, they still adds carbohydrates to the cat diet.
2 carbohydrates in the 5 first ingredients.
CONCLUSION
Evanger's Super Premium Pheasant and Whitefish dry food it is a good formula, with high quality natural ingredients that offer a good source of proteins, mixing pheasant, whitefish and duck. The recipe includes healthy vegetables and fruits to help cat's digestion and healthy fatty acids.
I consider the first 3 ingredients out of the first 5 to get a better idea of the protein quality of the formula so I rate the cat food based on the first 3 ingredients. Considering this, the rate of this cat food is is 3.2, which is very good for a non-free-carbohydrate cat food. However, I must take one star down because of canola oil content, the potato content and the peas content. These ingredients are well rated individually, but they shouldn't be all within the first 5 ingredients. The actual rate of this cat food is 2.2 which it's OK.
Because of its protein levels and type of carbohydrates and fatty acids added to the recipe, Evanger's Pheasant and Whitefish it's an OK cat food, but these ingredients should be further down the list.
Very Important Point: You need to know that dry cat foods are not sufficient for a healthy cat diet and they must be mixed with canned wet food and giving your cat plenty of water at all times. Your cat's water intake must come from food and water.
BOTTOM LINE
This is an OK formula for a cat maintenance diet, but it informs only 4 of the 11 essential amino-acids cats need in the food's nutritional analysis. Also, within the first 5 ingredients only 2 of them are meat of fish, the rest are carbohydrates and oil. Sweet potatoes and peas could make your cat to gain weight.