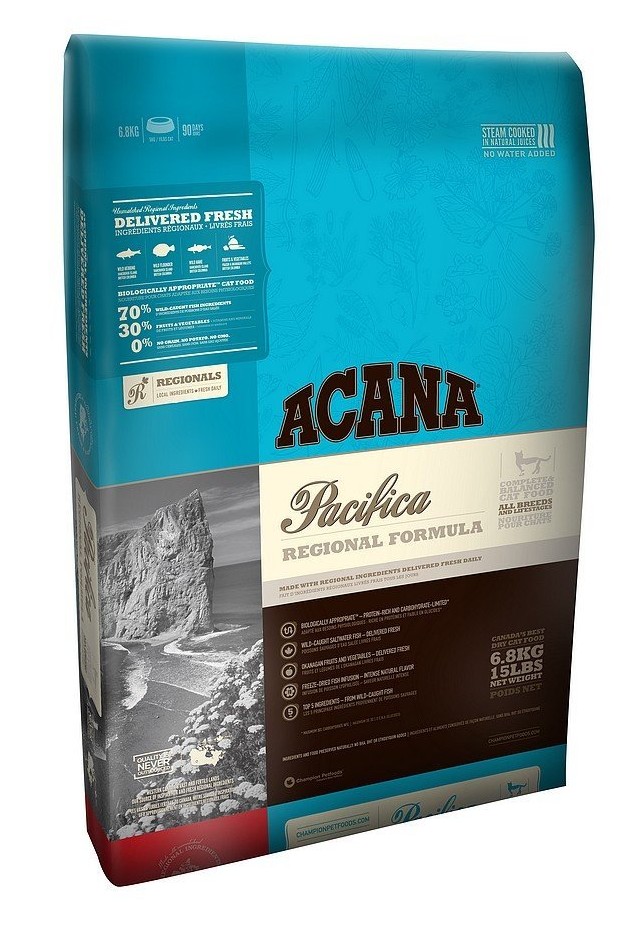 PRODUCT DESCRIPTION
Acana Pacifica Regional is a meat fish based formula with local ingredients from Canada. This recipe contains 100% wild-caught fish including herring, flounder and pacific hake from off North Vancouver Island.
Acana Pacifica is a grain and potato free formula in its main 5 ingredients to reduce the harmful excess of carbohydrates so commonly found in dry cat foods which causes obesity and blood sugar levels to rise and fluctuate.
The formula also includes fruits and vegetables delivered fresh and whole from locally grown from sun-drenched orchards and black prairie soils.
This cat food is made with selected ingredients to satisfy cats carnivore diet. The recipe balances a rich meat diet with small amounts of fruits, vegetable and grasses.
CALORIC CONTENT IN ACANA FORMULA
The main source of calories comes from protein and fat and a low percent from carbohydrates. This helps to reduce the risk of obesity or diabetes in pets.
Metabolic Energy is 4060 kcal/kg (500 kcal per cup) with 34% of energy from protein, 42% from fat, and 24% from fruit and vegetables.
GUARANTEED ANALYSIS
Crude protein (min.) 35% – Crude fat (min.) 20% – Crude fiber (max.) 3% – Moisture (max.) 10% Calcium (min.)1.6 % – Phosphorus (min.) 1.3% – Omega-6 (min.) 2.3%, LA (min.) 2.4% – AA (min.) 0.1% – Omega 3 (min.) 2% – EPA (min.) 0.8% – DHA (min.) 0.6% – Magnesium 0.1%.
INGREDIENTS
Boneless herring*, herring meal, pollock meal, boneless flounder*, boneless Pacific hake*, chickpeas, red lentils, canola oil, green peas, green lentils, yellow peas, herring oil, sun-cured alfalfa, dried kelp, pumpkin*, butternut squash*, spinach greens*, carrots*, apples*, pears*, cranberries, mixed tocopherols (preservative), chicory root, dandelion root, chamomile, peppermint leaf, ginger root, caraway seeds, turmeric, rose hips, freeze-dried herring, freeze-dried hake, freeze- dried flounder, Enterococcus faecium fermentation product plus premium vitamins and minerals. * Delivered fresh from Canada, daily.
SUPPLEMENTS
Vitamin A supplement, vitamin D3 supplement, vitamin E supplement, niacin, riboflavin, folic acid, biotin, vitamin B12 supplement, zinc proteinate, iron proteinate, manganese proteinate, copper proteinate, sodium selenite, dried Enterococcus faecium fermentation product.
VITAMINS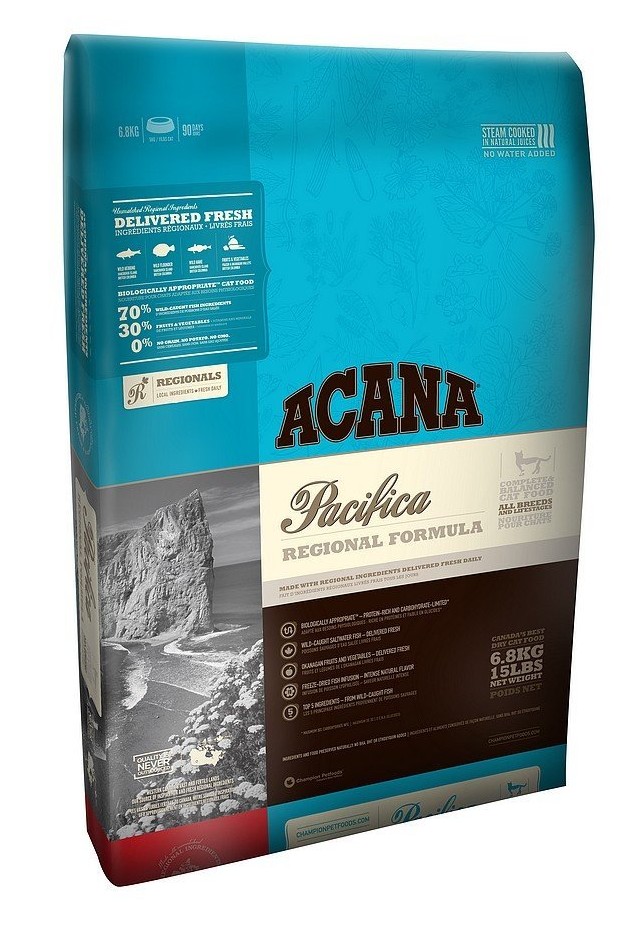 Vitamin A 56 KIU/kg – Vitamin D3 2550 IU/kg – Vitamin E 390 IU/kg – Vitamin B1 (Thiamine) 78 mg/kg – Vitamin B2 (Riboflavin) 52 mg/kg – Vitamin B3 (Niacin) 175 mg/kg – Vitamin B5 (Pan. Acid) 47 mg/kg – Vitamin B6 (pyridoxine) 42 mg/kg – Vitamin B12 0.5 mg/kg – Biotin 0.8 mg/kg – Folic Acid 4.3 mg/kg – Choline 3,180 mg/kg – Vitamin K 0.2 mg/kg.
MINERALS
Sodium 0.69% – Chloride 1.00% – Potassium 0.90% – Iron 150 mg/kg – Zinc 240 mg/kg – Copper 25 mg/kg – Manganese 26 mg/kg – Iodine 3.2 mg/kg – Selenium 1.7 mg/kg.
AMINO-ACIDS
Lysine 2.8% – Threonine 1.5% – Methionine 0.9% – Isoleucine 1.5% – Leucine 2.7% – Valine 1.8% – Arginine 2.4% – Phenylalanine 1.5% – Histidine 0.8% – Tryptophan 0.35% – Cystine 0.3% – Tyrosine 1.0% – Taurine 0.2%
BOTANICAL INCLUSIONS
Chicory root 500 mg/kg – Dandelion root 250 mg/kg – Chamomile 150 mg/kg – Peppermint Leaf 150 mg/kg – Ginger root 150 mg/kg – Caraway seeds 150 mg/kg – Turmeric 150 mg/kg – Rose hips 150 mg/kg.
Important Point when Feeding your Cat with Acana Pacifica:
It is very important to give plenty of water to your cat while feeding it with Acana Pacifica Fish Formula. Also, it is important to provide your pet a permanent source of fresh water at all times.
ANALYSIS OF FIRST 5 INGREDIENTS OF ACANA PACIFICA FISH FORMULA:
(2.0/5) Boneless herring: Good source fatty acids. Boneless fish may add water to the weight resulting in less proteins.
(4.0/5) Herring meal: Excellent source of proteins but low content of fatty acids because oils gets extracted when making the meal.
(4.0/5) Pollock meal: Good source of proteins. Pollock adds good fatty acids.
(3.0/5)Boneless flounder: Boneless fish may add water to the weight. Not a significant source of fatty acids.
(2.0/5) Boneless Pacific hake: Boneless fish may add water to the formula. Low source of Omega-3.
What are the Pros and Cons of Acana Pacifica Cat Dry Food Fish Formula?
PROS
It contains all the essential aminoacids cats need.
No fillers in the first 5 ingredients
No salmon in first 5 ingredients
Very good amount of magnesium of 0.1%, preventing urinary crystals.
Wild-caught fish comes from the west Canadian coast
Vegetable and fruits locally grown in Canada
Good balance of vitamins and minerals
Recipe is low in carbohydrates
Low glycemic carbohydrates
It contains all the essential amino-acids cats need
Cats get satisfied with less amount of food
It helps to control odors in feces
CONS
Boneless Herring, Flounder and Pacific Hake might add some water to the crude protein weight
It has a strong fish smell
It has to be complemented with meat proteins (canned wet food) to avoid urinary crystals, especially with male cats.
Price
CONCLUSION
Acana Pacifica has a balanced formula of fish, healthy fats, vegetables and fruits. The carbohydrates on the recipe are low glycemic (chickpeas, red lentils and green peas) and they are highly nutritional. Acana Pacifica does not incorporate grains or potatoes in the main 5 ingredients which helps to prevent obesity.
Also, this formula includes essential vitamins, minerals and amino-acids to help cats nutrition and canola oil which is an excellent source of fatty acids, containing 10% omega-3 and 50% of the saturated fat commonly found in other low quality vegetable oils used in pet foods.
Acana Pacifica average rate based on the first 3 ingredients is 3.3 stars which is good for dry cat food.
Important: Dry cat foods based mainly on fish are not sufficient for a healthy cat diet and they must be mixed with white or red meats. Also you have to complement Acana Pacifica with wet canned food and giving your cat plenty of water.
√ This formula contains 100% of the essential aminoacids cats need.  For this reason:
√ I recommend Acana Pacifica:
For cats that like fish
Cats with high activity level
With a mix diet including white or read meat based kibbles or wet canned food
If you give your cat plenty for water
x I don't recommend it:
To cats that don't drink enough water
For cats with tendency to develop allergies
Male cats that tend to develop urinary tract disease