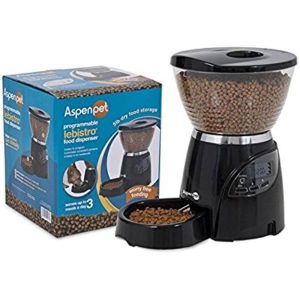 Petmate Le Bistro pet feeder is very popular and can be used for feeding both cats and dogs. My review starts with a general description of this product. Update: This product has been discontinued.
MAIN FEATURES
Petmate Le Bistro pet feeder is programmable and delivers controlled food portions up to 3 times per day.
The range of portions is from ¼ to 3 cups per serving, so you can set the amount you want for your pet to eat by day. This daily amount of food is kept in a tough plastic base for food "on demand".
Petmate Le Bistro features a 4.2 lbs capacity hopper filled to the top. The food tray and internal wheel hold additional 1.3 lbs dry food.
The feeding bowl can be removable for easy cleaning.
This food dispenser uses 3 D-cell alkaline batteries which are not included in the product. The batteries last approx. 6 months and it has a low-battery indicator that lets you know when the batteries need to be changed.
The feeder can be assembled in minutes with no tools and it measures 10"x 14"x 15". Includes a one-year limited warranty.
WHAT'S IN THE BOX:
Main unit
Hopper Lid
Food Chute
Feeding Bowl
User Manual
What are the Pros and Cons of the Petmate Le Bistro pet feeder?
PROS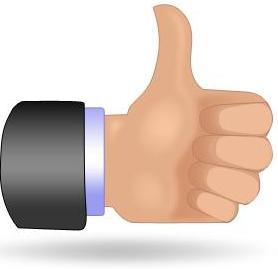 Easy to program following the instructions.
It has a paddle wheel inside that rotates to dispense the food, which is sectioned and made of a soft flexible material to prevent jamming.
It relieves the task of measuring and pouring food for your pet every day.
CONS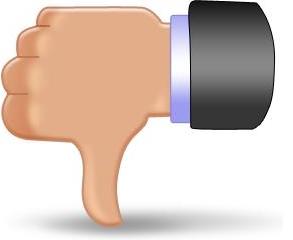 Cats can figure out how to get more food using the paw.
The minimum portion you can feed your cat is a 1/4 cup.  Not recommended for cats on a diet or if you want your cat to eat more than 2 meals per day.
New version works only with batteries.
Sometimes kibble gets stuck in the chute.
TIPS
Remove the top of the food hopper and pour the desired amount of food (hopper holds up to 4.2 lbs capacity)

You have to set the alarm clock using the LCD screen. It has 3 buttons to go through the process, so this way you set the schedule feeding times for your pet.

It has also a meal counter to set how many times you want your pet to eat daily.

To program this feeder is simple, just press and hold the "Enter" button, then use the "Up" and "Down" arrows to set the current time, the number of meals, meal times and meal sizes. 
CONCLUSION
The Petmate Le Bistro pet feeder is a good automatic pet feeder, but not as desirable as other options for cats, especially if you need to give your cat a very accurate amount of food per day. For this reason, the Petmate Le Bistro may not be suitable if you have your cat on a diet. This unit works better for dogs, but it may work well for cats in some situations.
√ This feeder might work for your cat if you fit all these conditions:
If you want to feed more than one cat.
If your cats are not smart enough to figure out how to get more food from the chute.
If your cats are very active (indoor/outdoor).
If you use medium size kibble or round spherical small kibble
x The feeder it's not recommended:
If you want to feed one cat with a very accurate feeding schedule
If you want to control and/or reduce the food intake of your cat.
If you need a unit that works with batteries and adapter.
If you feed your cat small and flat type kibble
If you have a food-driven cat
IMPORTANT NOTE ABOUT PETMATE LE BISTRO :
Some customers complain that this feeder does not release the food in the programmed time and portions. Consider these customers' experiences to make a decision.