ViviPet Cat Elevated Pet Feeder helps your cat eat in a more comfortable posture. With its 15 degree tilted platform and 3.75-inch front height, this raised feeder has the ideal height and position for your cat to eat and lick its food, without spilling too much food.
The feeder consists of: 1 solid pine stand, 2 kitty shaped or round hand-crafted ceramic bowls and 1 additional rectangular ceramic planter to use at the side of the platform to grow cat grass or if preferred to store toys or use as a water dish.
The stand comes in Black, White and Wood Grain to match your decor. The bowls come in two designs, kitty bowls or Hand Printed bowls. Kitty bowls come in colors Pearl White and Pearl Black and the Hand Printed bowls come in colors orange, green, pink and blue.
The unit stand is sturdy and designed to avoid cats from trying to tip the feeder over. All the materials used to make this feeder are pet friendly and FDA approved.
FEATURES
Elevated stand lessens stress and pressure to your cat's joints, muscles and stomach.
Tilted stand is made from knot-free solid pine, 3/5" thick and with 7 coats of water and scratch resistant paint.
15 degree tilted stand is ideal for a cat to eat and lick its food
With ceramic planter to grow cat grass at the side of the feeder or store toys or as a water tray.
2 shallow and wide ceramic bowls help to reduce whiskers stress in your cat
Includes a pack of ViviPet Solid-free Cat Grass as a gift.
Ceramic bowls are heat and dishwasher safe (also, they can be purchased individually)
Kitty bowl capacity: Dry food 12 Oz, wet food 8 oz. water 4 oz.
The non-skid feet and bowl inserts make the feeder stable and durable.
Feeder's front height: 3.75"
Back height: 5.5"
Bowls Depth: 5.5″
Stand Dimensions: 18″L x 8″W x 5.5″H inches
Weight: 4 lbs
PROS
Cute, modern and stylish feeder
Made with pet friendly and FDA approved materials
With a tray at side of the feeder to grow your own cat grass or store toys or as a water bowl.
Tilted 15 degree provides the ideal height and inclination for a cat to eat comfortably
Stand with anti-scratch and water resistant paint finishing
Bowls are shallow and wide, making it comfortable on the cat's whiskers
Ceramic bowls are more hygienic and prevent chin acne
Optional bowl styles and colors
Bowls are heat and dishwasher safe
With bowl inserts to keep the bowls stable on the stand
Built-in non-skid feet keep the feeder stable on the floor
Feeder's design keeps cats from tipping it over
Stand size allows two cats eating together comfortably
It comes fully assembled
It comes with grass seed as a gift for you to start growing your own cat grass
CONS
The stand is not very wide so it does not protect the floor from messy cats.
Some cats may just play with the grass and leave pieces around the floor and not eat it.
The kitty shaped bowls are meant to be used only with dry or wet food, not with water (see tip)
The unit takes a large space in your cat's area.
TIPS & TRICKS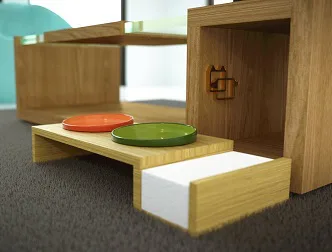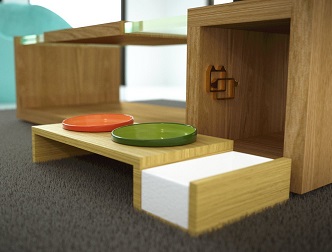 Don't fill the bowls to the rim because the tilted design of the platform will make any excess of food spill to the surface or onto the floor.
Make sure to grow the grass outside the feeder until it grows fairly tall. This will prevent your cat from pulling out the grass when it's just starting to grow.
If you want to place a water bowl on your feeder you can buy round bowls with more capacity (about 16 Oz) as a spare on this

link

.
CONCLUSION
ViviPet Cat Dining Table belongs to Mykonos Collection and it's all handcrafted. The unit is sturdy and works as advertised and it looks even better than in the picture. It provides an ideal height and angle for your cat so it can eat comfortably with no stress on its body or whiskers. The kitty shaped bowls are not very suitable to use as water bowls because they are shallow but you can buy an extra round bowl and use it as a water bowl.
√ I recommend ViviPet Elevated Cat Feeder:
For adult medium sized cats
For old or disable cats or cats with arthritis
Cats with vomiting issues
To feed dry and wet food only (with kitty shaped bowls)
x The feeder may not be suitable:
For very messy cats that will have you cleaning the stand often
Kittens if you want to use it with grass
As a food and water bowl if choosing the kitty shaped bowls