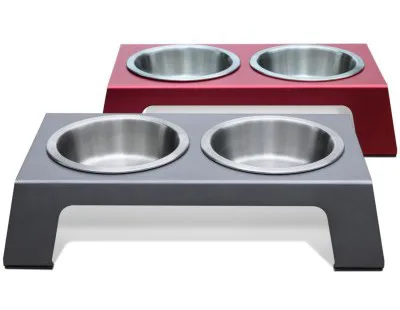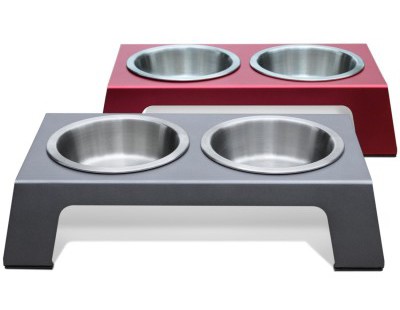 Petfusion Elevated Pet Feeder helps your cat to improve its digestion raising the food to a more comfortable position, avoiding stress in joints, muscles, and bones when eating.
The unit is made of anodized aluminum, including stainless steel dishes. PetFusion elevated feeder in anodized aluminum has a very sleek and modern look to fit your home decor.
The feeder comes with anti-skid feet pads to keep the feeder from sliding on the floor and small silicone insets to keep bowls in place, reducing spinning and clanging, common problems when a pet is eating.
Petfusion raised feeder is easy to clean with its removable bowls and it's easy to maintain as well. The Petfusion Elevated feeder comes in two sizes: Short and Tall. This review is for the Short size, suitable for cats and small pets.
FEATURES
Nice modern design
It supports the cat's digestive function raising the food to a more comfortable position to eat.
Anti-skid rubber feet and silicon insets to keep base and bowls in place.
Short 4" high size suitable for small dogs and cats.
It comes with 2 bowls; 2" deep and 6" diameter; 24 Oz capacity ea.
Now it includes a 3rd shallow bowl; 1.1" deep, 13 Oz. Capacity.
Bowls are dishwasher safe
It comes fully assembled
Replacement bowls available
International safety standard tested materials
Feeder dimensions: 17.2" x 10.4" x 4"
Weight: 3.3 lbs
VIDEO REVIEW OF PETFUSION FEEDER
PROS AND CONS OF PETFUSION FEEDER IN ANODIZED ALUMINUM
Here you can find the advantages and disadvantages of Petfusion elevated feeder. By analyzing the Pros and Cons you can have a better idea if this unit will be a good addition to your pet.
PROS
A nice modern looking feeder with a smooth finish
Sturdy and high-quality feeder
Made from anodized metal, more hygienic than plastic
Non-skid with rubber feet on the bottom
Silicon insets help bowls to stay put, avoiding spinning when pets are eating
Stainless steel bowls are easy to remove and dishwasher safe
Bowls have a good capacity of 3 cups each (24 Oz); 1 extra shallow bowl with 13 Oz. Capacity.
Shallow bowl resolves the problem of too deep bowls where cats need to lean over too much to eat.
You can get extra bowls as spare
Design stops cats from trying to tip dishes over
Bowls are close to edges to help cats eating without straining their body too much
CONS
Hard water creates water stains if sitting on the surfaces too long.
TIPS
For shorter cats, it's a good idea to use the shallow bowl to feed them.
To protect your floor, get the Petfusion Large mat which it's ideal for the feeder. You can see in the video how nicely the Petfusion feeding mat matches the Petfusion feeder.
CONCLUSION
Petfusion elevated pet feeder in anodized aluminum it a very good raised cat feeder that works as advertised. The unit looks even better than in pictures and the bowls have a good capacity of 3 cups of dry food each, except the extra shallow bowl which capacity is 13 Oz.
Now Petfusion is including a shallow dish for taller cats which is a very good idea, because when bowls are deep, the cat still needs to strain its body more.
The unit comes assembled ready to be used, the only thing you need to do is peel the rubber pad's adhesive and attach them to the feeder's legs.
√ I recommend Petfusion elevated feeder made of anodized aluminum;
If your cat likes to tip bowls over on the floor
Cats that have vomiting problems not related to excess of eating
Average sized cats
For cats with feline acne
x It may not be suitable;
For very tall cats, over 15 lbs