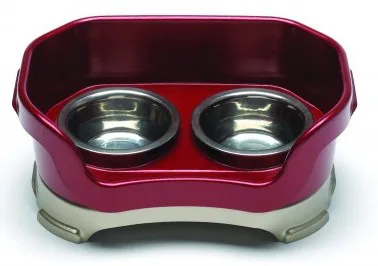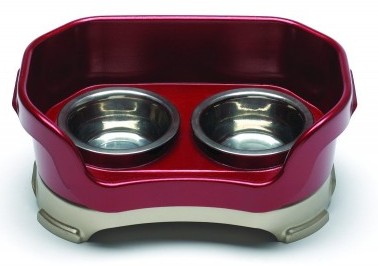 Neater Elevated Cat Feeder Review
Neater Elevated Cat Feeder is designed to contain separately food spills and water splashes when your pet is eating. Through a very innovative system consisting in an upper reservoir that catches the dropped kibble so it can be reused to feed your cat or easily discarded and a lower reservoir to contain spilled water protecting your floor or carpeting.
Neater elevated pet feeder comes in 4 versions: small cats, small dogs, medium dogs and large dogs. This review is for the small version for cats.
Neater Feeder for cats comes with two shallow 4-inch diameter bowls. Food bowl capacity is 1 cup and water bowl capacity is 1.5 cups. The unit also includes 4 non-skid inserts to protect floors and keeps the feeder from moving.
The feeder can be raised to 4.5 inches height by using the feeder with Leg Extensions which are sold separately. The Neater elevated feeder is made from recyclable polypropylene plastic and is dishwasher safe on top rack.
FEATURES
It contains spilled kibble on upper reservoir and water drains into a lower base.
It helps to keep feeding station clean and tidy
It improves cat's digestion and joints by elevating the food and water.
Comfortable design allows easy access for cats and dogs of all sizes
Feeder dimensions: 14.5 x 9.5 x 6 inches
Front wall height: 3.75 inches
Bowl height from floor (at bowl rim): 3 inches
Food bowl capacity: 1 cup
Water bowl capacity: 1.5 cups
Cat's shoulder height range: up to 6 inches
Neater for Cats with legs extensions:
Cat's shoulder height range: 6+ inches
Bowl height from floor (at bowl rim): 4.5 inches
Feeder dimensions: 14.5 x 9.5 x 7.5 inches
What are the Pros and Cons of the Neater Elevated cat feeder?
The following pros and cons will give you a better idea of what to expect with this raised feeding station:
PROS
Good design collects dropped kibble in the upper reservoir and spilled water in the lower reservoir.
Easy to clean. Just pick up, drain the bottom tray, and refill the bowls.
Top rack dishwasher safe.
It keeps the feeding station clean and tidy.
It saves lots of food that usually gets dumped because it ends up dirty from sitting on the floor.
It looks nice.
Bowl holes diameter is a standard size so you can replace easily the original bowls for new ones.
CONS
Standard bowls are small and thin. You will need to refill the water bowl often
Reservoir needs to be cleaned at least every week to avoid mold formation.
The bowls are too close together
Base is not heavy
Bowls are not locked on the base


TIPS & TRICKS
If your cat is a sloppy water drinker, you might want to fill both bowls with water and this way you won't have to refill the water bowl too often and your floors will be clean and dry.
If you have a multi-cat household or a very big cat such as Maine Coon, you might want to get the small or medium size dog Neater feeder instead of the Neater for cats.
CONCLUSION
Neater elevated cat feeder works as advertised in the sense of catching spilled food and splashes from the cat eating and drinking. Some points to consider about this unit:
The bowls that come with the unit are small, so this is not a good option for multiple cats or big cats.
Neater elevated feeder also comes for dogs in small, medium and large sizes. If you have multiple cats or big breed cats, the small or medium size for dogs are a good option. Check the bowls depth and feeder elevation to decide the best size according to your cat's height. The rim of the bowl has to have to same level of your cat's low chest.
This unit is good to feed and give water for your cat within 10 or 12 hours, but it won't allow you to leave your pet alone overnight without refilling the feeder first. Considering these points and pros & cons,
√ I recommend the Neater elevated cat feeder for:
A kitten or a small adult cat
A cat that eats little
People able to refill the water bowl at least twice a day
Cats that are not sloppy when eating or drinking.
x I don't recommend this unit:
If your cat currently drags the water and food bowls around or tip them over
If your cat knows how to pull things out with its paws
To be used for big cats or multiple cats
FOR MEDIUM SIZED ADULT CATS
For regular sized adult cats I recommend the Neater Small dog feeder that has the same dimensions than the Neater for cats with legs extensions but with bigger bowls. Small dog feeder food bowl's capacity is 1.5 cups and water bowl capacity is 2.2 cups.