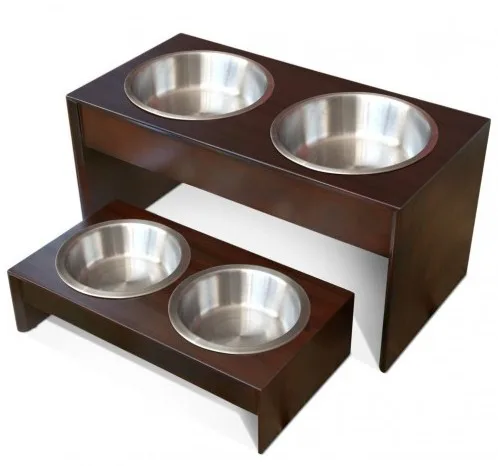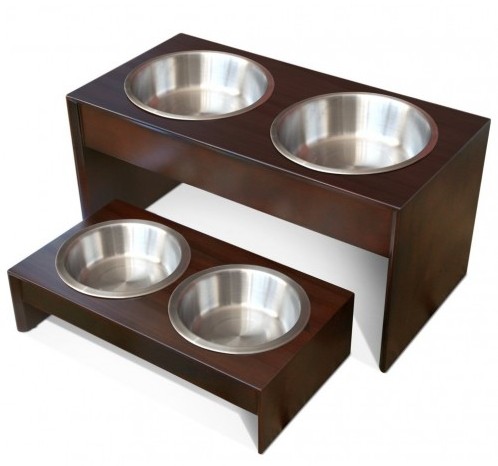 Petfusion elevated pet feeder helps your cat to improve its digestion by elevating the food bowl so your pet does not have to bend over when eating. This pet feeder has a great quality and is made from natural pine with a beautiful color that fits with any décor. The unit includes two stainless steel bowls 2 inches deep and are easy to clean.
The bowls holder has anti-slip feet to stay in place and plastic insets on the inside to keep the bowls from moving when the pet is eating. Holder surface is designed to avoid water absorption and the unit includes tips on how to clean it to make it look brand new.
Petfusion elevated feeder comes in short and tall sizes. The short size is 4 inches high and the tall size is 10 inches high. Short size is suitable for cats and small dogs and tall size is better for medium-sized and large dogs.
FEATURES
Elevated food helps to better digestion and makes mealtime more comfortable for your cat.
It includes tips to keep the Petfusion looking brand new.
Stylish design with a neutral finish to match any decor.
Anti-slip feet and 4 plastic inlays to keep the bowls in position.
Short size has 2 stainless steel bowls, 3 cups (24-ounce) capacity and 2" deep.
Tall size has 2 stainless steel bowls, 7 cups (56-ounce) capacity and 2.75"deep.
Short size pine holder is 4" high and tall size holder is 10 inches high.
Stainless steel bowls are easy to clean by hand and dishwasher safe.
Extra bowls can be purchased separately
New: One extra shallow food dish (1.1″, 13 Oz) comes with short and tall sizes.
Petfusion comes fully assembled.
What are the Pros and Cons of Petfusion Elevated Pet Feeder?
PROS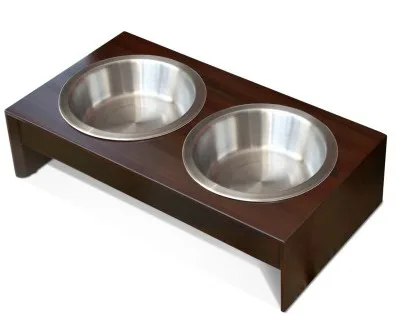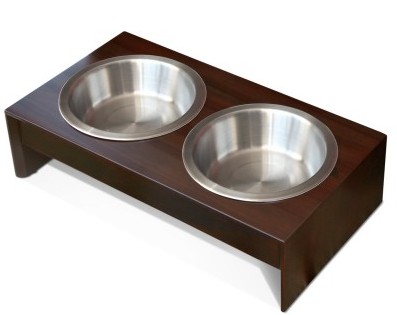 Stylish design with and beautiful color.
Easy to clean.
Stainless steel bowls are of good quality.
The bowls holder is high quality and sturdy without being heavy.
Natural pine is sealed to prevent water absorption, the wood does not absorb water like other feeders.
It comes fully assembled.
The Bowls holder has non-slip feet on the bottom.
The unit has plastic stoppers to keep the bowls in place so they don't spin while the pet is eating. This prevents noises too.
Great value for money.
CONS
The top needs to be cleaned often.
The bowls might be too deep (2 inches) for a tall cat to eat in a more elevated position. (See the first tip).
TIPS
New: All Petfusion in sizes short and tall comes with 1 extra shallow food dish (1.1″, 13 Oz). If you want more shallow dishes you can purchase them separately. If you want even less deep dishes, you can get the Fancy Treat bowls, they are 0.8″ deep and fit perfectly on Petfusion openings.
Manufacturers recommend polishing the bowls with mayonnaise to make them look like brand new.
The Petfusion Large mat is a great complement for this elevated feeder.
CONCLUSION
Petfusion elevated pet feeder is a good quality item that works as advertised and offers a great value for money. If your cat is not tall this is a perfect solution for your pet. If your cat is tall and you want it to eat in a straighter position, use the shallow dish to feed your cat. Because of its quality, design, and great value for money.
√ I recommend the Petfusion elevated pet feeder short size as one of the best solution of this type of elevated feeder for your cat.