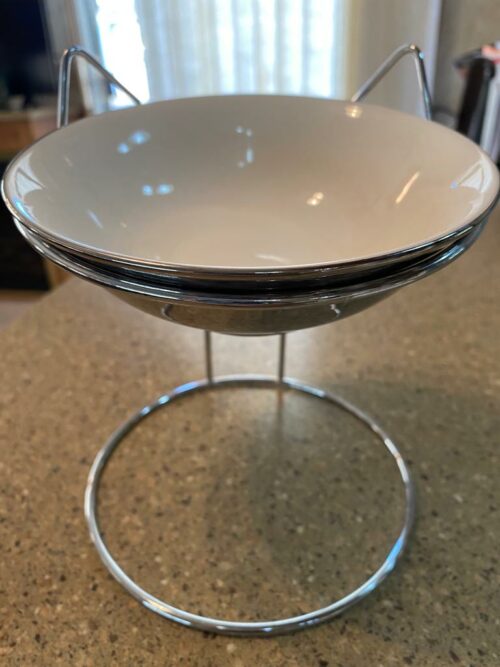 I was contacted by the owner of Angels Creations to test and try the Floating Cat Bowl to elevate the food for my cat Sophie and see if she likes it. So that's what I did so I am making this review to show my results using this bowl. One thing to mention is that this is a female-owned small business company, she is very dedicated to what she does so I am excited to make this review and share with you everything I've learned about this elevated bowl.
My First Impression of this pet bowl
The first thing I noticed is that Angels Creations Floating Cat Bowl is very cute because the metal ring where the bowl sits has the shape of cat ears on the back. Also, the bowl and the stand are very stylish, the silver-colored outside of the bowl gives it a very nice look almost like a piece of decor. The bowl has a good weight which means is a good quality ceramic. The metal stand is high quality, not cheap material.
What comes in the box
1x Bowl
1x iron stand
8 x rubber ring guards
1 x Welcome card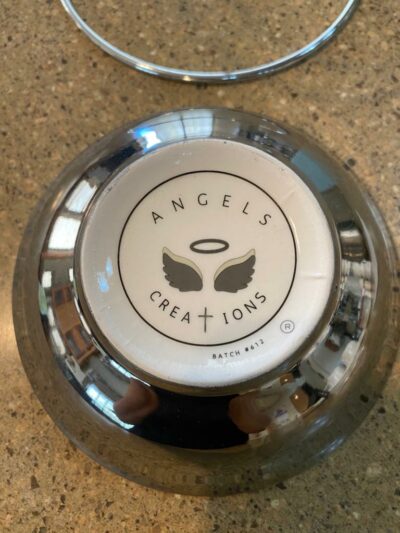 Features of Angels Creations Floating Cat Bowl
Ceramic bowl and iron base stand
Beautiful design that matches any decor
Elevates the food helping with the cat's digestion and preventing neck injury.
It raises the cat food to 6 inches.
Slightly tilted to help with the cat's posture.
Shallow bowl reduces stress in the cat's whiskers
With rubber ring guards to protect the bowl
The ceramic bowl prevents feline chin acne.
Comes in two colors: Silver and golden (the iron stand's color matches the outside color of the bowl)
Dimension of iron stand: 6.25" W x 6.29" H (highest point up to the cat ears shape of the ring)
Bowl's dimension: 6.25" W x 2" H | 2.75" at the base.
Bowl food capacity: 415ml
Ecofriendly Package: Compostable, and recyclable. Made of biodegradable non-toxic corrugated cardboard boxes.
Unpacking & Review of Angels Creations Elevated Floating Cat Bowl
What I like about Angels Creations Elevated Floating Cat Bowl
The 6 inches elevation is the best height for the cat to eat comfortably since it reaches the level of the cat's shoulders (I explain this in detail in my article elevated cat feeders reviews). Most elevated cat bowls don't reach this height. My cat doesn't even need to get her head away from the bowl to keep chewing on the food, which is what she does with other bowls. She finishes her meal by eating directly from the bowl without the need to change her posture to ingest the food. Cats usually move their head away from the bowl when they are eating because they need to raise their necks when swallowing since their digestive system is more horizontal than ours. But they don't need to do this with Floating Cat Bowl.
The slightly tilted shape of the stand makes it even easier for my cat Sophie to eat from this unit. She doesn't even need to move any body muscle, except her jaws :)
The iron stand and ceramic bowl set looks beautiful, with shiny silver or golden color. Mine is silver and it looks great! It's so simple and functional but at the same time so stylish, it really blends with anything in your home. It doesn't look invasive or like the typical cat bowl.
The bowl is of high-quality ceramic. This means this bowl is heavier than typical low-quality ceramic, and this makes the unit more stable on the floor. Ceramics prevent the formation of bacteria which is more hygienic. Ceramics also prevent feline chin acne in your cat, which is caused by contact allergies with plastic and other materials (source).
The set is really easy to set up, you just put the 4 rubber guards on the ring and then put the bowl on top. You can also use 4 extra backup rubber guards on the base of the stand to protect the floor.
This elevated bowl and stand are not lightweight, which makes it hard for a cat to move the bowl around while eating.
I love the capacity of this bowl. I poured one full cup of dry food and the bowl doesn't look overloaded at all.
The ceramic bowl is shallow and wide enough that my cat doesn't have any issues with her whiskers while eating.
I like the versatility of this elevated bowl. You can feed your cat dry or wet food, or use it as a water bowl. It works well in any case.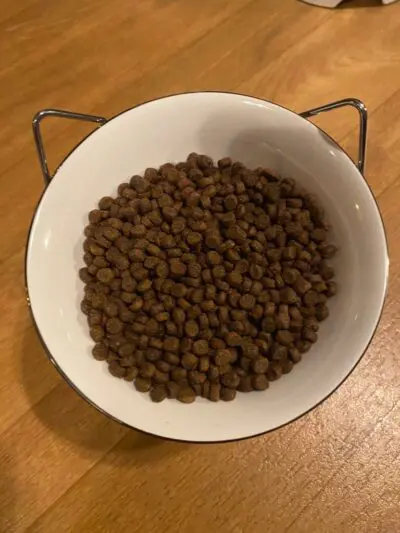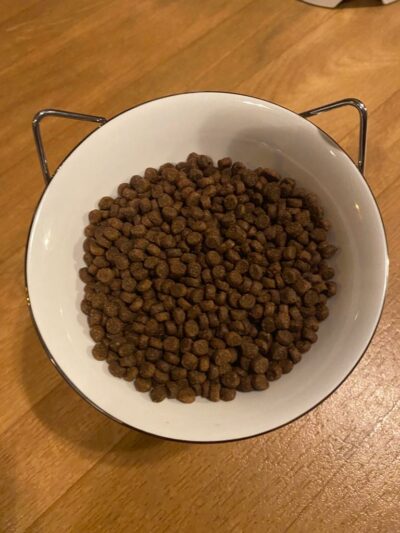 What I didn't like about it:
So far this bowl and stand set hasn't shown any issues. I will update you if I see any.
My final thoughts as a cat owner
My cat Sophie is not getting any younger (she turned 7) and this type of elevated bowl really helps her body to relax when eating. Angels Creations made this possible with Floating Cat Bowl. The ergonomic design is well thought-out; they really thought about the cats' needs when eating their food. This elevated bowl is excellent for any type of adult cat, especially for cats that vomit after eating, cats with arthritis, or cats that are recovering from surgery. My cat Sophie certainly approves of it and loves it. Her mealtimes have become less stressful since she doesn't even need to move any muscle while eating, she is just totally relaxed enjoying her meal with the perfect elevation of this bowl.
Do I recommend it?
Absolutely. I highly recommend the elevated Floating Cat Bowl made by Angels Creations for all adult cats. I especially recommend it for cats with digestive issues that vomit after eating and for cats with mobility problems. It's also a good bowl for taller cats.