Editor's rating: 4.7 stars | Avg. rating online: 4.6 stars
I wanted to make a review of Yangbaga elevated cat bowl to see if its quality was similar or better than Binkies raised cat bowl. I had 2 Binkies bowls but I broke one while washing it so I decided to try with this one since the Binkies bowl was unavailable in Amazon (Now I am glad it was!). I was surprised to see that Yangbaga bowl was not at all as I thought it would be; I really thought this unit was almost the same than the Binkies, but I found out these two raised cat bowls are not the same. Let's see what I found out about this ceramic cat bowl that you may like as a new addition for your kitty.
What I saw when I opened the box:
The box came with the ceramic bowl and a small card. That's it. The unit is one whole piece, very well made I must say. When I checked the bowl I noticed the bottom of it kind of rough, with no finish. The surface was really smooth, I found that the bowl had a pretty wide diameter. The bowl is not the type of tilted but it doesn't need to. If you have a well behaved eater, the food won't spill out the bowl.
As soon as I unpacked the Yangbaga elevated cat bowl I wanted to compare it with my Binkies bowl and I noticed major differences. Check the video:
What I liked the most about Yangbaga raised cat bowl:
The bowl is heavy and sturdy. This makes it very stable and almost impossible to be tipped over by a regular sized cat.
Yangbaga elevated cat bowl is much wider and deeper than the Binkies raised bowl, which is good because it can be used as a food and water bowl (Binkies was a nightmare to fill as water bowl). The Yangbaga bowl is still shallow but as a cat expert, I firmly believe that this is the best depth for a cat bowl to avoid whisker stress.
The dimensions are good for cats of any size. The unit measures 6.4 inches wide x 4.8 inches tall. The bowl is 1.2 inches deep and dimension of the base is 4.8 inches.
This elevated cat bowl is promoted as being suitable for large cats but my cat who is rather small (she weighs 8 lbs), eats from this bowl with no problem. My cat doesn't even have to incline much her body to eat or drink from this bowl. The Yangbaga's height allows any cat to eat with a good posture.
The capacity of this bowl is 8oz water or wet food. I fill the bowl with water only once a day for my cat and it's enough for her. Also, I can fill the bowl with purified water and carry the bowl without spilling a drop (that's the best part).
Easy to wash the unit without dropping it in the sink.
The materials are premium and non-toxic, the bowl is lead and cadmium free.
The product is 100% satisfaction guaranteed, money back or free replacement.
The price is not steep, I find it a good value for money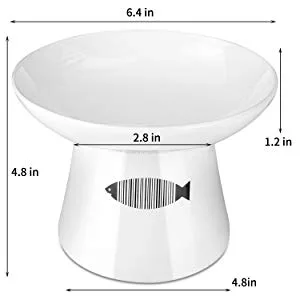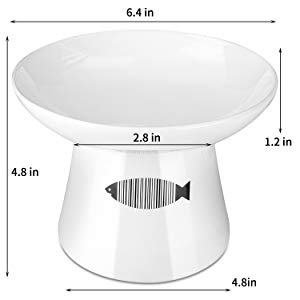 My Cat Eating Dry Food From The Yangbaga Raised Cat Bowl
(The dry food my cat eats is Petcurean Go Grain-Free as reference)
What I didn't like about this ceramic unit:
The ceramic of this bowl could chip if used in the microwave for too long or if washed in the dishwasher (I wash it by hand).
The non-skid bottom is just unpolished ceramic that looks rough.
How I wash the Yangbaga bowl:
As mentioned previously, the Yangbaga has a design that makes it easier to get a good grip when you grab it to wash it. This prevents you from dropping it (unlike the Binkies bowl whose base is wider and more cone shaped making it harder to grab it firmly).
To wash this bowl I simply hand wash it in the sink. Much easier and faster since I wash it every day when I pour food or water for my kitty. I use warm water and a tiny bit of soap and rinse it with hot water thoroughly. I use a paper towel to dry and then I put food or water. That's it!
My final verdict
I really liked the Yangbaga elevated cat bowl, the unit is well made and sturdy. It's also easier to wash since its wider and slightly straighter base provides you a better grip, without the risk of breaking it as I did with my previous bowl (Binkies).
The Yangbaga is wider, taller and deeper than my previous bowl. However, I must say that Binkies is a good cat bowl, excellent to avoid whiskers stress but I prefer the Yangbaga due to its flexibility to be used as a food or water bowl.
I absolutely recommend this elevated ceramic cat bowl to feed your cat or as a water bowl. If you have a small or averaged sized cat your feline will eat with no need to lean over at all. If your feline is large, it will need to slightly lean over, but not much, to eat from the bowl.