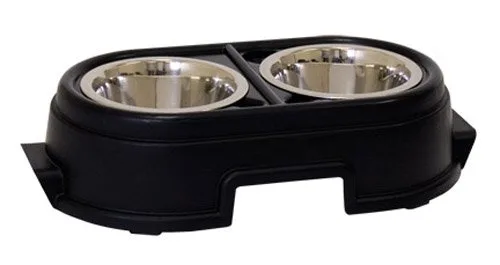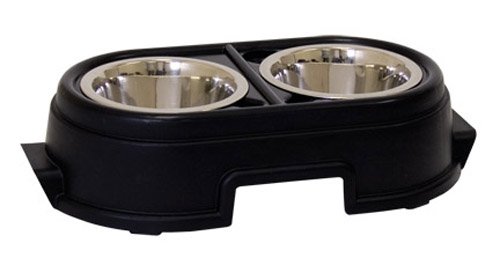 Our Pets 4-inch Healthy Diner allows your cat to eat with an ergonomically correct posture, eliminating muscles strain or joint stress, helping to reduce digestive problems such as bloating and gas. Elevated feeders are a good solution for elderly or disabled pets.
Our Pets Healthy Diner comes in 3 sizes:
4" size. Dimensions 15" x 8.25" x 4" high. Bowls hold 2 cups total.
8" size. Dimensions 22.5" x 13.5" x 8" high. Bowls hold 1.5 quarts total.
12" size. Dimensions 27" x 14.5" x 12" high. Bowls hold 2 quarts total.
The 4-inches size suitable for cats includes two 1-cup capacity stainless steel bowls that can be removed for easy cleaning. The unit features self watering option and a unique spill ridge on the top to reduce food or water spills. This review is for the 4" size feeder, suitable for cats.
FEATURES
Elevated pet feeder supports ergonomically correct eating posture
Raised feeder relieves stress on joints and muscles when your pet is eating
It helps to reduce digestive problems in pets, such as gas and bloating
Self-watering feature to provide fresh water (it requires a 87 Oz bottle, not included)
Feeder includes 2 stainless steel bowls (1-cup capacity each bowl with 4" size feeder)
Economical and healthy raised feeding solution for your cat
Raised outer ridge to contain food and water spills
Stable base hard to tip over or move
Easy carry handles
Environmentally friendly, using recycled materials
5-year manufacturer warranty
Product made in USA
HOW SELF-WATERING FEATURE WORKS?
Simply remove the water bowl and fill with water about halfway up the side. Then fill a 2-liter bottle and slowly turn it upside down (making sure not to spill) while screwing the bottle into the feeder's special threaded hole (make sure to remove the plastic ring before screwing the bottle into place).
You can use any simple water bottle with universal head. This system refills the dish space with water as your cat drinks.
HOW TO CLEAN IT
The stainless steel bowls are easy to remove and they are dishwasher safe. In some cases you may want to use a brush to scrub some stuck food from the bowls before washing them.
The bowls and feeder base can be wiped down with a wet soft cloth and also underneath the bowls where water or food get accumulated. You can use mild soap to clean underneath the bowls.
What are the Pros and Cons of Our Pets Healthy Diner Pet Feeder?
PROS
Easy to assemble
Easy to fill
It is stable; it keeps the food from moving around while pets are eating and it is not easy to tip it over
Bowls stay put when pets are eating for drinking
Feeder is easy to clean
Bowls are easy to remove
It allows your cat to eat or drink without bending down
Nice self-watering feature
The unit is sturdy and of a good quality
Built-in handles on the base make it easy to pick up and carry
The feeder can be used indoors or outdoors
Water or food spills go underneath the bowls instead going onto the floor
Good price
CONS
The space under the water dish needs to be wiped dry, approximately, a couple of times a week (routine for all elevated feeders)
You need to clean underneath the food bowl as well (as almost all elevated feeders)
The bowls come attached to the base with a tape which leaves a glue residue that is almost impossible to remove without using a special product
The bowls are rather thin
TIPS
It is a good idea to place the feeder on a mat to contain spills and to help the feeder from sliding on tiled floors.
If you are going to use your feeder outdoors and don't want to keep wiping underneath the water bowl, you can make a tiny hole in the bottom of the plastic bowl holder to drain down the water accumulation.
CONCLUSION
Our Pets Healthy Diner elevated feeder has a good value for money. It is stable enough to ensure your cat won't be moving the feeder around the room when eating or drinking. The bowls will stay in place as well.
Our Pets Healthy Diner feeder (as all elevated feeders) needs some attention every 2 or 3 days to wipe dry or clean the water/food underneath the bowls. This is normal and is part of the routine of these type of feeders, I put this in the "Cons" list because it was the complain from customers but they will find the same situation with most elevated feeders on the market.
Some customers state the stainless steel bowls are thin but they are safe in the dishwasher and they fulfill their purpose which is to contain the water and the food. For all these reasons and Pros and Cons;
√ I recommend Our Pets Healthy Diner 4″ size elevated feeder for:
Medium sized cats
Elderly cats or cats with mobility difficulties
Pets that spill too much food or water onto the floor when eating or drinking
Cats that move around the floor when eating in regular bowls
Cats that enjoy tipping over dishes
x I don't recommend Our Pets 4″ size elevated feeder to: