ViviPet 15 degree tilted platform pet feeder, is a more comfortable position to feed your cat so your pet does not need to strain its muscles to eat and relieves stress on its joints, neck and spine. This tilted elevation improves the cat's digestion considerably.
ViviPet's stand is made from knot-free solid pine with a water resistant coating and with a cute ceramic cat shaped bowls or with round ceramic bowls.
The bowls are titled and designed to have a higher back to avoid cats from pushing the food out and also to make it easier for cats to eat. The ceramic kitty shaped bowls comes in black and white and round bowls come in light green, light blue and orange.
ViviPet feeder adds style to your home with a modern design.
FEATURES
Modern and unique design to match your home's style.
15 Degree Tilted Platform provides a comfortable position for your pet to eat and lick.
By elevating the food pets eat with less stress on joints and digestive system.
2 shallow and wide ceramic Bowls reduce stress on cat's whiskers, ideal for short nosed cats.
Ceramic bowls are tilted with a cute kitty shaped design.
Knot-free solid pine stand 3/5" thick and finished with 7 coats of water and scratch resistant paint.
Non-slip feet and bowl inserts give feeder and bowls stability.
Product Dimensions: 15.8" x 8" x 6.5"
Diameter of Opening for bowls: 5 1/8 "
Weight: 4 lbs
Bowl's capacity: Dry food 8 Oz | wet food 12 Oz | water 4 Oz.
Unit is heat and dishwasher safe
FDA approved materials
7 Days No Question Asked Refund Policy
PROS
Decorative and stylish design with cute kitty shaped bowls

Tilted shape for a maximum comfort

Platform is made from sturdy pine and ceramic bowls have good quality
It has a very smooth finish, as the wood is coated to resist food and water spills
No assembling needed
Tilted platform & bowls gives a comfortable inclination for your cat to eat
Tilted elevation and wide bowls reduce whisker and neck stress.
Ceramic bowls are not porous and don't harbor bacteria
Bowls are easy to clean and dishwasher safe
Platform is heavy enough to stop a cat from tip it over.
Built-in non-slip feet on the bottom stand make the unit stay in place
Bowl inserts keep bowls from moving
Stand is big enough to allow 2 cats eating comfortably (check picture below)
Shallow and tilted bowls cause some food spillage if overloaded with food
Designed only for dry and wet food (not as water bowl)
The feeder can take some space from the feeding area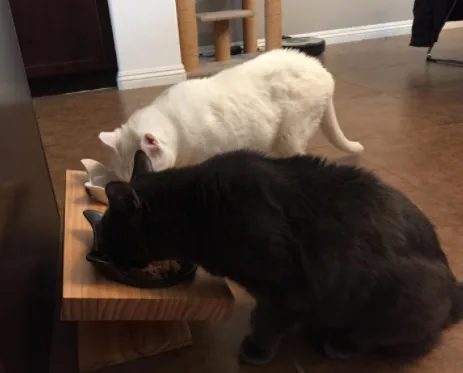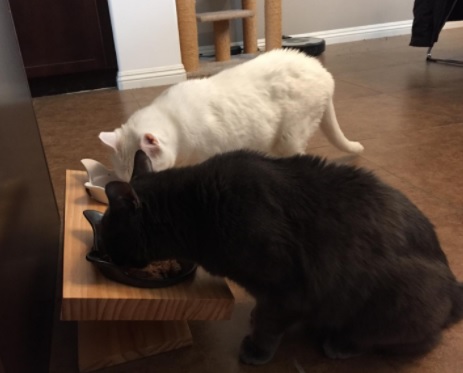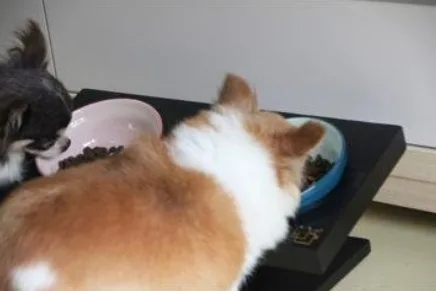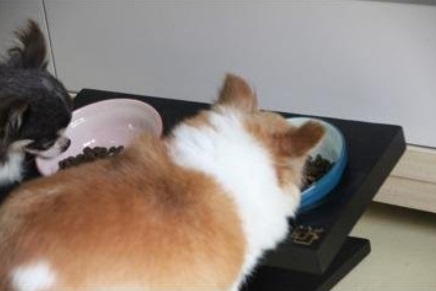 VIDEO OF TWO CATS EATING FROM VIVIPET
TIP
The kitty bowls don't work as water bowls because they are tilted and not designed for that, only for dry and wet food (each bowl only contains 4 Oz of water). One solution is getting the ABS plastic "ViviPet Calla Lily Pet Bowls" that hold approximately 2.5 dry food, and about 2 cups of water. They come in a wide variety of colors and you can purchase them as spare water bowls.
There is another cute version of the ViviPet products,  the ViviPet Dining Table which adds a ceramic tray on the side to grow cat grass.
CONCLUSION
ViviPet 15 degree Tilted Platform Pet Feeder is a very cute and stylish elevated pet feeder that looks much nicer in person than in pictures. The bowls may be bigger than you expect but this design is intentional to reduce whiskers stress for your cat and to hold enough food being shallow at the same time.
The openings on the stand of this feeder allow you to use other ceramic bowls so this is an advantage for replacing bowls when they are ready to go to the dishwasher.
The only downside of this cute feeder is the fact that is not suitable to use with dry food and water because the shallow and tilted bowls don't hold enough water.
√ ViviPet elevated pet feeder is suitable for:
Medium sized cats that need a better posture when eating
To feed your cat dry and wet food
Two cats that can eat side by side
Cats with disabilities that can't bend over too much to eat
Elderly cats
Cats with vomiting problems
x This feeder may not be suitable:
If you want to use it for food and water
If your cat gets frightened with kitty shaped things