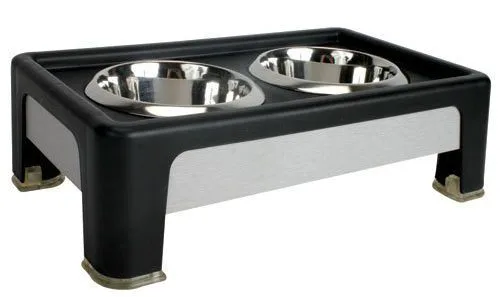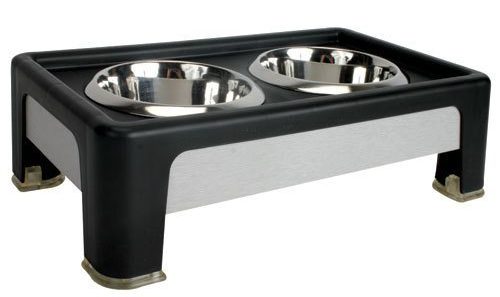 Our Pets Signature raised pet feeder helps your cat eat in a better posture, reducing stress on joints, muscles and bones. This elevated pet feeder is suitable for any type of cat. Raised pet feeders also support a better digestion and they help to prevent bloating.
The feeder has reversible panels with gray and light silver color, making the unit more versatile to mach your decor. The 4" size unit comes with two stainless steel bowls with a capacity of 1 pint each.
Our Pets Signature elevated pet feeder comes in 3 sizes: 4", 8" y 14". This review is for the 4- inch size, suitable for small dogs and cats.
OUR PETS SIGNATURE'S DIMENSIONS
Feeder dimensions: 4″ high x 13.63″ wide x 7.88″ deep
Bowls dimensions: Inside diameter (bottom): 3.5" – inside diameter top edge: 4.5" – diameter outside top rim: 5"
Bowls depth: 2"
Bowls capacity: Each bowl holds 1 pint of dry food.
(Note: customers state that each bowl's capacity is from 1.5 to 2 cups to the brim, depending on the kibble size or if with water).
FEATURES
Unique feature of reversible panels (pressed-wood panels, with light silver color one side and gray the other)
Stable black base made from durable plastic
It comes in two 1-pint stainless steel bowls
Available in three sizes: 4", 8" and 14" height
Top with ridges to contain water and food spillage
Very easy to clean
Stylish modern design, with high-rim bowls
Elevated pet feeder supports correct eating position and better digestion
It helps to reduce stress on joints, muscles, and bones
5 years warranty
What are the Pros and Cons of Our Pets Signature Elevated Pet Feeder?
PROS
It contains water and food spilling effectively, with its raised edges on top
Design keeps your floor clean and dry
Nice feature of reversible color panels (Light silver/gray)
Bowls are hard to tip over and they stay in place
Removable bowls are very easy to keep clean
Stainless steel bowls are easy to refill since they are removable
Very good price
Rubber feet help keep the base put (though not completely immobile)
CONS
Light silver/gray panels come separated from the black frame and they don't stay in place and keep falling out of place, making the feeder look not very nice.
Light silver panels are made from pressed-wood, so you can't wash them, only wipe them down.
There aren't replacement bowls available as a backup.
Bowls are deep so the food is raised about 1.5" off the floor.
Not good for cats with arthritis or very old cats that need more elevation than 1.5" off the floor.
The feeder is only suitable for one cat.
TIPS
Make sure not to place silver panels in the dishwasher as they are made from pressed wood and they will get ruined. Only the black base and bowls are dishwasher safe.
You can glue the silver panels to the base with Super Glue and this way they won't fall again. Though, to clean the unit you will have to wipe the unit down and wash only the bowls in the dishwasher (the base is very easy to clean by hand).
To get the food to a more raised level you can keep the bowls always filled to the top so this way the food will be elevated to about 3 or 4 inches off the floor.
CONCLUSION
Our Pets Signature Elevated Pet Feeder it's an economic feeder that accomplishes its goal of feeding your pet with the food in a little more elevated position and containing food and water from going onto the floor. The 4-inch size unit is suitable for medium sized cats up to 14 lbs, with about 5 to 6 inches at the shoulder. For taller cats, the feeder is not suitable. Some points to mention about this unit:
It has a design flaw which is the silver panels not staying put in place with the black frame.
Bowls come with stickers saying they are made in India.
Bowls depth is 2-inch so the food elevation it's not more than 1.5" off the floor, but it can be raised if keeping the bowl filled to the rim in which case the food will be elevated about 3" to 4".
With these points and Pros and Cons,
√ I recommend Our Pets Elevated Pet Feeder 4" size, to:
Medium sized cats that love to tip over their dishes when drinking or eating
If you don't mind gluing the panels to the base
If you want a very economical solution for raised feeders
x I don't recommend this raised feeder to:
Kittens
15 lbs and up cats
Cats with chin allergy
If you don't want to deal with fixes
Cats with arthritis or very old cats
Be used for more than one cat