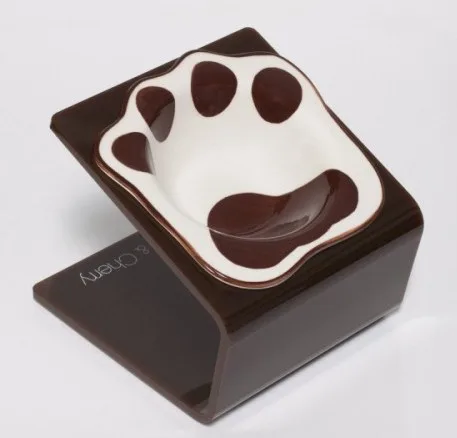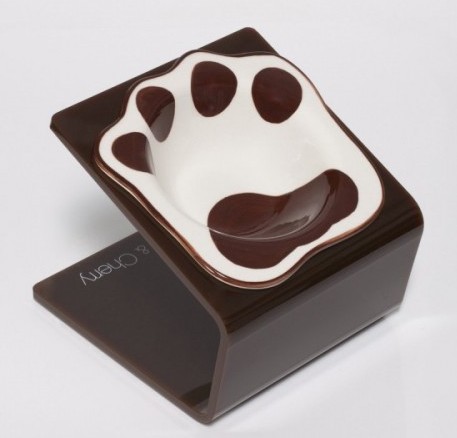 PRODUCT DESCRIPTION
Choco & Cherry raised pet feeder helps to promote a healthy position for your pet to eat, reducing the strain on your pet's bones and joints.
The feeder consists of one acrylic stand and a beautifully handcrafted ceramic dish that fits with any home decor. The dish has a 1 cup capacity or 8 fluid ounces approx. and it comes in 3 colors: chocolate, orange and white.
The ceramic dish is dishwasher and microwave safe. To clean the acrylic stand is easy, just wipe it off with a mild soap pad and water.
The Choco & Cherry pet feeder is designed to feed small pets such as cats or lap dogs. Optionally, it could be used for larger pets to feed in-between snacks. This raised feeder is great to feed all types of small pets and especially pets with disabilities, elderly or pets with medical conditions.
FEATURES
Stylish and beautiful designed elevated pet feeder
Dish's inclination gives your pet comfortable and correct feeding position
Height reduces strain on your pet's joints and bones
Modern looking hand painted and crafted ceramic pet dish
Very durable 6mm (1/4 inch) thick polished acrylic stand with non-skid feet
Safe for pets, certified to pass FDA and California Prop 65 standards food safety
Dish comes in 3 colors chocolate, orange and white
Great for small pets as main feeder or as a snack dish for bigger pets
Stand with non-skid rubber feet
Ceramic Bowl dimensions: 5.9" (W) x 5.9" (D) x 1.57" (H) (15cm x 15cm x 4cm)
Acrylic Stand dimensions: 6.10" (W) x 6.50" (D) x 5.8" (h) (15.5cm x 16.5cm x 14.8cm)
Product weight: 1.54 pounds (0.7kg)
Ceramic dish capacity: 1 cup/8 fluid Oz.
What are the Pros and Cons of Choco & Cherry raised pet feeder?
PROS
Very high quality product, acrylic stand and ceramic bowl
Perfect height and angled design for a pet to eat comfortably and allows them to sit down to eat if they want.
Ceramic dish angle helps to relieve whisker stress
Excellent to feed old pets or pets with disabilities
Ceramic dish is more hygienic and it does not develop bacteria
Stand with rubber feet keep the unit in place
The acrylic stand is easy to clean and durable
The ceramic dish easily lifts out and is dishwasher and microwave safe
CONS
The dish is ceramic thus it's breakable
No replaceable dishes available, only the complete unit
If the dish it's filled to top capacity (1 cup) food drops so the dish holds more like 3/4 of a cup
Price
CONCLUSION
Choco & Cherry elevated pet feeder is excellent to feed small pets, such as cats and toy sized dogs.
The feeder works as advertised and relieves the stress in the pet's bones and joints when eating. If your pet has arthritis or any problem in its bones or joints or has a medical condition, this is the perfect solution for it. This is also a great solution for cats that have lost teeth, because they can eat comfortably wet food from this dish.
Some considerations about the unit:
The design works better to feed wet food. To feed dry food it works just as well as long as you don't overfill the dish.
Though the Choco & Cherry is excellent, it's not the elevated feeder to feed main meals to big breed cats, such as Maine Coon or Ragdoll.
In general, there are not really disadvantages using this product and all cons are really subject to the pet owners care with the unit.
√ I recommend this elevated pet feeder:
To feed all small cats and dogs
For cats and dogs with disabilities to eat normally
If you want a very durable an hygienic feeder
x I don't recommend the Choco & Cherry:
To feed big breed cats main meals (only snacks)
To feed cats that like to tip over their dishes