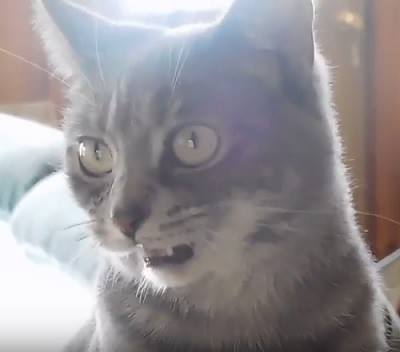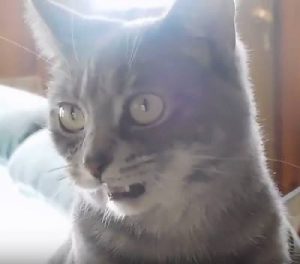 Is your cat keeping you awake at night due to its endless meowing? Do you want to know why your feline friend does it? Do you wonder what the heck your cat wants? Cats are smart and have ways to let us know when they want something from us. Also, there are other more concerning reasons for this behavior in which case you will need to take your cat to the Vet.
Basically, we can divide the cat nocturnal vocalization in two types: Attention-seeking and medical or behavioral issues. To properly treat the underlying causes for this behavior it's necessary to discard a medical condition by taking your cat to the Vet, especially in elderly cats.
Attention-seeking meowing
The attention-seeking meowing is not related to any medical condition or a serious behavior problem. Cats quickly learn that by meowing at night or early in the morning they get what they want. Why? Because cat owners are tired at night, they need to sleep and are willing to give into the cat's demands. When this behavior has been reinforced in a cat it's really hard to modify it, but it's possible.
Nocturnal attention-seeking meowing must be ignored in order for cats to learn that meowing at night won't provide a response from you. It may take weeks before your cat gives up. Usually, cats tend to meow more frequently and longer right before quitting. In conjunction, you need to fix the causes of this behavior in your cat. The following causes of attention-seeking meowing at night could be keeping you up:
1. Your cat wants to play
Cats have the tendency of being crepuscular and nocturnal. This is in their instincts due to the ancestral need of hunting at dusk and dawn. The younger the cat, the more active it is at night. As they grow into an adult, they adjust their body-clock to the one of the household members and sleep during nighttime. When the cat meows at night for you to play with him just ignore it, it will eventually give up at some point. If you get up to check on your cat you will be reinforcing this behavior and it will be harder to eliminate.
What to do?
The importance of playing with your cat is often ignored and it shouldn't be. Keep your cat busy and play with him as much as possible in the daytime, especially if you have a kitten. Depending on how playful your cat is, the playtime should be between 15-30 minutes straight. This is hard to accomplish when being out most of the day. Fortunately, there are some tricks you can do. Get an automatic cat toy such as they Smartykat Hot Pursuit that will keep your cat engaged playing by himself for a long time.
Get an interactive toy treat dispenser that will keep your cat mentally stimulated working for its treats. If you need to leave your cat alone most of the day you need to create a proper environment for your cat to be active. Set up cat tunnels, multi-level cat climbers on walls, cat grass, window perch, etc. Create a rich environment for your cat to move, walk and play when being alone.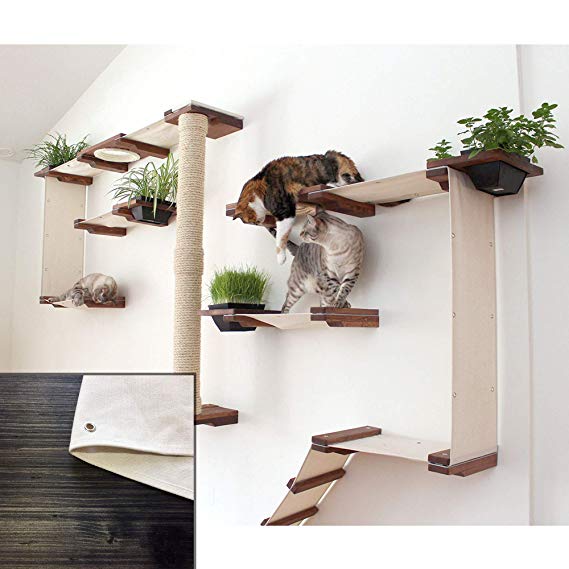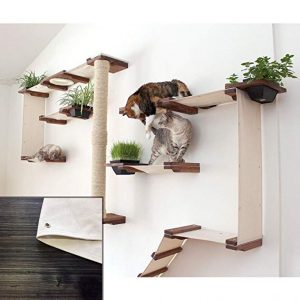 You can also set up a bird feeder in front of a window to keep your cat's instinct alive and its mind stimulated. Also, take time to play with your cat when you get home, engage with your kitty in games making your cat run, hunt, swat, etc. You need to use your imagination to get your cat to play and spend as much energy as possible.
You don't have to start playing as soon as you get home only because your cat is meowing, try to establish a routine that matches yours. If you have more time at 10 pm, play with your cat at that time. Playing with your cat before bedtime helps him sleep much better at night. NEVER play with your cat in your bedroom and neither on your bed. This will make your cat think it's OK to play while you are sleeping. Define a room and a time to play with your cat and try to stick to this plan. Once you finish playing keep toys away from your cats sight, this way your kitty will know it's time to sleep and nothing else, just like a little kid.
To help your kitty to get sleepy, play a YouTube video with relaxing music for cats. This really help cats to fall asleep. If you think you can't keep up with your cat, consider getting a playmate for your kitty. Getting a second cat will provide your cat companion and a "partner in crime". The younger the cat, the more effective is introducing a new cat at home.
2. Your cat wants food
If you have a kitten the food needs to be available at all times because your kitty is growing and it needs food much more than adult cats. Make sure to leave your kitten enough food at night. When growing up, is not unusual that adult cats meow for food at night too. The cat's crepuscular and nocturnal tendency makes them want to eat at these hours. When cats play, hunt or run they need to recover the energy by eating food. By slowly modifying the cat behavior to make it sleep at night, the need of food will also disappear.
What to do?
If your cat meows for food at night don't get up to feed it. By doing this, your cat will learn this behavior and will associate you being up with the food. This is not good. You need to define a strict feeding schedule for your cat and disassociate yourself with the cat's food. Get a automatic cat feeder that will feed your kitty the right amount of food at the right time.
Cat eating with an automatic feeder
If your cat keeps meowing after eating with the automatic feeder most likely your cat wants its food earlier. Some cats get more demanding as the food gets provided on time. So they will meow earlier every time. Don't give in. It may take weeks for your cat to get the idea that you won't be up with its meowing and give up. Just ignore this meowing and make your cat get used to its feeding schedule. Use earplugs to better tolerate the meowing or use headphones with therapy music that will relax you as well (hint: channel Musictherapy on YouTube).
3. Your cat wants to go outside
If your indoor cat is recently experiencing the outdoors, even for a short period of time, most likely it wants to get out at night. The same for indoor/outdoor cats that want to be outside at night.
What to do?
As letting the cat out at night is not safe and it's not recommended, the golden rule is keeping the cat as active as possible during daytime. This will reduce the cat energy so it won't have as much desire to be out when getting dark. If your backyard is well protected and your cat is not the wild type, a good choice is installing an automatic cat door for your kitty.
Medical conditions, behavioral issues & others
Unlike seeking-attention vocalization, a medical condition or any other serious behavioral issue must be addressed to relief your cat from pain or emotional distress. Cats meow more often and during nighttime when they experience pain, cognitive dysfunction, anxiety, or any other medical or behavior condition. The older the cat, the most likely the meowing is due to a medical issue. Start paying attention if your cat is over 6 years age.
1. Medical condition
A medical condition could be the cause of a cat to feel pain, excessive hunger, thirst and restlessness. Conditions such as hyperthyroidism and kidney disease could cause the cat to vocalize much more at night. Diabetes could cause the cat to be hungry and thirsty much more.
Arthritis could be painful for the cat when it's time to sleep and this could be the cause of the excess of meowing. Take your cat to the Vet if your feline is experience excessive meowing at night with no apparent reason. It's always good to discard a medical condition before assuming it's just an attention-seeking meowing. In the following #3 section "Elderly" you can learn the necessary steps to help your cat with a medical condition.
2. Stress, Anxiety or Depression
Any stressful event in the cat's life leads to excess of vocalization. This is the way cats communicate their with their moms when they are very young. This behavior is maintained in adulthood when cats are excessively stressed, depressed or anxious. Pay attention to the cat depression symptoms to figure out what is causing this problem.
If your cat's been newly adopted or if you moved to a new home, this may be the sign that your kitty is not happy and it feels insecure in its new territory.
The lack of attention also can cause your cat to develop depression, cats don't love to be left alone as people may think. They need affection, attention and playtime to be happy. Also, stressful experiences make cats to start vocalizing at night. The loss of a family member, the introduction of a new pet and any dramatic change in the cat's life.
What to do?
Give your cat love and makes it feel secure. Provide your kitty a comfortably bed, put a blanket with your scent on it. You can play nice relaxing music for your kitty and stay with it to make it feel protected. If you moved to a new home with your cat try to use the same bed your cat used in the previous home or at least the same blanket. Pet your cat and talk soft to it to make him feel better. Your feline will adapt to its new territory if you provide what it needs. Just make sure to give your cat love to go through this process. Remember that cats can't handle changes very well.
Also, make sure you provide your cat attention, love and playtime during the day. If you neglect your cat when it comes to playtime your kitty will feel abandoned and will cry at night.
3. Elderly
A cat is considered senior starting at 6-7 years old. The ageing process in cats brings several medical and behavioral conditions that will increase the cat's nocturnal vocalization. The following are some of the issues experienced by an elderly cat:
Hearing or vision loss
Stress/anxiety
CDS (cognitive dysfunction syndrome, when cats get senile they experience confusion and start meowing much more at night)
Arthritis
Kidney disease
Endocrine dysfunction (hyperthyroidism)
Hypertension
If your cat is over 6 years old you need to get him examine by a Vet to discard a medical issue for this behavior.
What to do?
What you can do to help your cat other than following the medical treatment is making the life easier for your feline. If your cat has arthritis, choose a proper litter box for a senior cat that will relieve the pain when trying to access the litter box. If any cognitive dysfunction is present put a LED light to help your cat to orientate better at night. A cool product is the Litter Robot 3 that features a LED blue light that automatically turns on at night to help kitties to find the litter box easily.
Set up a nice bedding for your elderly cat, providing a fluffy soft bed that will make it stay warm and comfy. If necessary, get him a heated bed to keep the right temperature for the cat to relief its arthritic pain or in case of an urinary issue such as kidney disease.
Follow your cat's medical treatment religiously, giving it its medication on time, and providing the prescribed cat food your cat needs, especially cats with thyroid issues.
When cats are older they are weaker and develop anxiety and more dependency. Make sure to provide companion to your elderly cat, even if you need to place its bed close to you. This way your kitty won't feel so vulnerable.
4. Mating
If you haven't neutered or spayed your cat expect nocturnal vocalization when time to mate. The prevention is to take him to the Vet to fix your feline. This will help not only to eliminate the mating vocalization but it will help your kitty to be less anxious and aggressive. It will also prevent your cat from spraying your home.
Final Thoughts
The nocturnal cat meowing needs to be addressed and in order to do this you must determine the cause. Re-educating bad cat behavior is not an easy task but it can be done. You must learn not to give into the cat crying, and don't feel bad about it. The cat is only doing what it learned to work for him. If you don't give in to the cat's nocturnal meowing your kitty will understand that the meowing doesn't work anymore and will stop.
On the other hand, if the underlying reason is medical or a more serious behavior problem, you must provide your cat the attention it desperately needs. Whatever the case is, never punish your cat when meowing at night. This won't help at all and it may increase the behavior, creating even a more aggressive and anxious cat.
Source: www.sfspca.org