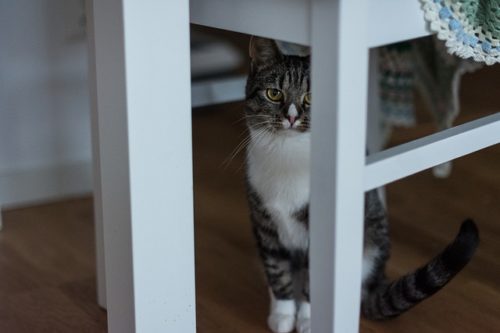 Moving into a new home, new environment, new city or new country is always going to be a whirlwind experience for all the parties involved. Cats are no exception to this universal law of moving. Because they are territorial animals, they can find moving from an established territory to an entirely new environment to be an extremely stressful experience. According to The Ohio State University, subjecting your cat to a new environment could cause high stress in your feline leading to possible illness or behavioural disorder if not done properly. For kitty's sake, we've got several tips to help you and your cat settle into your new home quickly and easily.
1. Provide A Comfortable Transportation Experience.
Your cat already has strong bonds with your old home and knows every nook and cranny of the house. So like every parent does to their kids getting attached to their toys, you slowly break such bonds. It is advisable to place your cat in one room along with its toys, water bowl, food bowl, the cat carrier and any other thing it'll need. This will help kitty remain as relaxed as possible, undisturbed by all the ruckus of the movers. After the packing is complete, your cat should be transported in a suitable cat carrier. Because most cats don't enjoy the road and easily get stressed on a journey, try to make the cat carrier as comfortable as possible by padding it with their favourite blanket. Your vet could provide you with suitable feline facial pheromone spray that'll help manage stress-associated behaviors.
2. Prepare A Room For Your Cat And Restrict Her.
On arrival at the new home, ensure that you don't let your cat out immediately to roam the house. Once the move is complete, check that all the windows and doors are closed because a frightened cat may decide to escape its new strange environment. However, to help kitty transition better, it's advisable to introduce her to the house one room at a time. Choose a room and dedicate this room to your cat for a few days. The room should have her bed with her favorite blanket and toys all over, food & water bowls and also a temporary litter box. If you have a cat tree, put it in the room so your feline friend can look at its surroundings from a higher location. The importance for cats to be in higher spots obeys to the fact that cats in the wild spend most part of their life up high in trees. So placing a cat tree in its comfy new room is relevant.
Setting up a room to place your cat items helps to make the transition as homely as possible. The concept is starting up with a small territorial area where your cat feels safe and start slowly extending its territorial dominance up to the whole house. Once your cat gets more familiar and confident with the new home you can start placing its items in the definitive areas in the house.
3. A Comfortable Bed and Small Frequent Meals Should Help.
Nothing helps relieve stress than a nice comfy bed, and yeah, FOOD. It's only been a few hours since you moved into a new home, kitty is in her room stressed and bemused. But in her new environment, you could place her food bowl, water bowl, sleeping bed with her favourite bedding, toys, and sit with her/him quietly, petting and comforting your cat, talking to it with love. Let kitty explore every corner of the new room. Make feeding time as regular as possible to help kitty adjust better. It's important to make sure your cat eats during this transition because when felines are highly stressed they tend to stop eating altogether. This is dangerous and that's why you must create a friendly space and feed your cat frequently, encouraging your kitty with love.
4. Spread Your Cat's Scent Around The Home.
Like dogs, cats are territorial and will feel more comfortable when the new house smells like their old environment, their former territory. So you can take a piece of cotton cloth and gently rub your cat, taking some of her scents and rub the cloth against the walls, furniture and doorways. Do this repeatedly before eventually letting your cat explore more rooms in the new house, and it'll aid the adaptation process. You can also spray pheromones in every corner of the house so your cat won't feel so insecure and will find the new areas familiar due to the hormone scent. There is an alternative of pheromones plug diffuser that releases pheromone hormone scent in the air, which will calm your kitty during this transition.
5. Try To Establish A Normal Routine Quickly.
Well, just because you're in a new environment doesn't mean old routines have to be changed. No! You must maintain the routines you adopted in your previous house to help your cat adjust better. Whether it's a controlled diet scheduling plan or letting kitty go out to play, slowly establish this routine in the new home. If your cat loves to play outside, be sure to accompany her outside and restrict it to only a few minutes a day.
6. The Location of The Litter Box Matters.
Just like humans, cats are a bit shy and cautious about how they do their business. Their litter box is one of kitty's assets in the house, and how you position it in the house can help them settle into their new home faster. Keep the temporary litter box in the confined room for your cat in the meantime your kitty adapts to its new home and place its definitive litter box in a new area. Try as much as possible to place the litter box in areas with low traffic and disturbance, somewhere quiet that feels safe. Once your cat stars using this litter box frequently, remove the temporary litter box from the room you specially prepared for your cat.
7. Pay Attention To Any Unusual Behavior.
Because a new environment can be unsettling for an indoor cat, you should have a keen eye for details, be the Sherlock Holmes of the house and notice any slight change in your cat's behavior. It could be her way of communicating with you. If your cat keeps exhibiting unexplainable and unusual behavior, or even worse if your kitty develops anorexia or signs of feline aggression it might be high-time you located and visited the nearest Veterinary clinic.