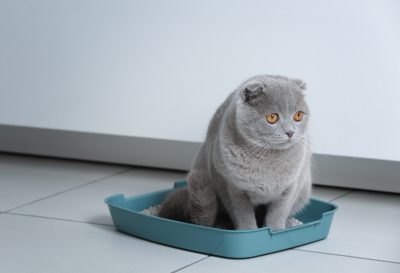 When cats get older they start having some limitation in doing things that are considered normal for a younger cat, and one of them is using the litter box. If your elderly cat is having too many mishaps or not using the litter box at all you must learn the causes of this behavior to take the right steps in helping your feline friend to be able to use the litter box properly.
Causes of litter box issues with elderly cats
When cats get older, they experience physical and mental changes that will impact the use of the litter box:
Arthritis
One common health issue as the cat ages is osteoarthritis, commonly called arthritis. Statistics show that 61% of radio graphed cats over 6 years old have signs of arthritis in one or more joints. So if your cat is over 6 years of age and you see changes in its behavior such as not jumping to its favorite place anymore, unusual litter box accidents, difficulty grooming, and being less active and playful, you need to take your cat to the Vet to check your cat joints condition. As the cat hurts to walk or move, it will have a hard time to jump to the litter box. Cats associate pain with the place where they suffer the pain so your feline friend will associate pain with the litter box and will stop using it.
Diabetes and Hyperthyroidism
Other health conditions in elderly cats are diabetes and hyperthyroidism. These conditions cause changes in the cat elimination habits creating constipation or excessive urine and also lack of capacity to retain the urine for long. All these conditions change the cat litter box usage. Constipation is painful for cats when trying to pass and that's why they stop using the litter box. Diabetes causes cats to be more prone to develop infections such as urinary tract infection. This causes cats to suffer pain when urinating which will make them stop using the litter box. Also, diabetic elderly cats need to urinate more frequently and due to their painful joints they don't make it to the litter box.
Cognitive Dysfunction
The older the cat, the less capacity to orientate. As they age, cats suffer cognitive dysfunction that causes a decline in higher brain functions, including memory and learning. This causes a huge impact in the cat's capacity to remember the location of the litter box and how to get there.
Idiosyncrasy
Finally elderly cats, as humans, get more picky as they age and appreciate a clean litter box at all times. If a senior cat sees and smells waste sitting in the litter box, it will do its business somewhere else. In this case, having an electric litter box could be a great help, it automatically self cleans each time the cat uses it so no waste is sitting in it for long. Most of them come with a ramp to facilitate cats to enter the box.
Litter box solutions for aging cats
The litter box needs to have an easy entry so your cat doesn't need to strain its muscles and joints too much to get in. How low the entry needs to be will depend on your cat mobility. If your cat suffers from bad arthritis the entry needs to be very short. Also, the litter box needs to be large with plenty of space for the cat to move around inside. Unfortunately, there are almost no good options of litter boxes for elderly cats so you need to consider alternatives that help you with this. The following are some alternatives:
Argee Table-Top Gardener Portable Potting Tray
This tray is meant to be used in gardening, for seedling, repotting and transplating. The dimensions of this tray are 21.5 x 23 x 6 inches. The front opening is about 2-1/2 inches high. This tray has the ability to contain water which is really good to be used as a litter box. The low entry is perfect for your elderly cat to step in without pain. You can buy a single tray or a pack of two or three. Various customers have used this alternative for their elderly cats with excellent reviews. Check some of the reviews here.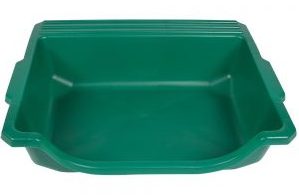 DAN Portable Plastic Fenced Toilet Potty Pee Training Tray Litter Box
This is a potty training litter tray, suitable for medium size and small cats. It measures 19″ x 14″ x 6″. The lower entry measures 1-1/2 inches. The design is similar to the ones used to litter box training kittens or ferrets, just a little larger. It's made of smooth non-toxic plastic that is easy to clean. It has a screen that can be removed to place the cat litter. The entry is almost flat, providing a very easy access for your cat. The disadvantage of this low entry is more litter scattering. To fix this, simply place a water-proof litter mat or a litter pad.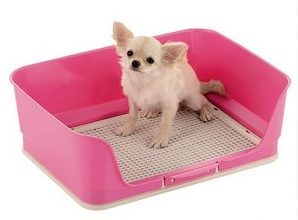 KittyGoHere Litter Box Senior Cat Litter Box
This litter box is a solution for elderly cats that have better mobility. This litter box measures 24″x 20″x 5″. The lower entry measures 3-inch high that your cat will need to overpass to enter.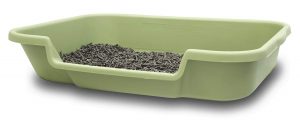 Setting up the litter box for your elderly cat
Once you choose the litter box you want for your elderly cat you need to properly set up the unit, taking into consideration the following aspects:
Location
Provide two or three litter trays in the house at all times, this will ensure your elderly cats will have a place to go without the need to walk to much. Place the litter boxes in rooms your cat frequents the most, including upstairs if you have a second store house. Make sure your cat learns the location of the litter boxes by taking him and showing him where they are. Put the litter boxes in quiet, low traffic areas of the home so your senior cat feels safe and confident when using it.
How to make the transition
When changing the litter box or the location you need to do the transition slow. Cats are sensitive with litter box changes and they don't take these changes easily. When transitioning to a new litter box, keep using the old one next to the new one until your elderly cat starts using both. Then remove the old one. The same with changing location, move the litter box a yard away from the original location until the final position is achieved.
Litter mat and litter
Use a water-proof large litter mat to protect the floor or carpet from litter box accidents. Placing litter pads around is also a good alternative. When choosing the litter, find one that is not too coarse for your older cat. Put about 1-1/5 inch of soft, fine litter that your senior cat will feel more comfortable under its paws.
Multi-cat households
Older cats are less able to defend themselves or their territory and as a result they may become a little more anxious or dependent on their owners. If you have multiple cats you need to assign the litter box for your older cat and make sure to teach the others to respect the elderly cat's space. Accompany your cat to do its business if necessary to give him confidence.
Sources:
https://www.royalcanin.se
https://www.cats.org.uk/