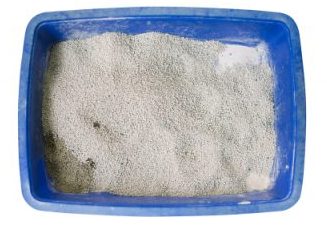 Let's face it, dealing with scraping the cat's litter box is not the best scenario for a cat owner. Especially when the litter clumps get stuck on walls and hard-to-clean corners. What can we do about it?
There are several alternatives to make the cleaning of the litter box something smoother, literally. Some options are more economic than others but choosing the right type of solution will depend on the type of cat you have. Also, each alternative has its pros and cons. So let's check them:
Anti-stick spray & baking soda, the winning duo
This is a good solution that will make it much easier to scoop the litter box. Before putting any litter in the box, spray the bottom with Pam non-stick cooking spray and then sprinkle with baking soda all over the bottom of the box. Then put the cat litter in it and you are ready to go.You will see how easy it is to scoop the litter box after using these elements. You can also use Smart Scoop No-stick Litter Box Spray that will provide you great results as well.
The drawback of this system is the short duration of the non-stick property. It seems like it lasts for about 2 or 3 days before wearing off.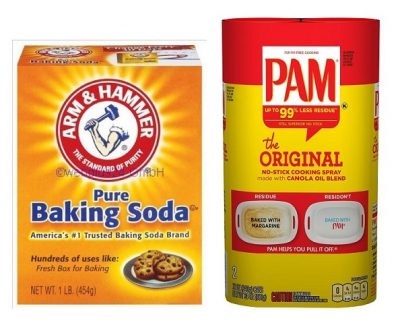 Applying wax paste
Another option is applying non-toxic wax paste to the litter box. This will keep the cat litter from sticking to the walls and corners. This solution lasts much longer than the spray and baking soda, it can last up to 2 months or more. How to apply it? Put a lone sock that you won't use and apply a thin coat of wax inside the box. Let it dry and buff lightly. Then apply another thin coat, the same procedure, let it dry and buff lightly. You will see how easy it is to clean the cat's litter box after this.
Change the cat litter usage
Sometimes choosing a good clumping litter is the cause of the scooping nightmare. Using a premium clumping litter helps to control odors much better and the clumps don't break down, but oh boy do they stick. What you can do is choosing a cat litter with less clumping properties, such as the World's Best cat litter. The odor control of this cat litter is not as great and it creates more litter tracking but you can manage by adding baking soda. To stop the litter tracking you can get a litter box enclosure, such as the Pet Gear Pro Pawty.
Adding more litter works also
If you don't want to give up on your favorite clumping litter, you can add more litter to the litter box with an amount that won't make it easy for the clump to stick to the bottom. The drawback of this option is that some cats love to dig before doing their business so this solution won't mean anything to them.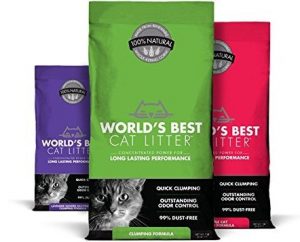 Liners
Some people are fan of liners, others not so much. The truth is that liners help a lot to clean the litter box in a practical way. When scooping simply lift the bag around and get all the nastiness without the need of scraping, much easier.
The drawback is the cost of liners, they are expensive. But you can work this out by using trash bags that work just as good. Usually 33 Gal or larger bags work well to totally cover the litter box. If you don't mind spending some money on liners, the Arm & Hammer Deodorizing Absorbent Liners get rid of the stinky smell.
Another con of using liners is that if you have a cat that is a heavy digger it will scratch the plastic, creating an even bigger problem of urine leak. Also, you need to be strong to dispose the dirty litter because a large bag filled with litter is heavy.
Scraping Before Scooping
This is a less practical but effective solution to scrape the litter box. In simple words, instead of scraping the sides and bottom with a scoop you first scrape all the stuck litter using a wide plastic putty knife, making sure not to break down the clump. Then you scoop the clumps with the scoop. The con of this system is that it's not very practical and you risk breaking down the clumps which defeats the purpose. However, it works well if using a premium clumping cat litter that creates hard clumps.
Anti-stick Litter Box
The problem with plastic litter boxes is that they get scratched up overtime, which allows bacteria formation inside the plastic. This makes the plastic less smooth and more prone to get litter stuck all over, let alone the stinky smell. You want to get a litter box that nothing will stick to it, almost like a Teflon frying pan. The iPrimio Non-Stick Cat Litter Box features a coating commonly used on frying pans. Nothing will stick onto it. The "con" of this litter box is its short walls that makes it more suitable for females or cats that don't spray high.
If you want to stick with plastic litter boxes, you can give a try to Sterilite or Rubbermaid containers, adapting them as litter boxes. The technology applied to this type of plastic is different, featuring good anti-stick properties.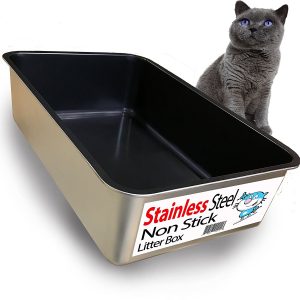 A Robot that will scrape the stuck litter
No, you are not crazy. If you can afford this option, there is actually a Robot that self-cleans and has the capacity of self-release the stuck litter from the bottom. The name of this wonder is the Litter Robot III cat box. It features a rotating globe with an inner bottom made of thick rubber that drops down when rotating, releasing everything that is stuck. The clumps then drop into a bottom waste drawer. You don't really have to do anything, other than pouring a little amount of litter every week. If you don't believe me, check my article why the Robot III is the best automatic litter box where I explain how my life changed with this unit.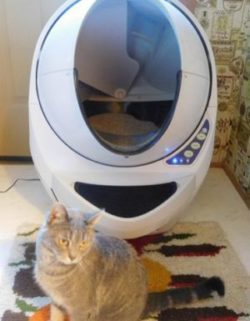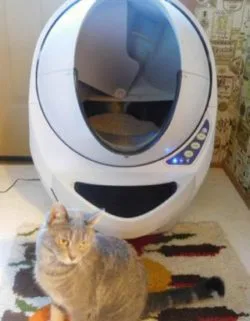 Whatever you decide, stick with one idea and take it into action. Nothing is better than making things easier in life. Good luck!