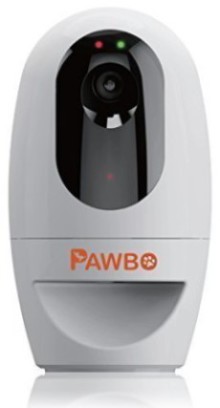 Pawbo Wi-fi interactive pet camera and treat dispenser allows you to be in contact with your furry friend while you aren't home.
The unit features a treat dispenser that you can trigger remotely from your Smartphone or Tablet. You can also speak to your cat or watch your pet on a 720p live streaming.
You can place the unit on a shelf or mount it on a wall to keep it away from your cat's paws. Pawbo is made from solid plastic with an egg-shaped cover and reinforced on the inside.
This cam treat dispenser offers fun features such as a laser dot game and fun animal sounds. Additionally, you can record videos or take pictures and share them on social media with your friends or family.
FEATURES
110° wide-angle view
720p live streaming
Snap shot function
Two-way communication (listen & talk bidirectionally)
Ability to record and save videos into Dropbox cloud storage
Built-in interactive laser dot chasing game
Multiple sound effects, such as birds and meows
One-touch function treat dispensing system
Detachable treat tray is easy to clean
Intimacy rating for time spent
You can share your photos on Facebook, Twitter, and Instagram
Adjustable video quality to keep a smooth connection
Free, secure and easy to set up Pawbo app: supports iOS 6 or above (iPhone, iPad, iPod) and Android 4 or above (smartphones & tablets)
Power: 110/240 V
Dimension: 4.4" x 4.4" x 7.9"
Unit weight: 1 pound
12-month warranty
WHAT COMES WITH THE UNIT
 Pawbo Wi-Fi Interactive Pet Camera
 110~240v AC Power Adapter
 User Guide
HOW IT WORKS?
The first step is connecting your Pawbo pet camera to your Wi-fi home network. Just plug in the device and then follow the instructions of the Pawbo app to complete the setup.
The Pawbo features 2 light indicators: A red indicator showing that the device is powered and a green indicator will display when the unit is connected to your wifi.
Once the unit is connected to your Wi-Fi network fill your Pawbo with small treats up to 8-9. The treat tray is small and it needs to be refilled for several uses.
VIDEO HOW THE PAWBO TREAT DISPENSER WORKS
With the Pawbo Treat Dispenser App you can:
 Feed your cat delicious treats by a touch. Every time you trigger a treat the Pawbo will make a sound like a doorbell, but you can turn this off in the app settings. With the Pawbo you can only feed one treat at a time.
 Watch your pet on live streaming. Also, you can record videos of your pet, but you need to open an account on Dropbox to do this. You can try this hosting service for free but after you need to pay US$15mo that will allow you to use it with up to 5 users. Without this account you can't record videos.
 Take snap shots. You can take pictures of your pet and share them with your family and friends.
 Talk and listening to your cat. You will be able to hear and talk to your cat and vice-versa. This is a nice feature that will keep you in touch with your furry friend even if you're not home.
Play fun sounds, such as bird chirping, meows, rats, etc. This will keep your cat alert and curious.
Play laser dot game with your cat. You can play it manually (you'll see the laser dot through the app) or automatically. This laser game follows strict safety standards, because it doesn't remain in the same spot for more than 3 seconds. If you activate the laser and you stop checking on your pet, the laser pointer will deactivate after 3 seconds, automatically. This is one of the best features and it'll keep your cat entertained while away from home.
700p LIVE STREAMING: To get 700p quality image the camera needs to reach 2 conditions: A good light source and a strong signal. If any of those is lacking the picture won't be 700p.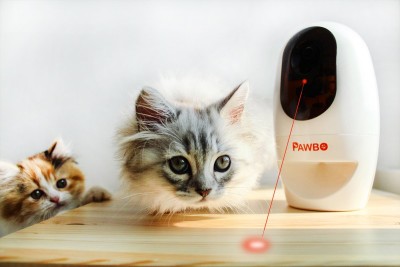 MULTI USERS
Two or more people can connect to the Pawbo and watch the pet on live streaming at the same time. Voice function can only be used by one person at a time, though.
In order to connect with the same device the extra user needs to install the Pawbo app using the QR code generated by the main user and login.
Only one camera can be linked to one account with one or multiple users.
PROS
Interactive device that you can control from your Smartphone or Tablet
Easy to set-up
Well built and sturdy
You can remotely feed your pet treats
You can watch your cat on live streaming, record videos and take pictures.
Ability to share pictures with your social network
Ability to play laser dot games with your cat (manually through your screen or automatically)
Built-in fun noises such as bird chirping, meows, rustling plastic, etc.
2-way talk. You can hear and speak with your cat anytime, anywhere.
Nice and sleek design
Pawbo apps is intuitive and it works well
Ability to share cam access with family and friends
Picture is very clear with good light
Quick responsiveness to app controls
You can even use this device to communicate with your family.
CONS
The unit doesn't have ON/OFF button
The treat holder capacity is small and it feeds only one small treat at a time
4-5 foot power cord is short
Bad connection or no connection with low signal
The camera view is fixed (inability to pan and tilt, but the cam has a wide view)
It doesn't feature night vision
Live streaming is not good quality in low light
It requires to have a Dropbox account to save videos
Inability to turn off the laser dot inmediately. You have to leave it with no movement for 3 sec to shut it off.
Delay over average connection on LTE/4G
No app notification that a user is accessing the camera
Hard to see the laser pointer when in automatic mode
TIPS
Make sure to put small treats otherwise the unit will jam.
If you think your cat will tip the unit over try to fix it somehow on a shelf because if you mount it on a wall it might be to high to see the treats or your cat playing with the laser dot.
CONCLUSION
Pawbo Wi-Fi Pet Camera and Treat Dispenser offers unique features in comparison to similar devices on the market. This treat dispenser & camera allows you to hear and talk to your cat unlike other devices, such as the Petzi camera treat dispenser that doesn't feature 2-way talk.
Pawbo is sturdy, well designed and works as advertised with some particular annoyances as stated in the above "Cons", but not as big to discourage you from using this device.
BOTTOM LINE
If you only want to remotely feed your cat some treats, there are more options to choose from but if you want to keep your cat engaged and entertained while you are away, the Pawbo is an excellent and more suitable choice that is highly recommended.