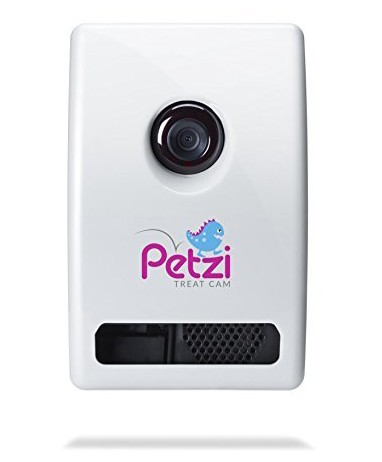 Petzi Treat Cam is an interactive pet treat dispenser and camera that allows you to check on your pet anywhere, anytime, with your Smartphone or Tablet, connecting to your Wi-fi through the secure Petzi App.
With this remote treat dispenser and camera you can keep in touch with your pet while you are away, eliminating separation anxiety and making sure your pet is safe at home. The unit gives you peace of mind of knowing what your pet is doing.
With Petzi you can: see your pet, speak to it, take snap shoots (and share them in social network) and the best and your pet's favorite: trigger some delicious treats with the Petzi Treat Laucher. The unit runs on US Voltage standard.
FEATURES
Interactive pet treat dispenser & camera you can manage with SmartPhone or Tablet
Remotely controlled through Petzi App and connected to your Wi-Fi
Easy to check-in and interact with your pet from anywhere in the world
You can see, speak, snap a picture and feed your pet delicious treats while away from home
Petzi treat launcher feeds dry, crunchy treats, smaller than 1 inch.
Wide-angle camera featuring night vision
Easy setup and intuitive interface
Universal mounting kit offers multiple mounting options to place the unit as needed
iOS and Android app controls the device and allows you to share snap shots in social media
iPhones and iPads: iOS 7.0 or above (Petzi App is an iPhone App. search this on the App Store on your iPad).
Android phones: Android 4.0 or above (It will operates on most Android tablets and phablets with 7" screen size or less).
With a push of a button treats are playfully ejected onto the floor, on the viewing area
Made from sturdy plastic
Capacity to hold treats approx 1 cup to 1  1/2 cup (small treats).
Rubber Feet on the bottom of Petzi Treat Cam
Dimensions: 13.3" x 7.3" x 4.5"
Shipping weight: 3.5 lbs
WHAT COMES WITH PETZI TREAT CAM:
The main unit Petzi treat cam
AC Power Adapter (6-foot long)
Universal Mounting Kit and Rubber Feet (1 white Dry-Wall Anchor, 1 silver screw, 2 Velcro Straps, 6 black Rubber Feet)
Quick start guide
Sample pet treats (may not be included outside USA)
HOW IT WORKS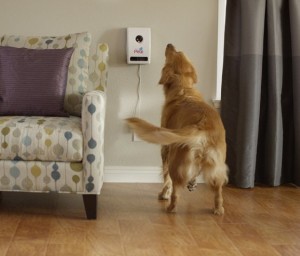 Petzi Treat Cam allows you to see your pet while you are away, speak to it and make it feel secure, take pictures of it and show them to your family and friends and finally you can feed your pet delicious treats.
The speaking option of the unit is unidirectional, this means your pet can hear you, but you can't hear your pet. Also, the video is unidirectional, you can see your pet, but your pet can't see you.
If you want some family members or friends to see your pet either from the USA or outside, they can do it if having access to your email and Petzi Apps downloaded.
The treat dispenser releases about 3-6 small treats each feed (cat treats). All these features are remotely controlled through your mobile device. Check a video how Petzi Treat Cam works here.
HOW TO SETUP THE PETZI TREAT CAM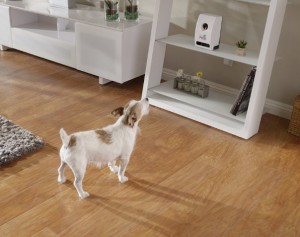 To setup your Petzi Treat Cam and connect it to your Smartphone you need to: 1) plug in unit, 2) put small dry treats inside, no bigger than 1 inch 3) download the app on your Smartphone or Tablet, 4) create your pet profile (one profile each unit), and 5) pair with your home Wi-fi network.
When you connect to your Petzi, a light on the cam will come on, and will turn off when the session finishes or when closing the App. The unit will use your Wi-fi only upon connection.
A few minutes after initial connection, Petzi App will ask you if you are still watching your pet and if you don't respond, it will disconnect automatically.
What are the Pros and Cons of Petzi Camera & Treat Dispenser?
PROS
Easy to install and reliable
Ability to control your treat dispenser from anywhere in the world through Petzi Apps.
It relieves pet anxiety when alone at home and it gives pet owners peace of mind knowing the pet is OK.
It keeps the love and interaction between pet and owner while both being apart.
It's a good training tool through treats rewarding.
Ability to indulge your pet delicious treats anytime from anywhere.
You can take snapshots of your pet and show them to your family and friends in social media.
You can show your friends a live video of your pet on your Smartphone or Tablet.
Night vision option
The unit is stable due to its low center of gravity.
Petzi offers various installing options with Universal Mounting Kit.
Adjustable volume.
The camera turns on only when connecting through the App.
CONS
The unit runs only through Apps, it can't be managed on laptops or PC's.
Only one profile can manage the unit, so if other people want to trigger treats they need to have access to the registered profile's e-mail.
Night vision is not very clear
The amount of treats released are not consistent and some may get stuck in the opening (It works better with round treats)
Interaction is not bidirectional
Quality of audio is not very good
Some pets may not get attracted to the device because they can't see their owner's face (unless treats are coming out)
Video sometimes gets delays and can't be recorded
Quality of pictures are not in high resolution
The unit does not have a tray to receive the treats, the treats get ejected onto the floor.
Cord is too short
TIPS
Place the unit in a room where you want your pet to stay most of the time (treats rewarding helps to accomplish this)
Place a large mat underneath the unit if you don't want your pet to eat from the floor.
If you want a better panoramic view of your room place the Petzi in a corner, slightly down angled.
CONCLUSION
Petzi Treat Cam gives you the option to interact with your pet while you are away. It helps to relief separation anxiety in pets by speaking and rewarding them with treats.
Some points to consider about this unit:
The unit works through Apps which means it can't be controlled online using laptops or PC's. It has been designed to keep you connected with your pet through your Smartphone or Tablet and check on it while you are on the go.
To share pics on your social media you need to go through Petzi Network and you may not like the steps in order to do this.
Some pets may not feel attracted to stay close to the unit and you may find yourself looking at the room with no pet in it, unless, you trigger some treats. This is especially true with cats.
The size of treats is important and the best shape are small round. Irregular shaped treats may get trapped in the opening.
Treats get ejected fairly far from the dispenser and if your pet does not eat some of them, your feet will find them.
The price it's on the high side considering is made from plastic.
BOTTOM LINE
√ I recommend Petzi Treat Cam and treat dispenser:
If you want to call your pet and check on it anywhere, at anytime through your Smartphone or Tablet.
If you want to feed your pet treats while you are away.
For pets that suffer of separation anxiety.
x Petzi may not be suitable:
For people mostly using laptops or PC's
Big dogs that may break into the unit for more treats.
If you want more than one person to control the unit (without having to share your email).
For independent cats and dogs that may not respond to calls.
If you want high resolution video and pictures.
If you don't want your pet to eat treats from the floor (unless you place a rug under)
If you want a unit with bidirectional interaction.