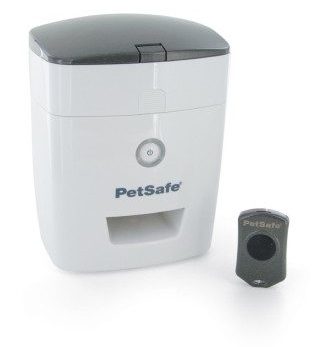 PetSafe Train 'N Praise is a dog training tool more than a cat treat dispenser but I decided to make a review of it because I thought this device could be a good solution for cat owners that have cats begging for treats all the time.
Brief description of PetSafe Train 'N Praise
PetSafe's Train n' Praise is a treat dispenser and a pet training tool that uses treats as positive reinforcement. It works remotely using a small hand-held remote that allows you to trigger treats up to 25 feet or less.
The idea is coaching your pet in adopting a good behavior in determined situations and reward it with treats when a good job is done.
Features
The treat dispenser can be placed free standing or wall mounted.
The unit holds dry treats or kibble sized up to 1/2" diameter.
Optional use of an audible tone for additional training.
Remotely controlled with a hand-held remote up to 25 feet from the unit.
It works with 4-AA batteries.
Remote control works with a lithium battery.
Low-battery indicator.
AC adapter compatible (not included).
Dimensions: 6" x 6.9" x 8.2"
Unit's Base dimension: 4″ x 5″
Weight: 1.9 lbs
What comes with this package
The treat dispenser
Held-hand remote transmitter
4-AA size batteries
3-volt lithium battery
Mounting hardware kit
Users' Manual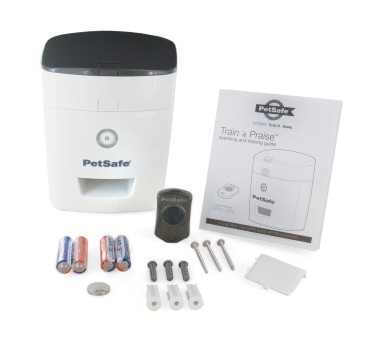 How the PetSafe Train 'N Praise works
Unlike devices like the Petzi and Pawbo, the PetSafe Train 'N Praise doesn't feature a camera. It's simply a remote controlled treat dispenser system.
The system is simple: after setting up the device, load the hopper with small treats or kibble (up to 1/2", slightly smaller than a dime). Then, every time you want to feed your pet a treat, push the button on the remote and treats or kibble will be released to the floor.
In order to trigger the dispensing you don't need to point the remote directly at the unit because PetSafe Train'N Praise works with a Radio Frequency transmitter that works with a wide range, even through walls. See a video how PetSafe Train 'N Praise works for a cat here.
Assembling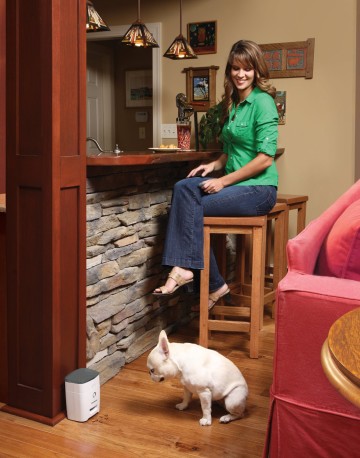 The PetSafe Train'N Praise does not come ready to use. You will need to assemble the remote control first placing the lithium battery in it. To assemble the remote control you will need a Phillips screwdriver and a small flat head screwdriver or equal.
Once the remote is assembled you place the 4-AA batteries into the main unit and adjust the treat/kibble size if needed. The treat dispenser comes with a standard treat size of 3/8" diameter and the other size is ½" diameter. Both sizes are reflected on the lid of the unit for your convenient measurement. To change the size to a 1/2" diameter treat you must change the position of an internal ramp.
If you don't trust your pet, you can mount the treat dispenser on the wall. The device has two little holes in the back for this purpose and it comes with the hardware necessary to mount it.
Pros & Cons of PetSafe Train 'N Praise treat dispenser
Here's a list of the advantages and disadvantages of this treat dispenser tool:
PROS
Well made.
The unit is small and blends with any decor.
It works with Radio Frequency which gives the control remote a wide range of operation (even through walls).
You can indulge your pet with treats up to 25 feet away from the device.
It comes with all the batteries needed for the system to operate.
It comes with a mounting kit if you want to mount it on the wall.
Easy to fill the hopper with treats.
The dispenser can be turned off if needed. It goes into power save mode as well when "On".
Battery-low indicator.
Well written Instruction Manual.
CONS
The unit does not come ready to use, it needs to be assembled and adjusted if needed.
Sometimes the treats get stuck in the treat compartment (a little shaking is needed).
It does not dispense one or two kibble, but more like 5-6 or more ("Con" if you want only one or two treats as reward).
The unit works better with a very precise type of round small sized kibble or treat.
The device is loud when dispensing and might scare some pets (less noise on carpets or mounted).
The treat portions dispensed are not very consistent each time.
The unit can be easily tipped over by a motivated pet.
Cats might try to stick their paws in the dispensing opening.
TIPS
Make sure to have more AA sized batteries because the one that come with the unit don't last too long.
Some customers state that the unit works well with "Feline Greenies", "Little Friskies".
Any treat or kibble over 1/2″ diameter will get jammed.
Final Thoughts 
PetSafe Train 'N Praise has a good Radio Frequency remote mechanism that works as advertised and it has a wide range of operation. The unit is intended to train or feed your pet and there are some points to mention on this regard:
The treat dispenser makes a loud noise and vibrates while dispensing in order to shake a little the treats inside to avoid jamming. Your pet might not like this noise.
If you mount this unit on a wall, the shaking vibration won't be complete 100% due to the unit being fixed on the wall. This could possibly make the treats jam inside.
As a training tool this device won't allow you to do a one-treat positive reinforcement because it releases about 5 up to 7 or sometimes more treats at a time.
A good point is the disassociation of human-treat. This will reduce food begging.
Bottom Line
If you decide to use PetSafe Train 'N Praise as a cat treat dispenser the loud noise might scare your cat. Animals get used to noises and when they see treats after the noise they handle the fear in order to get treats, but not all cats are able to do this, only very food motivated pets.
The other fact is that cats usually try to tip things over or stick the paws inside openings trying to get food. As the unit can be mounted on a wall this issue can be solved, but the fact of the machine being fixed on a wall limits the shaking vibration which increases the risk of jamming.
This could be a good automatic treat dispenser only for cats that:
Can handle the loud noise and overcome it.
Respect the unit from the outset, without manipulating it to get food from it.
As this possibility is small I would not suggest this unit to be used as a remote operating cat treat dispenser unless you find a way to cover the unit somehow to be able to use it standing up and your cat is brave enough to not get scared by the noise.