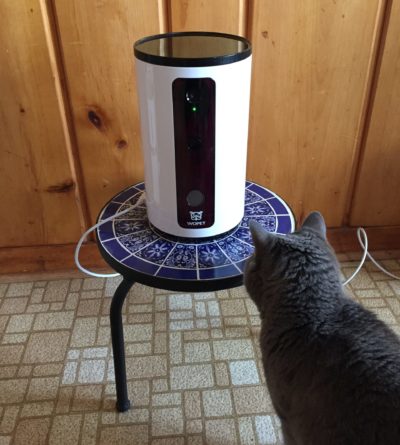 The best way to keep in contact with your cat when you are away from home is the Wopet Smart Pet Camera. With this device, you can feed your cat his/her favorite treats, also watch him/her on video streaming, talk and listen to your feline friend. Your cat will recognize your voice and will feel accompanied. For example, my cat Sophie gets a little anxious when she is alone for too long so this is a great way to be in contact with her.
Wopet contacted me and provided me with this unit for me to review. So this is my experience feeding my cat treats with this device.
What comes in the box
Wopet Smart Pet Camera Treat Dispenser
AC Power Adapter with a USB cord
User Guide
Manufacturer tech instructions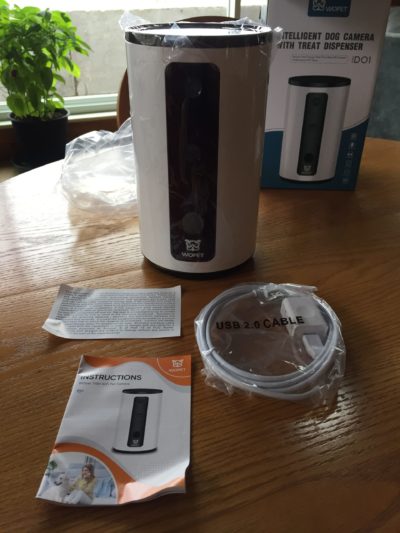 Dimensions & Weight
Fully assembled: 10" H x 5.78" diameter
Plug cord length: 6 ft and 5"
Net Weight: 2.42 lbs.
How the Wopet Smart Pet Camera works
Wopet Smart Pet Camera connects to your Wifi network so you can manage all the functions of this device through the "Wopet Smart" App. You can feed your cat treats and watch your feline on video streaming while you are away from home. You can take pictures of it, record videos, and speak and listen to your cat. Your kitty won't feel alone, because you can interact with him or her on a daily basis anytime, from anywhere.
The camera treat dispenser features the HD camera on the top front, the indicator light, the microphone, the "SET" button, and below is the treat popper. The "SET" button has 3 different functions; you press it to bind the unit with your WiFi network; it allows you to reset the unit to factory (if you press it for 5 seconds); and if you short press it does a manual treat feeding.
Tech Specs
—Camera: 127° HD night vision and wide-angle camera.
—Power supply: 12V, 2A
—Power Adapter: Input:110-220V, 50/60HZ, 0.4A Output: 5.0V, 1000mA
—Wireless Network: 2.4GHz
—Mobile Operating System: Android 5.0/iOS 7.0 or above.
General Features
Materials: ABS plastic.
Treat holder capacity: 0.5L
2.4GHZ frequency: Wopet connects to 2.4GHz band. You can't connect to your 5G WiFi.
Automatic WiFi re-connection: When you turn on your phone and open the Wopet Smart App, the device will appear online in a second.
Backup battery: The unit uses 3 D cell batteries as well as the AC adapter. This ensures that the Wopet treat dispenser will keep operating in case of a power outage.
Recommended Treats: Use treats up to a tiny over 0.5cm.
Camera Functions & Features
Record: You can record a video of your cat by tapping this button.
Capture photo: You can take pictures of your cat.
Toss a treat: It tosses treats when you press this button.
Voice chat: Press this button to call your cat or talk to it.
Sound: You can listen to your cat or any sound from the other end.
Two-way audio: By enabling the Two-way audio, if you press the "voice chat" and "sound" buttons at the same time you can talk and listen to your cat bidirectionally.
Fullscreen: By tapping this function, the camera will be shown on the full screen. Tip: when using full screen you will find that you can't get back to the camera menu. Simply softly slide from right to left and you will be taken to the main menu.
Media Gallery: By tapping this you will see all the pictures and videos. You can share pictures or videos with your family and friends through Facebook, Google Drive, Google Photos, WhatsApp, Gmail, etc.
Video recorded with the Wopet camera, daylight and night vision:
How to set up the Wopet Smart Treat Dispenser
The set up is very simple, wipe clean the treats holder and the lid and dry them well. Fill it with treats and put the lid back on. Put the device on a surface with a minimum of about half of a meter above the floor, and plug the unit. You will see a green light indicator on.
Steps to Onboarding Wopet Camera & Treat Dispenser
Download the Wopet Smart App and register. Log in and select the device.
Press the "SET" button for 5 seconds until you hear a "beep" sound. Press next.
Select your WiFi network name and enter the password (only 2.4 GHz)
The App will generate a QR code, scan it using the feeder's camera, you will hear a "beep" sound. Press next.
The screen will show connecting the device.
Your device will be connected. The Wopet Smart App menu will show.
The Wopet Smart App Menu
The Wopet Smart App is very simple to use. On the App home, you will see the name of the camera. At the bottom, you will see a "Help" menu that will take you to the App's troubleshooting and FAQ, and a "Me" menu with your personal information. If you tap on the name of the pet camera it will take you to the video streaming with all its features.
Watch this video with a full review of the Wopet Smart Pet Camera including how the App works: 
How to clean it
Open the lid and wipe clean the inside. Wash the lid with a mild soap. Dry them well.
What I like about the Wopet Smart Pet Camera
The unit is high-quality hard ABS plastic
The lid is airtight, keeping the treat fresh longer
Very easy to connect to WiFi
The App is simple to use
The camera is HD and with night vision function.
The camera screen can be set vertically or full screen
2-way audio so you can talk to your can and listen to the sounds on the other end.
Cat-proof: the 4 rubber feet at the bottom of the unit are the suction type so they keep the treat feeder very stable on a smooth surface, your cat won't be able to knock it over. The airtight lid can't be opened by a cat either.
On the back of the unit, there are two openings that allow you to hang it on a wall.
You can share your cat's pictures or videos using your social media.
Suitable for a single cat since the number of treats that this unit dispenses is about 3-6 at the most. (Unlike the Cengcen Pet Camera that tosses about 10, which is more suitable for 2 cats).
What I am not a fan of
Occasionally a treat doesn't get dispensed and sits in the treats popper opening (not a big deal because if your cat sees it, it will get it with its paws).
Some features are not available yet, such as the list of treat feeding events and the bark detector (I don't mind this, because I feed my cat two times per day so I don't need a list of these events, and my cat doesn't bark lol)
My final thoughts
The Wopet Smart Pet Camera works well because it doesn't dispense too many treats, just enough for a cat or two cats. The camera has a good definition as well as pictures and videos. The connection with the 2.4GHZ couldn't be easier, I didn't find any issue while doing this. As for the signal, the re-connection when you open the App is much faster than other treat dispenses, according to my experience with this unit, it takes a second if not less to appear as "online".
My bottom line
I recommend the Wopet Smart Pet Camera & Treat Dispenser because it works well, it tosses the right amount of treats for a single cat, between 3 and 6, and it has a battery backup that ensures that will keep operating even if a power outage occurs. The App is easy to navigate too. What I like the most is the night vision camera so you can make videos of your cat at night. I recommend this unit for a single cat or two cats. (Amazon affiliate link).