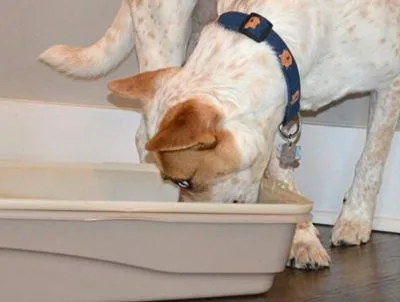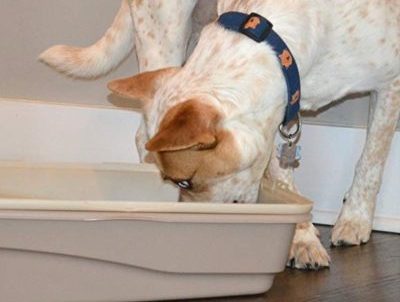 Keeping the dog outside the litter box may sound simple, but sometimes our canine friends can be quite persistent, in which we need to protect the litter box and our dog from getting sick.
As a general rule the smaller the dog, the harder to block it from accessing the litter box. However, the ideas to accomplish this are diverse so you can find a good solution that will work for small dogs.
Are there risks for dogs from eating cat feces?
This behavior in dogs is not abnormal and actually it's part of their nature. Dogs eat anything that is tasty or chewy and cat poop is no exception. The dog's strong sense of smell allows them to smell the food digested in the cat poop. Is this behavior dangerous for a dog? Even though the risks are not high, there are some risks from dogs that eat cat poop and if your dog is small, the risks could be higher.
Cat feces contain germs such as bacteria or parasites that could be harmful for your dog and that could be transmitted to people that touch and even kiss the dog. Sometimes dogs don't show signs of parasites, but they can get them from eating cat poop and it will take a medical check up to find the parasites.
Also, if you have a small dog and your canine friend eats cat poop all the time, small amounts of litter gets into your dog's digestive system. Overtime your little guy could experience intestine blockage due to the ingestion of cat litter. If your small dog shows signs of constipation after being a long time cat poop eater, take it to the Vet to discard intestine blockage.
3 Ways to keep the dog out of the cat litter box
The following solutions are effective and diverse. Choose the idea that fits the best to your dog size, your budget and the space in your home. If you have a very small dog 'don't worry, there are solutions on this list to block your little guy from getting litter box "treats".
There is a particular option that I didn't want to include within the list of  solutions; the soft chews that deter Coprophagia in dogs. These are a sort of treats that your dog and cat must eat every day and this will deter the dog from eating the cat stools. The reason for me not to include this it's because this solution is hard to apply effectively. Your cat and dog need to eat several of these soft chews per day for this to work and cats are picky and usually don't eat them. Also, the effect of this treatment seems to have a low rate of success. But if you are interested in learning more about this, you can check some of this products in Amazon.
1. Place the litter box in a room with restricted access to the dog.
The idea is placing the litter box in a room that only your cat has access to it. It could be the closet, bathroom, laundry room, or other. In order to allow your cat to enter the room without the need of opening the door you can get a door strap and latch that leaves a small gap enough for your cat to go through, blocking the dog, and allowing you to open the door easily when needed. You can use this tool also to keep the dog from eating cat food.
Another idea is using a cat door that gives your cat exclusive access to the room where the litter box is located. You can find cute cat doors that add style without looking too intrusive. If you have a small dog, such a Chihuahua or Pomeranian you need to install a selective cat door that will recognize your cat to open.
If you don't have a room to allocate the cat litter box you can separate areas with a pet gate. Make sure to get a gate with a small cat door; it will be easier for your cat to just walk through instead of jumping that could be bad for your cat, especially after 6 years of age.
2. Cover the litter box with an enclosure
There are several types of litter box enclosures, from furniture to tents. If you want to effectively stop your dog from getting "snacks" from the litter box you need to choose a strong enclosure. The opening needs to be just large enough for your cat to get in, but so small that your dog can't enter. You can find litter box enclosures that look like a piece of furniture. The Petsfit Double Decker is a litter box enclosure designed in a way that it's impossible for any dog to access the litter box. The entry is located on top and the litter box is at the bottom. If you have a very small dog, you may want to learn more about this solution on Petsfit Double Decker litter box enclosure review.
If you have a large dog, the Refined Feline litter box enclosure is a nice and stylish solution to conceal the cat litter box and block your dog from getting in it.
Another option is adapting your own furniture as litter box enclosure. Choose the furniture you will use, cut an opening and install a cat door. How large should the opening be? The general rule of thumb is that if the cat can fit its head through, the rest of its body will go through as well (unless you have an overweight cat). This way you can adapt dressers, cabinets, storage benches, etc. as a litter box concealer.
3. Get a dog-proof litter box
If it's time to replace your cat litter box you may want to get a top entry litter box. This type of unit makes your cat access the litter box from the top through a small opening, blocking the dog.
The drawback of this type of unit is that not all cats like top entry litter boxes. If your cat is reluctant to changes or if you have an elderly cat, it may be harder for it to take to a top entry litter box. But don't be discouraged, there are other special designed litter boxes that stop the dog from trying to access it. For example, the Pidan Igloo litter box or the Petmate Booda, are created with this issue in mind. Your feline friend will be able to use the litter box normally and the dog won't be able to reach the inside of it.
Source: www.akc.org