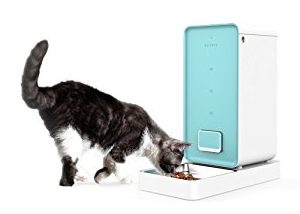 Petkit Smart pet feeder is a new automatic feeder that can be programmed and controlled on your smartphone with the Petkit App. The unit offers unique features, such as a dispensing system that doesn't allow any type of food to get stuck in the feeder. This is possible due to using an oscillating bar, a spring check-board, and silicone impeller internally, which makes this unit dispense up to millions of feedings with no jam.
Petkit smart feeder keeps the food fresh with a desiccant box on top that prevents humidity, hence, mold formation inside the hopper.
FEATURES
Smart feeder Petkit App controlled
Customizing portions and schedule, according to your cat's needs
It dispenses up to 10 meal plans per day
Individual portions from 20g-400g.
With desiccant box to keep food dry and fresh
Removable dishwasher-safe food tray
Hopper capacity: 6 lb dry food
Food indicator
Suitable for all size cats
Wi-Fi enabled
With light to orientate cats at night
Dimensions Feeder: 17.5" D (with tray ) x 8.8" W x 19.7" H
Dimensions Desiccant box: 10cm x 12cm. (3.93" x 4.72")
Power: AC adapter and backup batteries ( 4-D cell alkaline, not included)
Item weight: 11 lbs / 5kg
Color: Light Blue and White
One year warranty
One-month guarantee replacement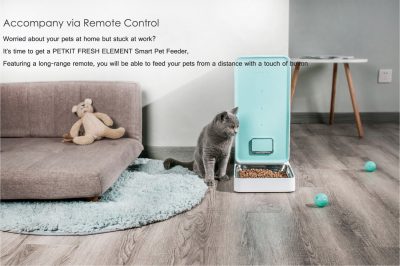 Technical Requirements
Operating system: Apple iOS / Android OS
Input voltage: 100-240V
Output voltage: 6 V,1A
What Comes With The Unit:
1 x PETKIT Smart Pet Feeder
1 x AC/DC adapter
1 x User Manual
HOW IT WORKS
Petkit Smart feeder connects to your Wi-Fi so you can manage all the functions of this feeder from your smartphone, using the Petkit App. With the App you can program up to 10 meal plans per day, anytime you choose within 24 hours. The meals can be individually customized from 1-20 portions each, the minimum portion is 20g (approx. ¼ cup) and the maximum portion is 400g. So you can feed your pet from 20g up to 400g at a time.
You can also feed your cat an extra meal at anytime by choosing the portion of the "Feed Now" meal or snack, go to home page and press + button, at the bottom right. This will display a snack setting, turn on feed now (green), choose quantity and press save.
Once you program one specific feeding schedule, it will repeat everyday. The App shows you the time when a meal is dispensed and the portion. If the internet connection or the power fails, it will show an error message on your phone, but the meal will still be dispensed.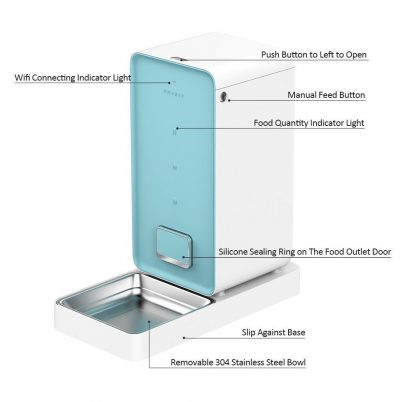 The dispensing system of the Petkit Smart Feeder allows you to feed any type of kibble, even air dried meat based food. Flat big square type kibble are not a problem for the Petkit dispensing system. The unit works with kibble size from 5mm up to 25mm dia. Also, you can check on the App how much food is left in the feeder so Petkit never runs out of food.
The Petkit keeps the food fresh with a desiccant box inside the feeder that needs to be replaced every 30 days.
The Petkit Smart Feeder works with a AC/DC adapter and battery backup in conjunction which ensures the operation and also retains the programmed master clock.
WHAT MAKES PETKIT SMARTFEEDER DIFFERENT THAN THE REST?
PETKIT smart pet feeder has a 360° food-grade soft silicone ring on both the food outlet door and on the inside of the hopper, on the top lid, sealing the food from oxygen and contaminant agents. This ensures that the kibble won't get stale or spoiled which is a common problem of automatic feeders when you fill up the food container to the top.
This unit features a desiccant box inside the feeder which absorbs humidity and keeps the dry food fresh.
The Petkit dispensing system is jam-proof due to its zero stuck self-adaption mechanism, with an oscillating bar, spring check-board and silicone impeller that is flexible and let's all type of kibble shape go through towards the food outlet door without getting stuck.
Small door protects the chute from mischievous paws from trying to access the food. The small door opens automatically and the food is dropped out of the chute as the wheel inside the feeder turns. Once the food is dropped, the door goes back into position blocking the chute. In case your cat sticks its paw inside the chute while the door is open, a sensor will keep the door opened for several seconds as a safety measure.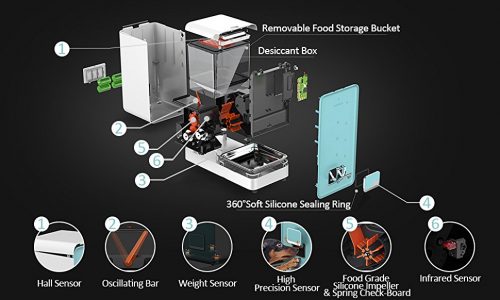 SET UP & Wi-Fi CONNECTION
As most new Wi-Fi's have two frequency settings, you need to make sure your phone is connected to your 2.4 GHz Wi-Fi network before installing. The device won't work if you are connected to the 5 GHz setting.
VIDEO HOW TO BIND YOUR PETKIT SMART FEEDER WITH YOUR SMARTPHONE
PROS
Nice and sleek design
Well constructed
Easy to set up, following the instructions
Desiccant box inside the feeder keeps the food fresh. You can use the full capacity of this feeder without worrying about the food getting stale or moldy. This means it lasts a long time without the need of refilling.
Feeder is fully sealed with a silicone ring on both the food door and top lid.
Good capacity of 6 lb dry food
Stainless steel inside tray avoids bacteria formation
Food indicator on the App to never run out of food in your feeder.
It has an anti-jamming internal mechanism that accepts all shape and kibble sizes, even square flat.
The unit is silent when operating. Only one beep at feeding time.
The App recommends you a daily food intake for your cat based on your pet's info.
Feeding tray is a large, shallow square dish that is removable for easy cleaning. Excellent to feed two cats.
Other users can be added in the App
Notification of time and portion dispensed
CONS
No voice recorder (it makes a "beep" noise)
The App doesn't update automatically its internal time when switching to daylight savings time.
Connectivity may be tricky with some Wi-fi points.
The food sensor is a little off about 10% (when feeder it's full, it shows about 90% full)
The App recommends feeding amounts in different measurement than the feeder's. You need to convert the recommended food amount into the feeder's portions (20g each portion).
Footprint is large (length-wise). A "con" if you don't have room to accommodate this unit.
You can't buy extra trays as spares to have as backup while you have one in the dishwasher.
TIPS
When binding your phone and Petkit feeder with the Wi-Fi home network you won't be able to do it when connected to 5GHz. A tip is to reset to lower speed Wi-Fi, bind the feeder with the phone, and then put the Wi-Fi back to 5GHz. You will only need to do this once on the initial set up of the feeder.
Put the batteries in before filling up the feeder. Once the food hopper is full, it's almost impossible to put the batteries without emptying the feeder.
CONCLUSION
Petkit Smart Automatic feeder offers unique features that will provide a solution to cat owners that are looking for a jam-proof feeder without worrying about the kibble size and shape of their cat's food.
The feeder doesn't have a webcam like some of the smart feeders of this price range but it offers other advantages such as a fully sealed food container, desiccant box that keeps the kibble fresh, and the automatic chute door that opens only when dispensing and blocks the food once dropped in the tray. Also, the battery backup ensures that this feeder will always operate no matter what.
BOTTOM LINE
√ I recommend Petkit Smart Feeder if you want a feeder that:
Allows you to empty the bag of food in it without the worry of the food getting stale or moldy.
Keeps you from having to refill often
Stops your stubborn cat from trying to get food from the chute
Feeds two cats with enough room on the tray for them to eat.
Gives you peace of mind the unit will keep operating even without internet or electric power.
x I wouldn't suggest this unit if:
You want to see your cat on a video when eating
You want to take pictures of your cat and share videos of your pet.
You have a reduced space to place the unit (from back to front).
If you want a unit with accuracy regarding the food indicator
UPDATE: It seems like the lastest versions of Petkit feeder are very hard to get them connected to Wi-Fi. It takes almost an hour or more to get the unit connected. If you don't have patience to deal with that, I suggest you to get a different unit.