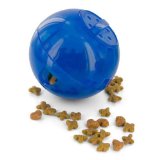 SlimCat Ball Treat & Food Dispenser Review
(3.9/5) I picked this cat food ball Slimcat dispenser to make my review because this feeder is a perfect solution to slow down your cat when eating.
GENERAL DESCRIPTION

Cat Food Ball SlimCat is a good choice if you need your cat to lose weight or correct bad behavior with food. This ball food dispenser is made for your cat to play, hunt and eat, all three at the same time.
The ball has a hole on it where you put about 70% of a dry cat food cup, then adjust the hole in the Slimcat to let one piece of food pass through easily. If you want to let more than one piece of food, you can adjust the hole little bigger.
As your cat chases and bats the Slimcat around the room, one (or more) piece of food at a time will exit the ball.
HOW IT WORKS
Slimcat features a top lid with 6 small holes. You need to twist open the top and pour treats or dry food in it. The ball has 6 openings on the sides, 3 big ones and 3 small ones. You can choose what holes you want to use by twisting the two halves and choose the type of holes by aligning them. In order to do this, you need to unlock the tab that is located between the two halves. When unlocking this tab you can twist the two halves to adjust the sizes of the holes as well.  Put the lid back on and get your cat ready to play and eat.
 Video How the Slimcat Ball Toy Food Dispenser works:
THE SLIMCAT BALL SLOWS DOWN YOUR CAT WHEN EATING
When your cat pushes the ball with its nose or chase it for eating, it takes longer for your pet to finish its meal so this system allows you to control how fast your pet eats and at the same time it gives him a fun game, which is good if you want to help your cat to lose weight because it keeps your pet more active.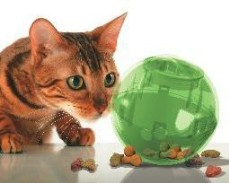 Small portions of food several times a day will improve your cat digestion. This food dispenser will also satisfy your cat's inherent need to hunt.
Slimcat corrects your cat behavior because enriches your cat environmental needs through exercise.
You can wash the FDA-approved plastic SlimCat in your dishwasher or with hot soapy water. This product is also safe for cats of all breeds, ages, and sizes.
WHAT ARE THE PROS AND CONS OF THE CAT FOOD BALL SLIMCAT?
Learn the following advantages and disadvantages of the Slimcat ball to have a better idea about this toy:
PROS
The product is effective in the control of how fast your cat eats. Is proved that a cat eating with this ball food dispenser takes longer to finish its meal in comparison with other systems.
The adjustable system on the holes of the ball allows you to control effectively how fast you want your cat to eat and also allows you to use whatever size your cat food is. You don't have to change your food in order to adapt it to this dispenser.
It takes a couple of days for cats to get used to this ball food dispenser, but once they do, they seem to have fun when eating this way.
A solution for the bad eating behavior of the cat.
It makes your cat exercise while eating which helps in a losing weight program for your cat.
CONS
As your cat plays with this toy, depending on where he or she is playing, the ball may get lost below couches or behind the furniture.
Note: It might happen that your cat just looks at this ball and does not play with it, it is recommended to encourage your cat to play with the ball on the beginning. A good idea is to put its favorite treats to motivate your feline friend even more.
MY TIPS HOW TO USE IT
Take off the top of the ball, pour in the desired amount of dry food (approx.70% of a cup).
The ball has two types of holes where the food can come out from: a set of 3 small round holes, and another set of 3 large holes. You can adapt the hole size by unlocking a little mechanism and twisting half of the ball so that it's where ever you want it. How small you adjust the hole it will depend on how easily you want it to fall out of the ball.
In the beginning, it is recommendable to adjust the hole little bigger so this way is easier for your cat to get food from the ball as it's gets used to it. As your cat gets more expert playing with the ball, you can reduce the opening a little more.
CONCLUSION
√ I recommend the Cat Food Ball SlimCat, especially for:
A cat with bad eating behavior.
To make your cat work for its treats or food
A feline that needs exercise to lose weight.
A cat that eats too fast.
Re-educate your cat if it eats your other pet's food.
Indoor cats to reduce boredom