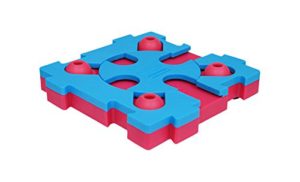 (4.1/5)Nina Ottosson Mix Max Treat Puzzle is a cat treat toy dispenser that provides your cat entertainment trying to figure out how to get the treats from the puzzle, which stimulates your pet mentally and keeps it more active working for its treats.
This toy dispenser is a good entertainment for both cats and dogs. Nina Ottosson Mix Max comes in various levels, Easy, Medium, Advanced and very Advanced.
You can put together several toys with different levels, creating a unique and more challenging puzzle.
This review is for Mix Max Treat Puzzle Medium Level.
FEATURES
Tricky and challenging for cats and also dogs
It keeps your pet active, working for its treats
Interactive treat puzzle that requires your cat's manipulative skills
It hides treats that your cat will smell and will try to get them out of the puzzle
You can create a unique puzzle by putting together toys with different levels
Product Dimensions: 7.1" x 1.4" x 7.1"
Weight: 7 ounces
HOW IT WORKS
Nina Ottoson Mix Max Treat Puzzle is a board with 4  spheres on each corner with openings on top where you put the treats and a spinning piece in the center with 4 indentations.
Your cat needs to line up one of the indentations with a sphere, drag the sphere to the spinning part, spin again until the sphere reaches one of the two alleys where it can be dragged down to the floor. Then your cat tips the sphere over to get the treats.
Watch a video to see how the Nina Ottosson Mix Max works:
PROS
The toy is good quality, very well made.
It keeps your cat occupied working for its treats
Stimulates your cat mentally and psychically
Good stability on the floor
CONS
The openings of the spheres could be large enough for some cats to lick the treats directly from the holes which could distract them from working for the treats.
The board may be a little smaller than expected
This level is too difficult for an average cat
TIPS
If your cat gets to master this Treat Puzzle, you can hook it together with the easy level to make the entertainment span longer.
If your cat eats too fast and then vomits you can serve your cat his meal with this toy. Just make sure to place the kibbles in the toy and watch him work for his food. To do this you need to be present to fill the spheres with kibbles until completing a meal, but if you can't do this in the daytime do it when you get back home, it'll still be beneficial for your cat either way.
CONCLUSION
Nina Ottosson Mix Max Treat Puzzle is a well-made cat treat dispenser toy that will keep your cat occupied trying to get its treats through a challenging puzzle.
As this treat toy dispenser is medium level, is recommended for cats that are highly food motivated because if they aren't they will quit trying to solve the puzzle due to frustration.
The toy may look a little smaller than shown in the pictures but it's well constructed and durable. The most important, it's not made with toxic plastic.
√ I recommend this cat treat toy dispenser for cats that are obsessed with food, inquisitive and active.
x  I don't recommend it if your cat doesn't care much about food or if you have an old boy or girl.