Trixie 5-1 Cat Activity Board Station Review is a puzzle and treat toy dispenser with 5 different modules in one board, each with a unique game designed to stimulate each of your pet's five senses.
Trixie 5-in-1 allows your cat to think and resolve problems by figuring out how to get the treats out from the different modules. The modules on the board are: Globes, Pegs, Alley, Tongue and Tunnel. Some of them are more challenging than others, for example, the section with globes resembles a fish bowl where your cat fishes the treat out with the paw.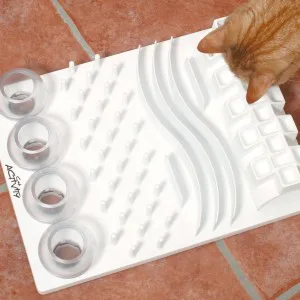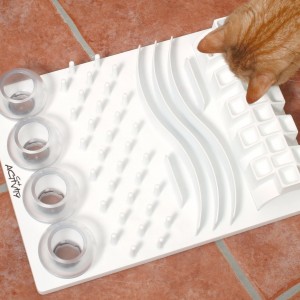 With the Pegs section the cat makes out a treat visually from a distance first and then map out a strategy to pull out the treats with the paws as cats cannot see close details as humans do.
Alley allows the fun option of lying down while scooping treats with the paws or claws.
Tongue is designed for liquid treats and Tunnel's mouse hole is great for stalking and poking at toys and treats hiding inside.
With the Trixie 5-in-1 Cat Activity Board Station your cat will be able to lie down, sit up, scoop, poke, lick, smell, look and listen. An instructional booklet is included with tricks to stimulate your cat's curiosity.
FEATURES
Game 1: Globes look like little fish bowls and require cats to pull out treats with their paw
Game 2: Pegs allow cats to make out treats from a distance and map a hunting strategy out.
Game 3: Alley is a playful option that allows cats to get treats while lying down using their paws, claws or toes
Game 4: Tongue is designed for liquid treats since the slits obstruct cats from using their paws
Game 5: Tunnel has a mouse hole for hiding toys, treats and even kibble
Made with plastic and rubber
Each module requires a different combination of the cat's five senses
Includes instructional booklet with fun tips and tricks to entice your cat and keep it motivated
Measures 12 x 16 inches.
Weight: 3 lbs.
Dishwasher safe
One year warranty
HOW DOES TRIXIE 5-IN-1 CAT ACTIVITY BOARD STATION WORK?
The cat needs to use its ability to create a strategy to get the treats from the different puzzles. Additionally, it needs to use his ability to use its paws to reach the treats from the hard-to-reach areas, such as the pegs or the tunnel. Your pet will create a mental map where it will think of the best and faster way to get its reward. Check a video of two cats using the Trixie 5-in-1 activity board station center:
PROS
5 puzzles on one board, each one differing in difficulty.
It reduces cats boredom
The toy platform cannot be defeated by getting knocked over.
It keeps your cat entertained for about 20-30 minutes or even more, depending on the cat's skills.
It mentally stimulates cats giving them a fun challenge to work with.
It stimulates mentally cats since they have to think to figure it out how to get the treats out.
It is sturdy and well-made
Cats don't get bored with this toy, permanent challenge keeps them hooked.
It can be used as cat feeder during mealtime.
When used as a feeder you can slow down your cat who eats too fast.
Once cats get the hang of it, they prefer to eat from the Trixie than from a regular food bowl.
You can remove the Globes for easy cleaning.
Easy to clean, the whole board is dishwasher safe.
CONS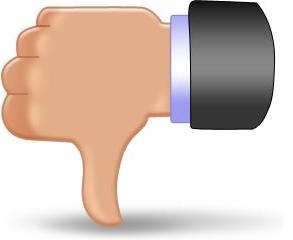 The price is more than average for a cat toy dispenser.
Not suitable for cats with allergies to plastic.
TIPS & TRICKS
Try to vary the placement and number of treats to maintain your cat's interest.
Place a mat underneath the board so kibbles will drop on the mat.
The "Tongue" game also could be used to put treats and your cat will try to get them with its tongue.
To remove the Globes simply untwist them from the base.
CONCLUSION
Trixie 5-1 Cat Activity Board Station is a very good system to stimulate mentally your cat while working for its treats. This toy puzzle seems to have a longer life in the cat's entertainment horizon, other toys reach the curiosity of cats pretty fast, this one with the different modules and challenges feeds your cat curiosity much longer.
You can also reduce your cat food begging using it as a bowl. An average cat takes anywhere between 15 to 30 minutes. If your feline friend is a little slower it could take longer to finish its meal (which is a winning situation anyway, keeping your cat entertained longer). Check out a video here of a fast cat eating its treats from the Trixie 5-1 Board.
√ I recommend the Trixie 5-1 Cat Activity Board Station especially for:
To be used for more than one cat.
To keep your cat busy working for its treat
To intellectually stimulate your cat
To reduce boredom in indoor cats