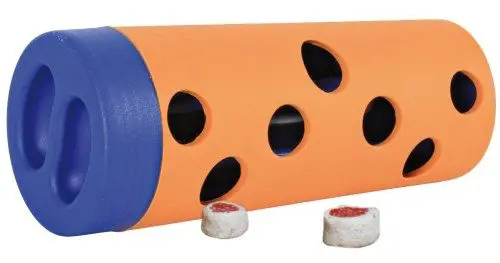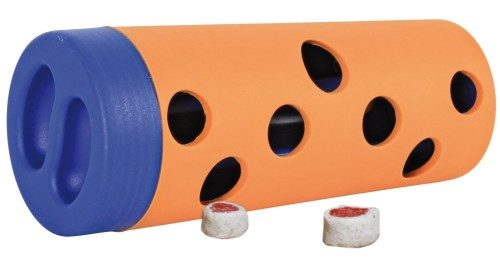 Trixie Snack Roll is a toy treat dispenser that stimulates your cat mentally and physically by making your pet work for its treats. This toy dispenser is designed to channel your cat's natural curiosity into a fun challenge because every time your pet bats or pushes at the snack roll, delicious treats tumble out as a reward.
An instructional booklet is included with the toy with tips and tricks to help you motivate your cat to play.
FEATURES
The toy includes a Snack roll (tub), a screw-on cover, and 3 removable rods.
Easy to clean
Fill the toy with hard treats
Treats are dispensed as your cat pushes, bats, and nudges the toy
You can mix and match 3 removable rods to adjust how easy the treats are released
It comes with instructional booklet teaching tips and tricks to keep your cat entertained
Color: Orange and blue
Materials: Plastic, rubber
Dimensions: 6" x 2″ x 2 "
Weight: 1 pound
Quiet and durable with a rubber coating
Warranty: 1-year manufacturer
HOW IT WORKS
Simply unscrew the cover and fill the Snack Roll with hard treats. Your cat will push, bat and nudge the treat toy around the floor. Inside the toy, there are 3 plastic rods that are removable with the function of slightly obstruct the openings to make it harder or easier for your cat to release the treats. You can adjust this by putting more or less rods inside the toy, depending on the treat size and your cat's expertise.
The toy is made from plastic with a rubber coating that makes it silent when running around the floor.
WATCH A CAT EATING WITH THE TRIXIE SNACK ROLL WORKS
PROS
The toy is of good quality, with solid construction.
Easy for cats to get the treats from the Snack Roll, great for beginners
It dispenses a good amount of food or treats which motivates cats to keep playing
The plastic cap works well and it fits nicely with the tub.
Quiet when sliding around the floor
The toy is washable
CONS
Food or treats get released too fast and too easy (a "Pro" for cats that are beginners)
The openings are too large for most cat treats or kibble
Some cats don't feel motivated to play with a tube
TIPS
If you don't want the toy to release too many treats or kibbles you can put objects like large buttons or similar (larger than openings) to block treats or kibbles from tumble out through the holes.
Another tip is using duct tape to cover up as many openings as you want to make the challenge high, medium or low.
CONCLUSION
Trixie Snack Roll for Cats is a toy that is more suitable for dogs than cats. You can see in the picture that the openings are large and release more treats or food than desired for a cat, so I would say this toy is more suitable for dogs. However, I would recommend this treat toy dispenser for cats that have not used a treat toy dispenser before.
To make it work for a cat, you will need to adjust the Trixie Snack Roll by covering some openings if your cat gets too many treats or food. The advantage of using this toy for a cat that has never worked for its food or treats before is that your feline won't get frustrated so easily which is common in cats that are beginners. Your pet will be able to get food more easily so once your cat gets used to working for its food or treats you can get another more advanced challenging toy.