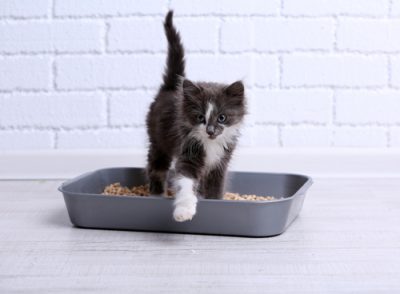 Choosing the right litter box for a kitten will depend on the age of your kitty and how long you want your feline to use it. There are various options that will fit your specific needs according to your kitten's stage of life.
What to consider when choosing a litter box for a kitten
You can choose any litter box where your kitten can accommodate comfortably to do its business. But when your feline friend has specific needs you must pay attention to some details to get the proper litter box. The following criteria needs to be considered when looking for a cat box for your kitten:
Easy access to the box
Several litter boxes are labeled as small but they feature pretty high sides, taller than 5 inches. If your kitten has never used a litter box you need to choose one with lower sides (3-4 inches) so it can be easily accessed by the short legs of your feline friend.
Good stability
The litter box needs to have a wide base and be tall enough so that you can put 1.5 to 2 inches of cat litter without the litter box walls being too shallow. A good amount of cat litter will make the box stable enough not to be tipped over in case your kitten plays in the litter box. For baby kittens the weight of cat litter required is less since they are more lightweight.
Temporary Use
Litter box for kittens are meant to be used for a transitional period in which your kitty will learn how to use the litter box and will form habits when doing it. This is the main goal of getting a litter box for your little kitten. That's why it's not recommended to invest a lot of money in a litter box during this period. The best approach is getting a pack of litter pans with small, medium and large size that will cover the whole period of time of your kitten being very young (3 weeks) up to when your kitten is growing into adulthood (6 months). After this period it's better to get more quality litter boxes. We listed these better quality litter boxes at the end.
If used for training/cage
If you need a litter box for a rescued kitten or you need to confine your kitty in a cage for a transitional period in the household you want a litter box small enough that will fit inside a cage.
Safe Construction & Materials
The litter box can't contain sharp pieces or edges that may harm your playful kitten. Also, the materials must be FDA compliant.
Open or Covered?
According to a comparative study there isn't special preference for cats between open or covered litter boxes. The main factor for a cat to opt for one over the other is cleanliness. However, we suggest using open litter boxes for kittens younger than 6 months old. The reason is because you will need to train your kitten putting your little guy inside the litter box several times a day. An open litter box makes this so much easier. Also, covered litter boxes tend to incentivize cats to not cover their waste and this is a habit that your kitten must develop. Once your kitten reaches 6 months old you can switch to a covered litter box for your kitty if you want.
Best transitional litter boxes for kittens of 3 weeks old up to 6 months
Most of these brands have small, medium and large sizes that we included as options because medium sizes litter boxes are kind of small for kittens over 3 months old. Consider that these litter boxes are for temporary use. Consequently, we didn't pick expensive fancy ones, but economic litter pans with quality good enough to accomplish its purpose during this transitional period in which your kitty will be adopting and using the litter box comfortably and safely. Our size recommendation ensures spacious litter area for your little guy.
When a kitten reaches de age of 3 weeks old it will start exploring the litter box. During this period you will have to help your kitten to enter the litter box every time to get him used to it.

This litter box is made with FDA-approved materials ensuring safety in case the plastic is chewed by the kitten. It offers an easy access for the kitten to get inside the box. It's made with polished plastic that is easy to clean. If your kitten is 3-4 weeks old adopting a litter box for the first time, the small size is suitable. This size also fits good in a cage.
Dimension small size (L x W x H): 14-3/8" x 10-3/4" x 4" (for kittens 3-6 weeks age)
Dimension medium size (L x W x H): 16" x 12" x 4" (for kittens 6-12 weeks age)
Dimension large size (L x W x H): 18.38" x 14.88" x 5" (for kittens 12 weeks age up to 6 months old)
Pros
Made with safe FDA-compliant materials
Easy to clean
Odor and stain resistant
Easy access for the kitty
Good for potty training kittens
Good price
Made in the USA
Cons
Plastic is on the thin side
Not easy to carry when full with litter
Recommended for:
Cat owners that want a low price transitional litter box that is easy to access for your young short-legged kitten. A Great option if you want a litter box that is smooth on the inside making it easy to clean on sides and bottom. Follow the chart sizes according to your kitten's age for a nice fit.
Nature's Miracle Disposable Litter Box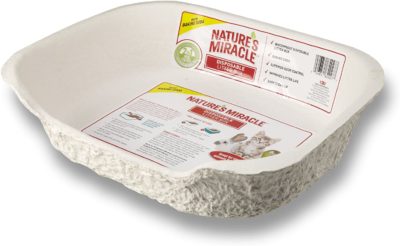 This is a convenient disposable litter box that is made from recycled paper that is land-fill safe. Since kittens grow so fast using a disposable litter box is not a bad idea. If you buy the small size pan for your 3 or 4 weeks old kitten you can throw it away after a couple of weeks of use. This is an advantage over the plastic pans because you don't have to deal with remaining litter pans that you kitty won't use anymore. These disposable litter pans are very good at controlling odors due to the absorbing properties they have.
Dimension small size (L x W x H): 12.5" x 10.13" x 3.13" (for kittens 3-6 weeks age)
Dimension medium size (L x W x H): 17.1" x 12.6" x 6.4" (for kittens 6 weeks up to 6 months)
Pros
Convenient disposable litter pan
Each pack comes with 3 disposable litter pans
Made from breathable material that reduces moisture and odors
No urine leak
Duration of trays up to 3-4 weeks (depending on usage)
Ideal for travel or potty training in a cage
More hygienic
No need of washing
Disposable pans are a good alternative since kittens grow so fast
Lower entry for easy access for the kitten
Environmentally friendly
Good for multi kitten households
Made in the USA
Cons
Packs come with 3 disposable pans of the same size. If you buy the small size pack maybe your kitten will outgrow the litter pan before you replace it for a new one (tip: your kitten can use the remaining litter pans as cat beds :)  Note: This isn't a "con" if you have 2 or 3 kittens of same age or if you buy the medium size disposable pack.
A kitten with PICA behavior (chewing non-food items) could start chewing on the litter box.
Recommended for:
Cat owners that love the disposable concept of litter boxes, especially considering that the transition of the kitten into a young adult is a very short period of time. Nature's Miracle is highly recommended for multi kitten households because it comes in packs of 3. If you want odor control and an environmentally friendly litter box, this is your best option.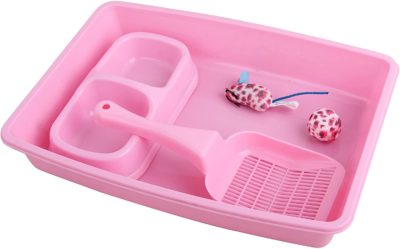 This cute lovely litter pan is ideal for baby kittens that are using a litter box for the first time. Suitable for kittens from 3 weeks up to 6 weeks old, depending on the cat's breed. It comes with a scoop, a small feeding station with food and water bowl, and a ball and mouse toys. You can choose pink for your little princess or light blue for your little king. Dimension (L x W x H): 14.5"x 10.5" x 4"
Pros
It comes with everything you need to start with your new kitten: litter pan, scoop, food and water bowl, mouse and ball toys.
Cute lovely colors and design for your little princess or your little king.
Polished plastic for nice finish
Odor and stain resistant
Low sides make it very easy for your baby kitten to enter the pan
Good for potty training your kitten
Good fit for use inside a cage
Cons
The food dish is kind of too deep for a little kitten.
Price is a little higher than other small litter pans (due to the extra accessories, but the pan won't be used for more than 3 weeks approximately).
Not suitable for kittens older than 6 weeks
Recommended for:
First time cat owners that need a start kit for their new little baby kitten. The best option if you want to potty train your kitten into using a litter box for the first time until your kitty reaches 6 weeks old.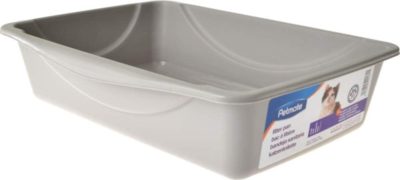 For cat owners that like Petmate products this litter box won't disappoint. This litter pan is well made, sturdy with smooth edges, featuring side grip for easy lifting or moving. This unit is made with pre-consumer (virgin-grade) plastic that is BPA-free. The small size is recommended for 3-6 weeks old baby kittens as the first litter box and for potty training. The small size also fits perfectly in a cage.
Dimension small (L x W x H): 14.05″ x 10.05″ x 3.5″ (for kittens 3-6 weeks age)
Dimension medium (L x W x H): 16.05" x 12.05" x 4" (for kittens 6-12 weeks age)
Dimension large (L x W x H): 18.5" x 15.3" x 5" (for kittens 12 weeks up to 6 months old)
Pros
BPA-free plastic
Easy access for small kittens
Rimmed sides for easy grip
Soft edges, safe for the kitten
Slick plastic makes it easy to clean
Good for potty training your kitten, suitable for cages (Small size).
Good price
Made in the USA
Cons
Design with waves difficult to scrape the sides of the litter box.
Recommended for:
Use as low price temporary litter box for kittens. Good option if you want a litter box that is easy on your hands when lifting it. Check the chart size to choose a roomy litter pan for your kitten. Not recommended if you want a litter box with smooth flat sides.
Best Litter boxes for kittens from 6 to 12 months
If your kitten has grown out of its baby stage it is time to get a larger permanent litter box for your adolescent kitten.
SpeedySift cat litter box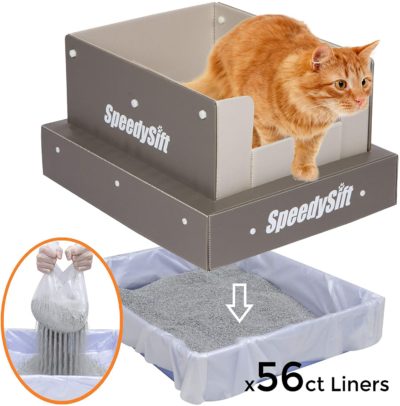 Innovative convenient sifting litter box system that works with offset-stacked liners that form a solid base at the bottom of the litter box. The unit is made from weatherproof polypropylene corrugated plastic. Your kitten uses the litter box and then you simply lift the top, grab the first liner from the corners and lift it, sifting the litter separating the clumps from the clean litter. Then simply dispose the liner with the bagged waste. For more details of this innovative system check the Sifty litter box full review.
Exterior dimensions (L x W x H): 20.9" x 17.9" x 4.9"
Dimensions inside (L x W x H): 17.5″ x 13.5″ x 11″
Pros
No scooping
Easy to clean through sifting system
Sturdy and well constructed
Smart and very well thought-out design
Walls are water and stain proof
Customizable high walls that protect the floor from litter or urine
Lightweight top is easy to lift but it stays put firmly at the same time
Designed and patented in the USA
Cons
Some cats that scratch a lot could damage some of the liners
You are required to purchase more liners to keep using this box
Recommended for:
6-month old kittens that will grow weighing up to 15 lbs as maximum. This unit is ideal for cat owners that don't want to scoop the litter box and prefer an easy, fast and more hygienic process when doing it.
Iris Top Entry litter box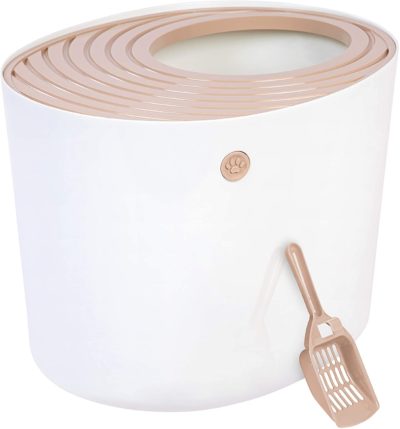 Is harder for cats to adopt to top entry litter boxes when they're adults. However, if you have a 6-month old kitten it won't be so hard to get him to adopt to it. This unit is made of BPA-free Polypropylene Resin and it features a top lid that removes excess of litter from the cat's paws, reducing litter tracking. Iris top entry litter box works well for cats that kick a lot of litter when doing their business. Check details on the Iris top entry cat box review and learn more about how this works.
Dimensions Medium (L x W x H): 17.32″ x 13.39″x 12.20″
Dimensions Large (L x W x H): 20.47″x 16.14″x 14.56″
Pros
Top entry litter box conceals the cat waste better
It contains odors
It stops litter spillage from going onto the floor or carpet
It provides cats privacy
Scooper hangs outside the litter box for quick cleaning
Enclosed cat box stops urine from going outside the box
It comes in 2 sizes: Medium and Large
Made in the USA
Cons
The top lid could break if your cat is overweight
It doesn't have liners
Recommended for:
6 months old kittens and adults cats. If your cat is over 9 lbs choose the large size. Very good if you don't have much room you can place the litter box in plain sight without having to see the cat waste. (Tip: there is another litter box that uses the same concept, but it's more expensive. If you are interested in this brand check the Modkat top entry litter box review)
Tidy Cats Breeze System litter box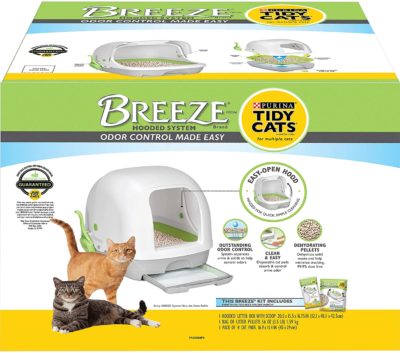 This litter box works with pellets instead of cat litter. The pellets contain silica that absorbs the odors of the cat's waste. Your cat needs to go through a learning process of not digging too much. The urine goes through the pellets down to a tray that is lined with absorbing pads. This way the system separates solids from liquid, eliminating the odor problems of common litter boxes. For more details check the review of the Tidy Cats Breeze System to see how it works. This litter box is made in Japan.
Dimensions Regular: 20.3″L x 15.2″W x 11.8″H
Dimensions XL: 27.6″L x 18.5″ x 13.8″
Pros
Good quality
Good managing of the cat urine
Urine odor control
No need of scooping deeply to find litter clumps
Nice design
Cons
Pellets need to be replaced periodically and they are expensive
Some cats could eat the pellets
Feces sit on top of the pellets and it takes a few minutes for the odor to be absorbed
If your cat urinates high against the walls, it could leak
Recommended for:
Cat owners that like managing the cat urine in a better way than just scooping huge litter clumps of cat urine that usually stick to the bottom and sides of the litter box. Suitable for kittens from 6 months old to adult cats weighing up to 20 lbs. Check the right size for your cat.
If you have a new kitten make sure to provide your little guy the best experience when using the litter box for the first time. This is one of the most important aspects in the cat's life so let's make your kitty happy getting the best litter box for him.