Kittens learn from their moms how to do their business by imitating their mom's behavior. If you get a kitten, most likely you won't need to go through an extensive training process to make your little feline use the litter box. However, not all kittens have moms that have taught them this behavior properly, some very young kittens have been abandoned without their mom's training how to use a litter box.
Depending on the age at which the kitten was orphaned and how long it was without its mother, the process of training your kitten to use the litter box will go from an easy transition to a more mom-type training process.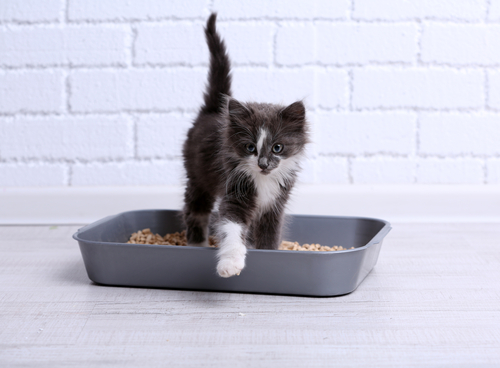 Whether your kitten learns quickly how to use the litter box or if he has a hard time using it, you want your little guy to develop good habits when using the "bathroom". Training a kitten how to properly use the litter box will also prevent future elimination problems from happening. This is extremely important because once a kitten has developed undesirable toilet habits the problem can be very difficult to solve.
In general to train your kitten to use the litter box you must:
1. Set up a shallow litter box with an unscented sand type litter
2. Locate the litter box in a private, quiet area
3. Put your kitten in the litter box in the mornings, after eating, playing or napping
4. Show your kitten how to dig with if necessary
5. Repeat as many times as necessary until your kitten learns how to use the litter box
6. If your kitten doesn't get the concept, set up a litter box training special area.
How To Setup The Litter Box For A Kitten
Using the litter box is one of the most important aspects in a cat's life so you want to set up the litter box in the best way possible for your kitten. The following are the recommendations regarding the litter box, the type of litter and the location:
What type of litter box to choose?
The litter box needs to be appealing for your kitten to start using it, and one of the things that cats like is a clean litter bed. You need to choose a litter box that is easy to clean so it won't be a hassle for you to keep a litter box odorless or get a self cleaning litter box. This way your little feline will happily use the litter box and won't reject it. Choose a litter box with a smooth bottom and corners, without nooks that usually trap the waste.
There are many good options of litter boxes for kittens, such as hooded litter boxes, top entry litter boxes and regular litter boxes. I don't recommend top entry litter boxes for kittens younger than 6 months. This is due to the fact that top entry boxes tend to discourage cats the habit of covering their business. Covering is an essential behavior your kitty must learn from early age. Once the kitten reaches the juvenile age (over 6 months old), it can be switched to a top entry litter box.
How low should the litter box entry be?
The litter box needs to have an easy access for your kitten to enter it without any problem. If you can't find a litter box with short walls, try to get a litter box with a lower entry and place the unit in a way that the kitten will always have access through the lower entry. The entry should be around 3-4 inches tall. If your kitten is very young, a good tip is getting a litter box designed for guinea pigs or ferrets, they have a very low entry so your small kitten will have an easy access. If you choose this option, consider that your kitty may outgrow the litter pan soon, but it'll be a great way to encourage a very young kitten to use the litter box easily.
If you want an eco-friendly option, there are disposable litter boxes made from recycled paper that last about 30 days before being tossed in the trash. They dry out the litter, keeping the litter box odorless and the good thing is that you can find small sizes, especially designed for kittens.

Can kittens use automatic litter boxes?
If your kitten is 6 months old, you can opt for an automatic litter box that can self scoop so you don't have to. Consider this option if you work long hours or if you are in general a busy person. I personally started using a self-cleaning litter box with my cat when she was 7 months old with excellent results.
What about cat litter
There are many different type of litters, clumping clay litter, crystals, pine litter, paper pellets, etc. I recommend using low toxic litters (which includes unscented) and sand type litters that is easy on your kitten's paws. If you have a kitten that likes to chew on everything I recommend using an organic type litter such as coconut, bamboo, corn, etc. A stray kitten may be used to digging in dirt so try to get a non-clumping clay litter for an easier transition. Later, you can switch to a different type of litter as your kitten grows.
Depending on your kitten's size, a good amount of litter to pour in the litter box is from 1-1/2 to 2 inches. This amount will allow the kitten to dig properly, without being too deep that your kitten will have a hard time walking on it.
Best location of the litter box
Choosing the location for the litter box is very important, it will help an easier adoption and use of the litter box or it can have the opposite effect if a wrong location is chosen.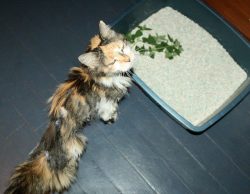 Place the litter box in a way that the access or lower entry of the box is always facing your kitty's body without any obstruction. The litter box needs to be in a quiet, private area of your house, away from high traffic. Ideally, away from the kitten's food and water as well. Corners of areas with low traffic are a good location for the kitten's litter box.
Psychologically, it's not a good idea to place the litter box in a dark and enclosed area, such as closets or cabinets. The darkness will make the kitten anxious while doing its business which could create a bad association when using the litter box which brings future problems. If you must place the litter box in a dark location make sure to leave a source of light in it.
Finally, place a good litter mat under the box to protect your carpet or floors from possible litter box "accidents".
How To Start Training Your Kitten To Use The Litter Box
The way to train your kitten to use the litter box could be a little different depending on how young the kitten is. If rescued a really young kitten you will have to be sort of the kitty's mom to couch your little kitten to start using the litter box. If the kitten is older the process will be a little less demanding.
If Your Kitten is Younger Than A Month
In the nature, cat moms stimulate the kitten for them to perform the bodily functions by licking the baby on the genital area. If your kitten hasn't entire one month old you will have to stimulate it to do its business by doing a similar action than the kitten's mom. Use something like a wet warm soft cloth and gently rub the kitten's genitals with it until the baby urinates or defecates.
About a month old, as soon as the kitten can carry his own weight, the kitty is able to squatting to urinate and defecate. This is the moment you can start training your kitten to use the litter box.
As mentioned, the litter box needs to have a lower entry for easy access although in the beginning you will have to put the kitten in the litter box as an introduction. Do it as many times as your kitten needs to get used to the box. Be especially alert in the morning, after mealtimes or after a nap, to put your kitten in the litter box. These are the moments the kitten will likely do its business.
This first encounter of your kitten with the litter box needs to be quiet without any intrusive noise that may scare it.
A Month And Older Kittens
If you got a kitten that is able to do its business on its own, you only need to establish the routine for your kitten to use the litter box in a proper way. You will need to wait until the kitten has eaten, in the mornings, after playing or napping, and put your little guy in the litter box.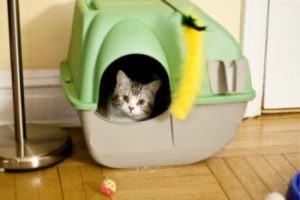 Eventually, the kitten will learn to use it and dig almost instinctively. If your kitten doesn't cover its business you can show him how to do it with your hands. Cats are great at learning by imitation and using the litter box is not the exception. It's very important to be constant and do this many times for your kitten to learn this routine.
If your kitten doesn't get used to using the litter box you must change the strategy a little bit. First thing is to keep the kitten from distractions and place the litter box in a special location that will be your "training" location. Ideally, the training area will be a small room or even a big cage that will have all your kittens most important items. It will be like your kitten's "little world" that will have the kitty's food and water bowls, toys, bedding and of course, the litter box. Closing up the litter box to the other kitten routines such as eating, sleeping and playing, will make the kitten to naturally associate the litter box as part of its life, which is the elimination time.
4-Weeks old kitten learning how to use the litter box
What To Do If You Have An Adult Cat And A Kitten
If you get a new kitten and you already have another cat, you must get a new litter box for the kitten. Try to locate each litter box in separate areas in the beginning. The kitten may feel threatened or anxious if the other cat is present while trying to do its business.
Cats are territorial not only with the food but also with the litter box, so separating the cat feeding bowls and the litter boxes from each other it's a good start, at least in the beginning.
What To Do If Your Kitten Doesn't Use The Litter Box
We need to make a distinction between litter box "accidents" and the kitten refusal to using the litter box. Litter box accidents always happens and you need to be prepared to clean the evidence with patience and not get angry if this happens. Litter box accidents are usually the following: some urine right next to the litter box, feces hanging out or right next to the box as well. This will occasionally happen and it's part of the litter box usage of indoor cats.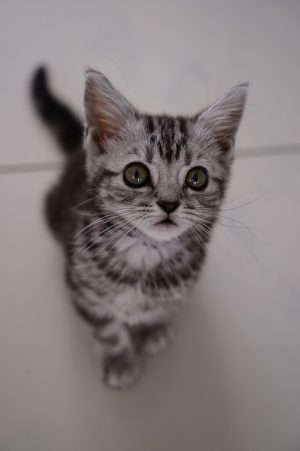 Litter box rejection is when the kitten does its business in an area that is completely foreign to the litter box's, such as the rugs, doors, sink, and any place that is not even close to the litter box.
When you spot the kitten's urine in the wrong location, clean it without yelling at your cat. Use a good cat urine destroyer that eliminates the enzymes that causes the urine odors to stay in the spot. By neutralizing these enzymes, your kitten won't urinate on the same spot again. If your kitten poops, pick up the poop and put it in the litter box, this way your kitten will associate the poop smell with the litter box and next time will do its business in there.
If the kitten rejects the litter box you must analyze the environment where the litter box is located, the type of litter used, the noise level where it's located, the litter box access. Check all these factors and eventually make the changes that you think could be influencing the rejection of the litter box. Change the litter and see what happens, if nothing changes, change the litter box, if problems still persists, change the litter box location. You will have to go trough trial-and-error method until your kitten start using the litter box. If nothing makes any change, you must take your kitten to the Vet to discard urinary or other health issues.