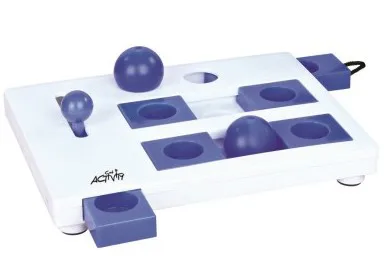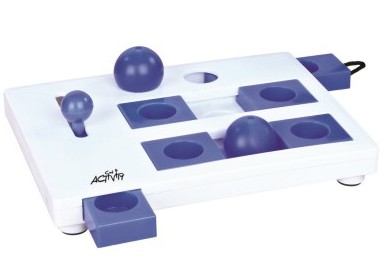 Trixie Brain Mover is an interactive treat dispensing toy for your cat to work for its treats. The toy includes 4 games in one board and each one represents a challenge requiring patience, concentration, and motivation from your cat in order to get the hidden treats. In each of the 4 games, the treats have to be hidden and the cat needs to uncover them and pull them out. The games are: Balls, sliding compartments, drawer with lever, and drawer with loop.
Non-skid rubber feet allow the board to stay in place while your cat plays and moves the pieces without making the unit slide around the floor.
Trixie Brain Mover toy dispenser comes with an instructional booklet to learn how to keep your cat hooked on the games, by stimulating its curiosity.
Features of Trixie Brain Mover
4 games in one toy: Balls, sliders, drawers, loop.
4 different levels of challenge.
Includes booklet with tips on how to keep your cat engaged.
Dishwasher safe.
Dimensions: 7" x 8" x 3"
Weight: 1.5 lbs
One year warranty
How Trixie Brain Mover works
You put treats underneath the different pieces of the board that represents different games. Your cat needs to figure out how to get the hidden treats out of each compartment that is covered either by balls, drawers, or sliders. There are 4 different games in the Trixie Brain Mover:
Game 1: The treats sit in two openings that are covered by 2 balls that fit into the openings. The cat has to push these balls and get the treats under. These 2 balls have a small hole on top so your cat smells the food and know what to do. Level of difficulty: Low.
Game 2: Treats are covered by sliders that feature an indentation on top for the cat to slide with its paw to uncover the hidden treats. You can also place treats in these indentations and cover them with one of the balls if you want. Level of difficulty: Medium.
Game 3: In this game, the cat has to move a lever to open a drawer where the treats are. Level of difficulty: High.
Game 4: The cat needs to tug open a drawer using a loop on the side of the board. The treats are in the drawer. This is usually the most difficult game for the cat to figure out so the level of difficulty is High+.
Pros & Cons of Trixie Brain Mover Treat Toy Dispenser
PROS
It stimulates cats physically and mentally.
4 games on one board.
Each game has a different difficulty level.
Sturdy and compact construction.
It slows down cats when eating treats or dry food.
It keeps your cat entertained when you are out.
Dishwasher safe
CONS
Small treats get stuck in the sliding drawer sections. So it's more suitable to feed large treats.
Removable parts might get lost under the couch or sofa.
Openings are too small for very big paws.
The board needs to be disassembled for cleaning.
TIPS
Place a food mat under the toy in case your cat eats some treats from the floor.
Place treats in easy places first and then the most difficult areas. Change to tastier treats to keep your cat engaged.
If your cat is gentle when playing with this board you should be able to keep the unit disassembled with only one screw in the bottom center to allow easy posterior cleaning.
CONCLUSION
Trixie Brain Mover toy treat dispenser is a great way to keep your cat occupied working for its treats while you are out and it's an excellent way to stimulate your cat physically and mentally.
If you want to use this toy to feed your cat normal dry cat food, the Trixie Brain Mover may not be suitable because the small kibble may get stuck in the tracks of the toy, unless you feed your cat big or rounded kibble. This toy works better with big treats as well. If you feed your cat small treats or small/flat kibble a better option is the Trixie 5-in-1 Activity Center which provides 5 games in a single board.
Trixie Brain Mover toy is suitable for:
Young cats
Food-motivated cats that don't give up
Intelligent cats
To feed big treats and big or rounded pellets
Bored cats that need physical and mental stimulation
x This toy may not be suitable for:
Old cats that have never worked for their food
Big breed cats, with very big paws
Beginners (the Trixie Snack Roll features bigger holes to get treats easier, ideal for cats that have never played with treat dispenser toys before).