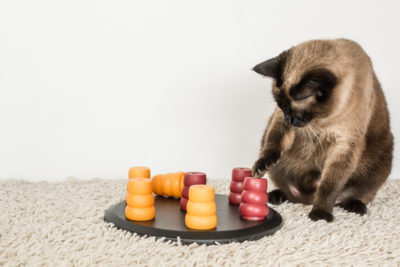 Ever been away at work, a party, or anywhere, and got hit by that awful feeling that you've abandoned your beloved kitty at home? That niggling, guilty feeling that Fluffy is dying of boredom and loneliness at home, and it's entirely your fault? It lingers and eats at your soul — Okay, you get it. I'll stop now. Well, you don't need to feel guilty anymore, we're here for you. This guide will show you ways to keep your cat entertained while you are away!
1. A Furry Friend For Your Furry Friend:
Sometimes all your kitty needs is a companion, someone to play with when you're not around. You could consider getting another cat to keep her company, though cats can also be very choosy about who they share their human with. You could also try getting a big toy for your cat to wrestle. And if you're going for something cheaper, you could let your cat stay with a friend you trust, and it'd be a bonus if that friend has cats too (some cats do love playing with other cats than hoomans) – kinda like a feline playdate!
2. A Good Old Fashioned Maze:
A homemade maze formed from cardboard boxes would interest your cat. Try not to make it too tricky, and be sure to hide fun treats and toys within it to make the maze super cool. If a maze seems like too much work, you could stack the boxes also and let your cat go wild, knocking it down. There are also retractable tunnels you could get too.
3. Teevee! :
Kitties like the 'big' screen as much as we do, especially if good and colorful shows are on. You could put on the TV and tune in to your pet's favorite channel once you're about to leave. Keep the remote far away, so it's safe from kitty.
On the other hand, you could also get a heavily padded tablet – maybe find those 'military-grade' phone cases online, I've heard of ones that make the phone bounce when it hits the floor. Fill the device with Youtube videos of exciting and colorful content a cat would love; kiddies videos can do, then let your cat loose on it. Hopefully, it'll be in one piece when you're back.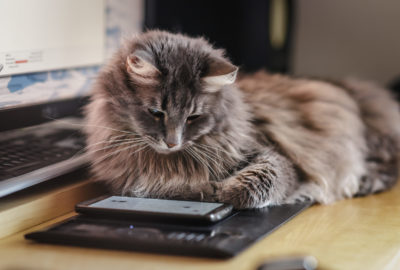 4. Feathers, Feathers Everywhere:
Most cats love feathers and other feathery, fluffy objects. You could capitalize on this by hanging fluffy toys all over the place within your cat's reach. This way your cat can have little toys to bat around when you're out. The favorite feathery friend on the internet seems to be 'Da Bird.' Try rigging it to hang tantalizingly above your pet's usual chill spots, so it's irresistible to your cat. Keep in mind that cats do get bored with toys quickly, so you might want to switch it up.
5. Cat Tree
Cat trees may seem like no-brainers. A cat tower is an ideal entertainment; your cat can scratch, climb, and claw away on its jungle gym and won't even notice you left home, besides cats love being up high. You could go overboard and attach scratch posts, tree houses, the works, your cat deserves the luxury – they're feline royalty, peasant!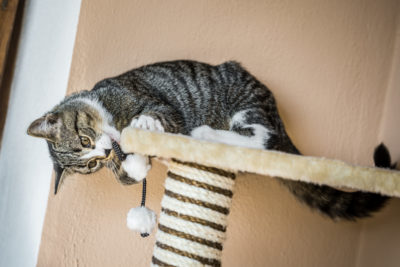 6. Soft Music:
Before you leave, play soothing classical music, smooth jazz, or delicate nature sounds that your pet vibes to. This kind of music helps to keep them in a very relaxed and unagitated mood, so they are not too bothered that you're away. You might even find your sweet cat napping away peacefully when you get back. Make sure you create a playlist of which music your cat best responds to.
7. Hide And Seek:
Stuff yummy treats in secret places all over your home for your pet to find before you walk out the door. Once they figure out that there are more treats hidden, they'll probably go on a hunting spree to sniff out the rest and gobble it all up. Don't overdo it now though; we don't want to overfeed Fluffy. You could also add a little catnip or any stimulating cat herb to the mix.
Some devices and puzzles can reward your pet with a treat when it figures how to open a catch or turn a knob – learning while eating, so fun.
8. Give Kitty A View. A Birdy Great View.
Keep your curtains open so your cat can observe the great big outside in the comfort and safety of your home. You could set up a cute kitty lounge next to the window or keep your cat tree there. A bird feeder installed outside the house in front of its favorite window would be an impressive touch too.
That's all folks! So many ways to keep your dear sweet cat entertained when you're out and about. You should know that some cats want to be left alone and wouldn't mind when you go, so don't freak out.
Do you have any tips for us too? Don't hesitate to share!