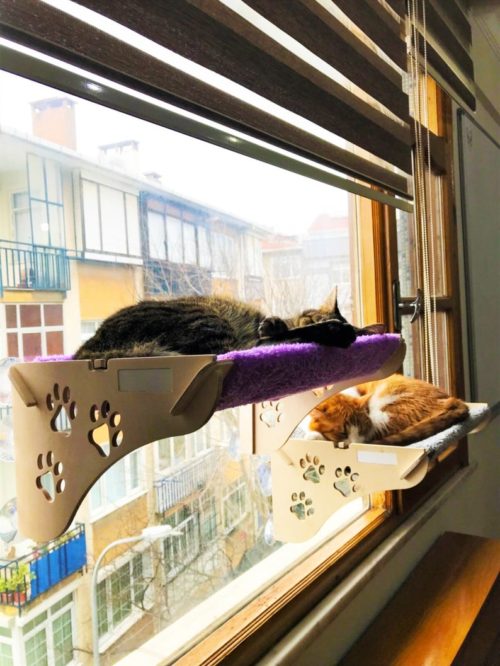 Nothing beats the feeling of coming home to a nice comfy and relaxing bed after a long day. Well, in this case, I'm talking about cats, and boy do they love their beds. Even though they don't have busy 9-5 schedules, cats are known to spend a combined average of fifteen hours a day sleeping (older cats even reaching a staggering 20 hours). Since we obviously can't do anything about that, the best we can do is provide a comfortable bed that naturally fits in one of our cats' favorite places in the house — the window.
That's why I'm so excited to present the wooden cat window perch that can be customizable with your cat's name so this cat window perch is ideal if you have two cats. This way you can customize each perch with each of your cat's names. This article will talk about why this cat furniture is worth checking out.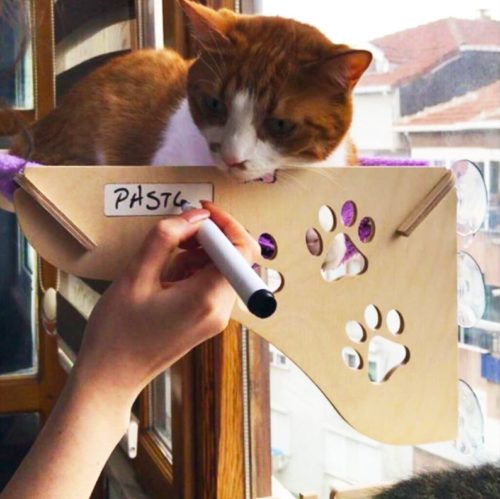 Main Features
The wooden cat bed is a piece of handmade cat furniture designed exclusively from top-quality birch wood (Betula medwediewii) by a master artisan. This ensures that every unit is produced with attention to the finest detail.
Like the Kitty Cot Original cat window perch, the wooden cat window bed is designed to be installed on windows without a sill. The bed's ability to stick directly to window glass surfaces is possible thanks to the combined strength of 6 sizeable plastic suction cups that attach to the rear-end of the wooden furniture.
The cat window perch is easy to install, and it comes with an easy-to-lay washable fabric (either gray or purple) with sticky velcro.
The entire unit measures 20 cm in height (7.8 inches), 45 cm in width (19.6 inches), and 30.5 cm in depth (12 inches) and should easily support the weight of any large domestic cat.
Its lightweight and the lifting force of 6 sizeable plastic suction cups make it a suitable cat window perch for larger cats.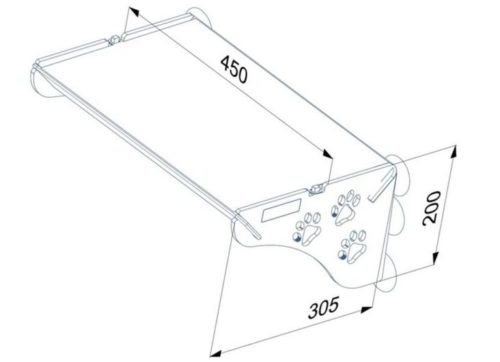 How It Works
The wooden cat window perch can stick firmly to the window glass surface thanks to the 6 large plastic suction cups that come with the unit. When you push the suction cup against the glass surface, air rushes out of the suction cup, creating a low-pressure region inside the suction area. The higher atmospheric pressure outside the cup then keeps the cups glued to the flat surface. These 6 powerful suction cups attach directly to the back of the furniture, holding it firmly to the window surface.
How to Install
Even though the bed will be shipped to you in a disassembled form, installing the wooden cat window perch is a piece of cake and requires no tools or special engineering. The pieces fit together quite nicely like a simple jigsaw puzzle, and you should have your perch ready in no time.
When all is set, fit the 6 plastic suction cups at the rear end of the wooden bed and push the cups firmly against the window surface. However, kindly ensure that you clean the glass surface thoroughly with a dedicated cleaner and wiper before hanging the item. Also, triple-check to be sure the bed sticks firmly to the glass surface to prevent your cat from falling.
PROS
The wooden cat window bed is a piece of handmade cat furniture crafted from top-quality birch wood.
Its fabric is 100% washable and easy to lay.
The cat window bed can be installed on windows that do not have a sill.
Thanks to the extremely powerful suction cups, the wooden bed can support up to 10kg of weight.
The wooden cat window bed is relatively easy to install and does not require any tools or special equipment.
It's perfect for cats that love to bask in the sun from the safety of their windows without taking up valuable floor space.
You can personalize two perches with their names if you have two cats.
CONS
With time, the suction cups will wear out and need replacing.
If you haven't destined any scratching post or cardboard for your kitty at home, your feline friend may be tempted to scratch the wooden bed. Unfortunately, cats scratch for many reasons, and the wooden cat window bed might happen to be an unlikely victim. Here's an article to learn how you can prevent your cat from scratching furniture in the house.
Final Thoughts
No matter the size of your feline buddy, this cat window perch is undoubtedly going to steal her/his heart in no time. It excels at providing a comfortable platform for her/him to relax and a great vantage point to view the beautiful outdoor environment. Giving your cat that extra visual stimulation will certainly help to reduce separation anxiety and stress. If you have any questions or need any help purchasing this cat window perch, visit this link.