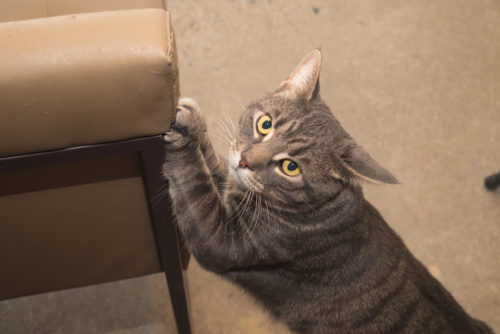 That all too familiar feeling of seeing those trademark scratch signs on the mattresses, tables, chairs, or doors, and you just know deep down that your cat has been busy. Every pet owner can relate. The one big question many pet owners still don't have an answer to is why do cats love to scratch everything they can lay their paws on? You're here because you're worried, so we've decided to solve this problem and get kitty from engaging in this destructive scratching behavior.
Why do cats scratch?
Cats scratching is an all too normal behavior for cats, and they will scratch objects and furniture around the house for so many reasons. Many theorize that cats do this as an attempt to trim their claws, or a kind of visual marking of their territories, stretching their muscles, or just an act of rebellion. Well, we don't really want to know why they do that, but we want it to stop or be managed, so here's the ultimate guide to stopping your cat from ruining your $1000 furniture.
How to Stop Your Cat From Scratching
According to Ohio State University cats that prefer scratching chair legs or the corners of your coach most likely will prefer vertical scratching posts. On the other hand, cats that scratch rugs and carpets may prefer scratching horizontal scratching type toys or mats. The following list provides various alternatives to stop your kitty from destroying your furniture. Choose the one that adapts the better to your situation and cat. You can combine these options as well.
1. Get Kitty Some Cat Furniture to Scratch
Since you can't get your cat to stop scratching altogether, one effective way to stop the scratching from happening on your expensive furniture is to provide kitty with suitable alternatives. Thankfully, there's an abundance of cat furniture on the market made specifically to take all that scratching behavior. Cat condos or Cat Trees, Cat scratching posts that are made with different enticing materials will pull kitty's attention away from your expensive furniture with time. This technique is very effective, and it's a form of positive corrective method. It's recommended that you get not just one, but several Scratching posts positioned in areas around the house where your furniture experiences the most scratches. Make sure the post or tree is tall enough for your cat to totally stretch its body when scratching.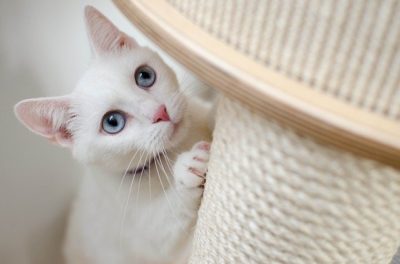 2. Scratching Cardboard Items specially designed for cats
This is a great alternative to redirect the scratching habit of your cat to something that is not your furniture. Plus, it's a much more economic solution than the cat condo or cat tree. There are different types of scratching surfaces made of cardboard that are specially designed for cats, such as scratching hangers that you can hang anywhere on the walls, scratching lounges where your kitty can scratch and then lay down on it and also scratching boxes that cats just love!
My cat Sophie and her scratching lounge
Sophie and her scratching hanging toy!
Cat loves this type of scratching box!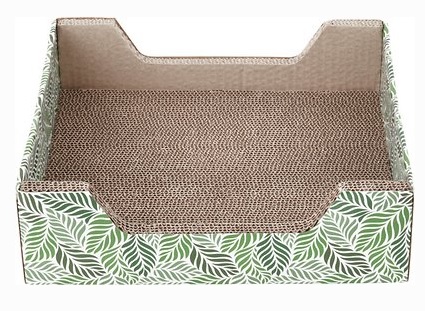 You can get this cool scratching box in Chewy for very low price, check this link for more details.
Scratching toys work very well too!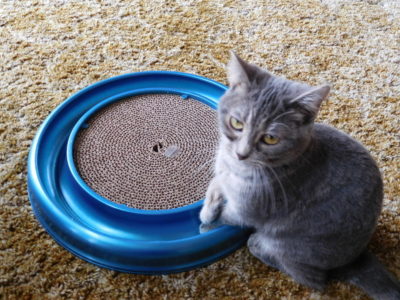 This is the Bergan Turbo Scratching toy that you can get in Amazon.
3. Cover Furniture Scratching-Hotspot
One very effective method of breaking destructive habits is by removing the pleasurable component of the habit and replacing it with something that's not so good. The same thing applies to kitty. She probably loves scratching your furniture because of the delicate materials they're constructed with. So to stop your cat from falling in love with your furniture, cover your cat's favorite places to scratch with either tin foil, double-sided tapes like Sticky Paws, Clear plastic protectors, or Vinyl carpet runner. These deterrents will be effective only if you already provided alternative cat furniture for your cat to unleash its scratch-demons on. You can use this alternative if you have already some of these materials at home and you don't want to spend money on special scratching toys for your cat.
4. Create Special Sprays to Deter Cats from Furniture
Another very effective way to stop your cat from testing her sculpting abilities on your furniture is to create and use special sprays that literally turn off your cat from your furniture. These sprays/deterrents are made from natural plant-based materials and are completely safe for kitty. Here's a simple recipe to make your own homemade spray using apple cider vinegar.
Get the required ingredients, which include some quantity of water, apple cider vinegar, lemon juice, orange essential oil, and eucalyptus oil.
The first thing to do is to mix equal quantities of apple cider vinegar with water in a spray bottle for convenience and voila, that's all.
To take your deterrent to whole other level, add the lemon juice to a liter of water and mix with the orange essential oil and eucalyptus oil, and add some quantity of the mixture to the spray bottle. This is effective because cats are irritated by citrus-based scents.
5. Get Microfiber or Microsuede Fabric
This is a form of damage control and won't stop kitty from scratching. Microfiber or Microsuede fabric is budget-friendly and is made from very tightly-woven threads that even claws of steel can't dig into making them scratch-proof.
6. Trim Nails But Never Declaw Your Cat
I know you must have thought about this: why not take out the claws altogether? Please, never consider declawing your cat because scratching is a natural feline behavior, and declawing will have long-lasting negative effects on your cat. Instead, when their claws grow so much that they can't be fully retracted, you can resort to trimming the excesses.
7. Nail Covers for your Cat Claws
Another alternative is getting your cat to use covers for its nails aka soft claws. They are easy to put on your cat's claws and they stay put for about 25 days. Your cat will need about two 10 days or less to get used to them. These caps don't usually fall all at once but one or two and you just need to replace them as they fall off your kitty's claws.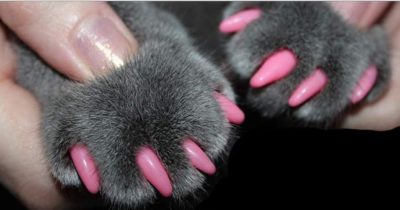 8. Resolve To Punish Your Cat Remotely When Caught In The Act
Nothing stings better than being caught in the act of a crime, so when next you find kitty having a go at your expensive furniture, there are a couple of things you can do to send a strong message that scratching your furniture is a bad idea. You can make a squeaking loud noise or clapping. These acts send a clear message that will curb the habit with time.
Tip to entice your cat to use the allowed new scratching surfaces
You can easily make use of your cat's toys or catnip to redirect kitty from your furniture to her cat furniture or special scratching areas. Using catnip and toys helps to reinforce positive behavior. So dangle the toys around the Scratching posts and rub catnip on the cat furniture or scratching areas to lure him/her there.
Cats are amazing companions when understood completely, and like every bad or destructive habit, scratching can be redirected or managed effectively using the right techniques. If you have other suggestions that may be helpful or have worked for you, we'd love to hear about it.